Where to Buy Cheap Nappies Online in Australia
Nappies Nappies Nappies. The average newborn needs 11 nappy changes per day! AND nappies, both disposable nappies and Modern Cloth Nappies, are expensive.
Yet, we don't want to waste our precious time going back and forth to store every day or maybe every week buying the same package every month. That could lead to a lot of money than buying in bulk amount equivalent for a one month supply!

We have included all the usual brands (because us Mums are fussy when it comes to the nappies we choose) and where to get the best online deals to buy cheap nappies! Because what Mum wants to schlep to the store with a baby in tow??
Hint on How to Save Serious Cash on Nappies – Buy on discount
When it comes to disposable nappies, the key to saving a lot of money on buying them one packet at a time – is finding them when they are on sale – and buying as many as you can!  When Big W used to have nappies on sale I'd buy about 6 packets – sure it looks a little like hoarding and I suppose it is – but with two boys in nappies – I went through them really fast.  I'd stash them under beds and in the top part of the cupboard as they do take up a fair bit of room.
Even better if you can find nappies cheap online and have them delivered to your door!
Even saving $5 on a packet of nappies will add up fast – so grab them in bulk!
Don't Feel Bad if You Don't Use Cloth Nappies
Yes we already know that disposable nappies are bad for the environment – but seriously – babies are hard work and handling poo is simply gross – it isn't for everyone.  If it bothers you – use a combination of both – using disposable nappies when you go out is just so convenient!
But if you have the time and determination to use Modern Cloth Nappies – great!
Okay our list of where to buy cheap nappies online!
Catch
Catch is a huge online discount shop and they carry all the huge brands of nappies – their discounts change every day – so definitely worth checking out because when the discount is really low – you can get yourself a real steal!  Catch has both disposable nappies and Modern Cloth Nappies.
Nappy Brands they carry include:
They also carry a great range of Modern Cloth Nappies including brands such as:
Amazon Australia
So Amazon in Australia hasn't really taken off – not many people are buying from them – but they do offer loads of great prices for both disposable nappies and Modern Cloth Nappies and they are worth checking out.  Some of the more popular brands that they carry include:
If you are looking for cheap Modern Cloth Nappies, then Pat Pat is the place to go.  With nappies starting at just $8.42 – they are one of the cheapest MCN around!
The Pharmacy is an online pharmacy that delivers straight to your door and carries all the lines your local chemist would stock.  But they are also a great place to pick up cheap nappy deals!
Brands The Pharmacy Stocks include:
Chemist Direct is another online pharmacy that quite often have disposable nappies on sale – and they will deliver to your door.  Brands that they carry include:
Ozsale is great for deals – they just aren't on all the time so it is the type of website you will have to check back to see what deals are on.  However, if and when nappies DO go on sale, they are seriously CHEAP – so worth it!
Brands they carry include:
Snookums
Baby love
Huggies
Muumi
Luv Me
They also have a huge range of baby and anti-bacterial wipes, personal and laundry care products, arts and crafts and an extensive range of hair and skincare products. House of nappies is a registered and approved NDIS provider.
They deliver Australia wide!
Hello Charlie stock to buy Eco-Nappies, both disposable and modern cloth nappies.
Brands they carry of disposable lines include:
Wotnot
Water Wipes
Bambo Nature
Ecoriginals
Moltex
And Modern Cloth Nappies include:
Save by Buying Nappies From Overseas
Another option is to 'import' your Modern Cloth Nappies from overseas – don't worry it isn't as hard as you might think.  There are some really large overseas wholesalers that offer nappies that many stores use as stock – but you can buy nappies for personal use! Just make sure you check out the reviews from each of the individual sellers.

Here are some examples:
DH Gate
DH Gate is a massive China Based wholesaler, but you don't need an ABN to buy their cheap goods.  Sure you need to ensure you check the reviews etc and you will have to allow a few weeks for delivery – but the savings could be seriously worth it.  For example, this 10-piece lot of reusable cloth nappies to buy are only about $2 each!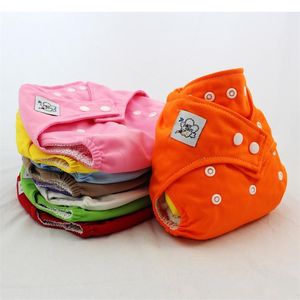 Aliexpress
There are even really high-quality Modern Cloth Nappies you can buy.  We love these, they are US$8.99 each and come in a huge array of colours and styles.
SaleHOO
If you feel a bit icky about buying directly from China, then there is a website where all of the manufacturers are already screened for service and quality.  The catch? There is a membership to see all of the wholesalers.  But we have negotiated a $1 for one week trial so you can go and have a look around without being out of pocket.
This is especially good if you are looking to sell them commercially!
Have you found the perfect nappy for your kid? Where to you buy cheap nappies online in Australia?