Wearing a Birthing and Maternity Gown to Hospital to feel nice during the long hours of labour is now a thing.
Look we know that birthing is not sexy. It is messy, hot, wet, and frankly disgusting. So when I came across these birthing gowns that are specially made for women in labour – I was impressed. And quite frankly I can't believe no one thought of it before because hospital gowns are so gross and generic.
We really hope that wearing a birthing gown to the hospital will be the next big thing!
More Reading: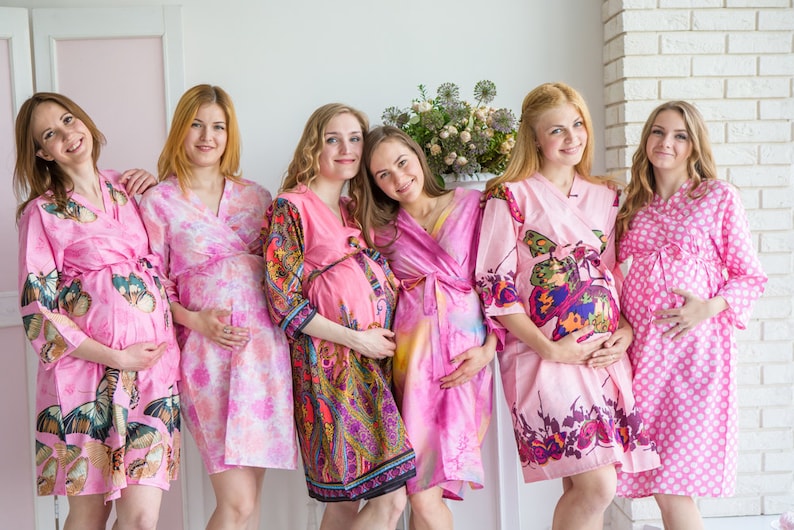 Price: $69.99
Stockist: Bae The Label
Colours: Black, Cheetah, Pink
Material: Textured Cotton Blend
A must-pack for your hospital bag, this dress has been designed to look great throughout pregnancy but become the game-changer you never knew you needed come delivery time. With button-front access for easy feeding and skin-to-skin it's been made in a super soft, stretchy cotton blend. Look great while keeping comfy from maternity – to birthing – to long after.
Price: AU$62.24
Stockist: Silk and More
Colours Available: White, Black, Aqua, Pink, Silver and Navy Blue
Material: Cotton
Like a light dressing gown but more practical and made from cotton. The front buttons make it easy for your new baby to nurse, or to slip out of during birth.
Perfect to wear over pyjamas on the way to the hospital – and easy to get off.
Shipped worldwide.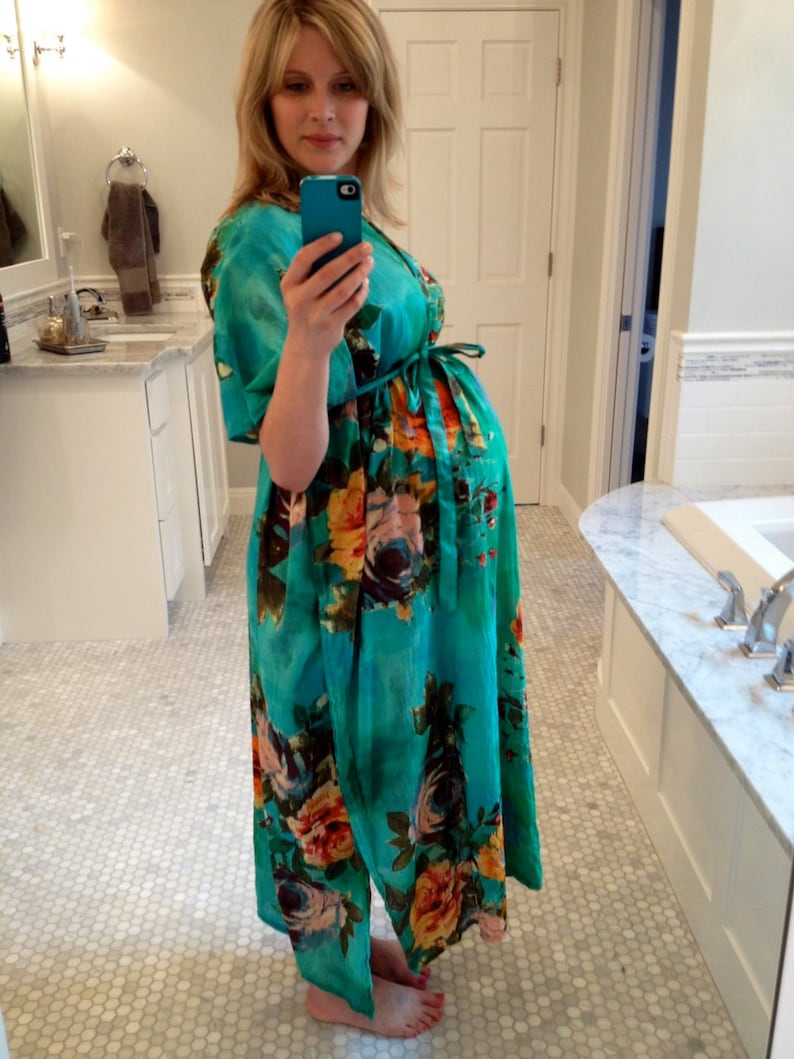 This is the perfect gift for an expectant Mum! Made from ultra-soft satin with a pretty lace crochet floral pattern, this is very girly and beautiful.
"I bought this Labor Gown for a baby shower and the mama to be LOVED it! She said she is already wearing it and she isn't due for another month. I would definitely buy this again for a gift or even for myself!"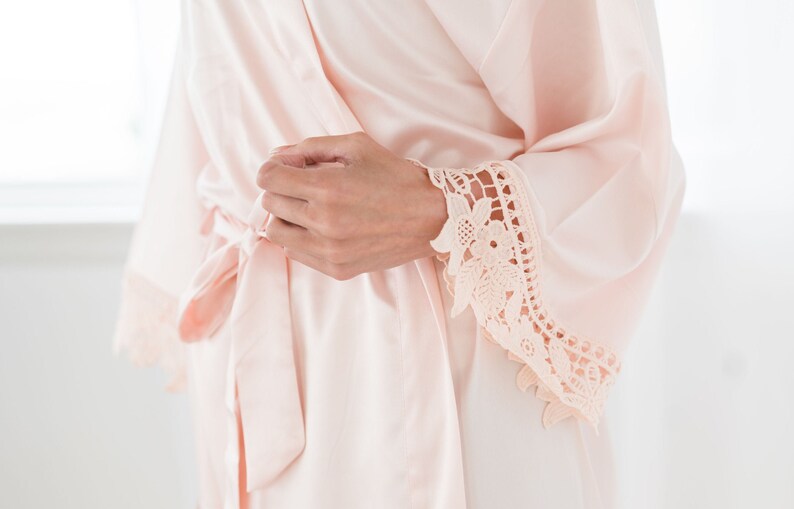 Price: AU$42.44
Stockist: Silk and More
Material: Cotton
Ships From: India
This labour robe is perfect for mums to be. As this is a crossover robe that opens in front so this will also work excellent as a nursing gown. This will also make a lovely hospital gown. Please note this one doesn't have buttons in the back.
The seller has over 161,000 five star reviews!!
Price: AU$39.60
Stockist: Gift Gowns
Ships from Canada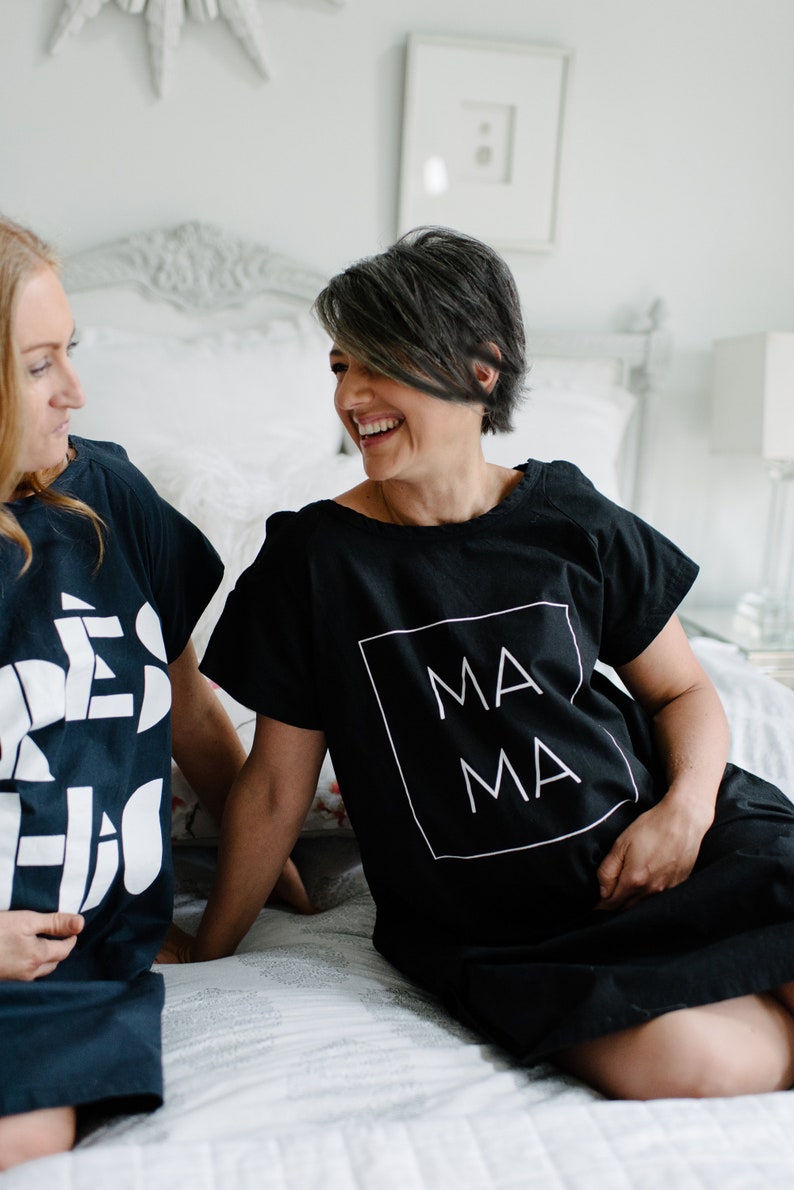 This beautiful hand-made kimono style birthing robe is perfect to wear to the hospital when you are in labour. It is also handy for breastfeeding. The robe is soft to the touch, and lightweight and you can use it for years to come.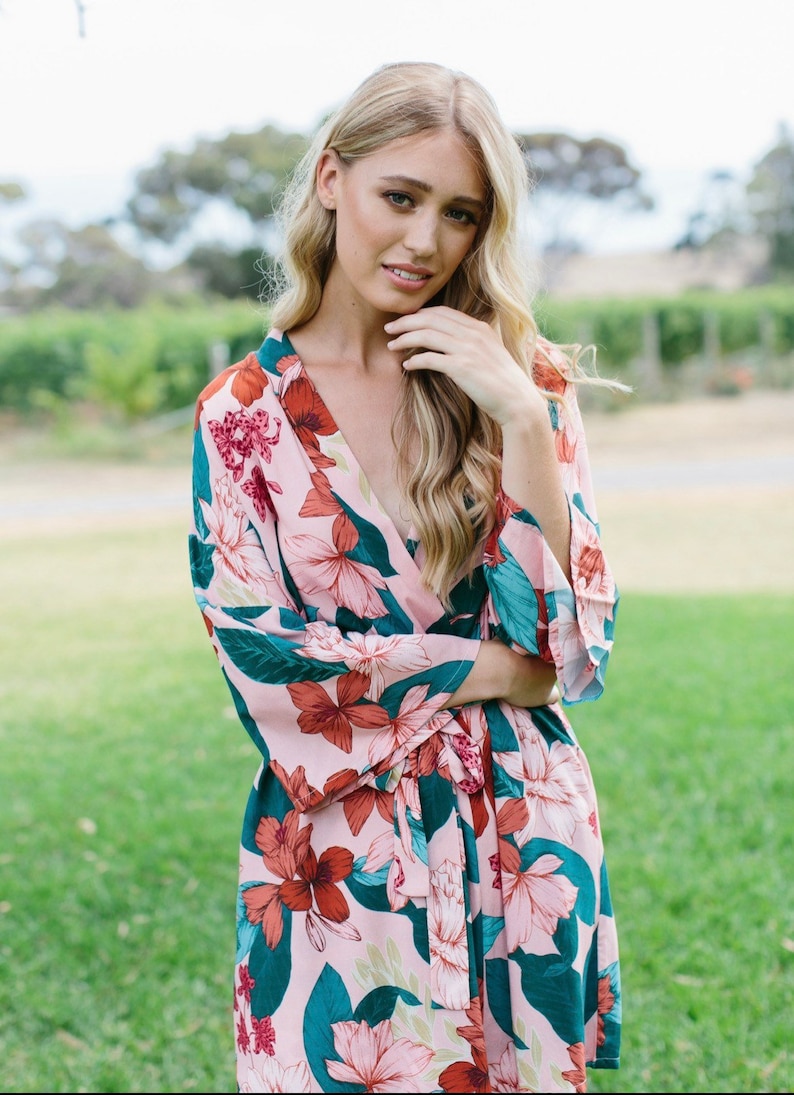 A three-piece set for you, baby and Daddy. You can choose all sizes for everyone and it's kinda nice to have a matching set for the whole family.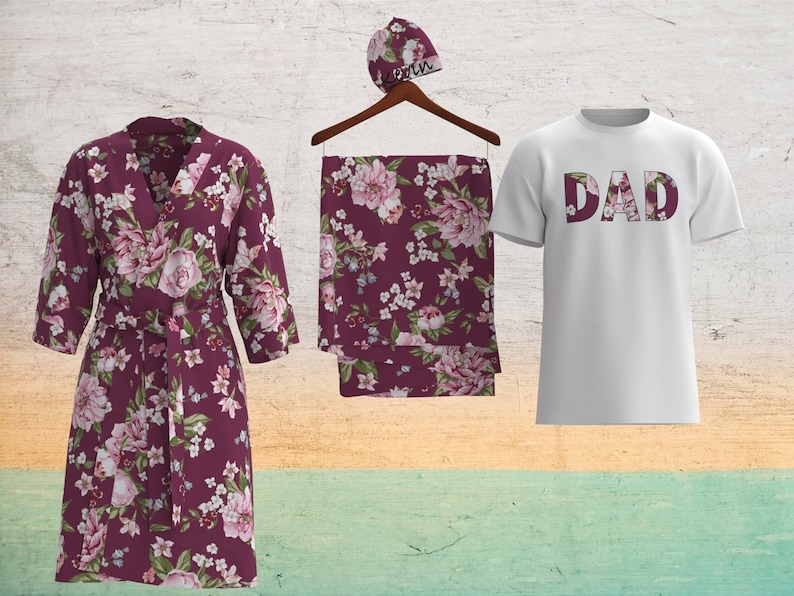 Price: AU$109.76
Stockist: Lila Laborwear
Ships from The United States
This beautiful labour gown is designed with actual labour in mind! It allows full accessibility to your medical team, whilst still being comfortable, pretty and stylish. This gown comes in ten different colours and in sizes Petite, Standard and Full-Size. Some features of this birthing gown include:
Low back to provide accessibility for epidural placement or massage
Opens at the belly for fetal monitors
Two inside ties to provide privacy when needed.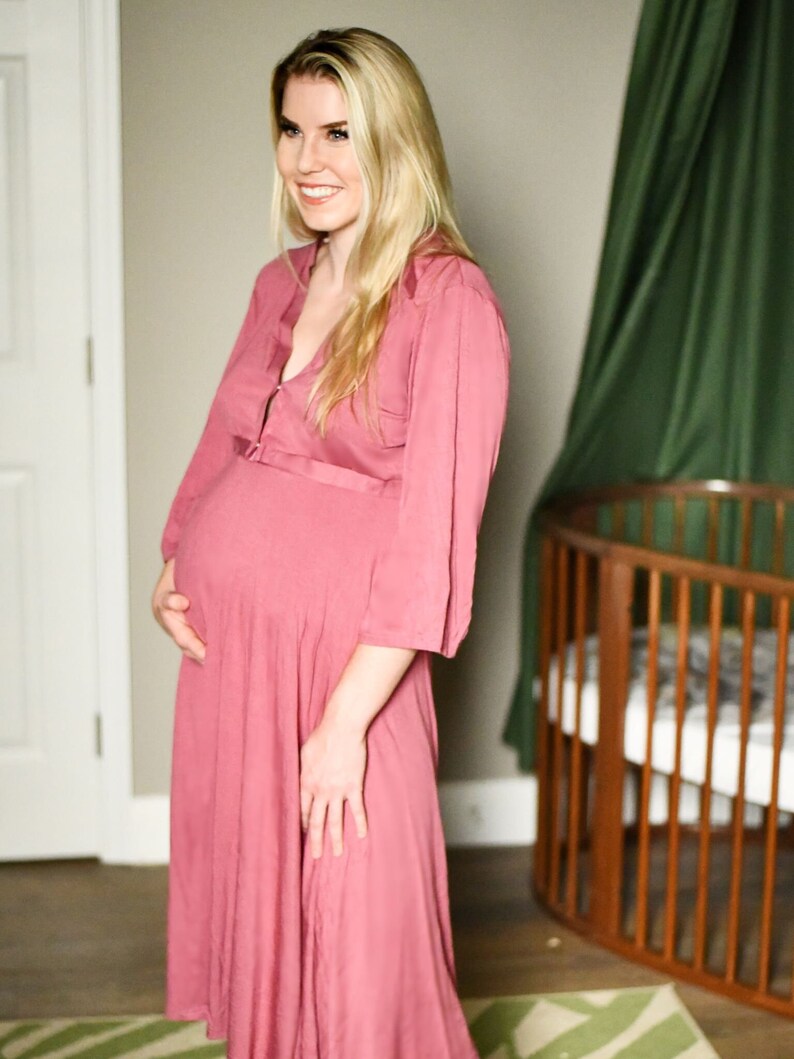 9. Birthing Gown with Matching Dressing Gown
Price: AU$124.40
Stockist: Silk and More
Ships from India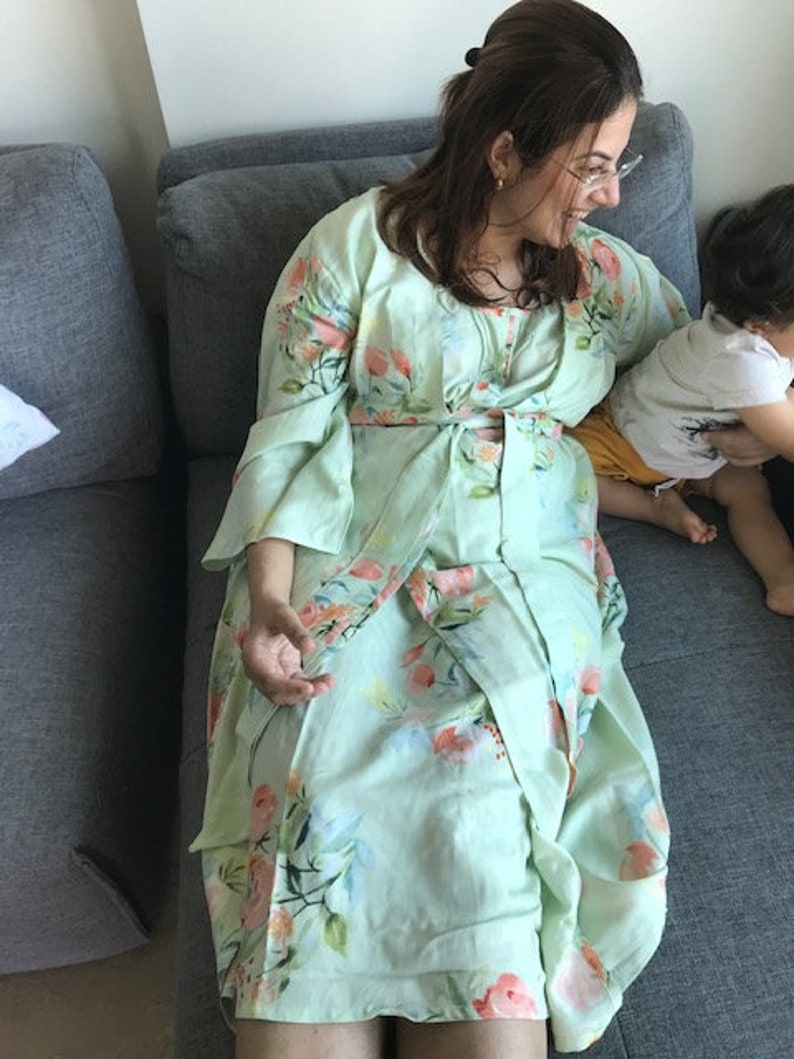 What a fantastic idea for a Baby Shower Gift for the New Mamma Bear!