Where to Buy Weighted Blankets Online 2021
Having trouble getting a solid night's sleep? Constantly tossing and turning, with your mind not being able to shut off?
At some point or another, we have all been there. More and more people are now buying weighted blankets to help them get a deep night's sleep. Weighted blankets are exactly as they sound, blankets with weight equally distributed in them, making them heavier than your everyday doona. The feeling of a weighted blanket gives off the sense of deep pressure similar to being hugged lulling you into a better night's sleep.
What are the Benefits of a Weighted Blanket?
You know the sensation when you curl up in front of the tv, nice and snug in a big blanket? That snug feeling making you feel relaxed and calm? A lot of people find that sensation really soothing. A weighted blanket can feel like a light touch sensation similar to a caress which triggers a feeling called 'Deep Pressure Stimulation.' Deep Pressure Stimulation is used as a therapeutic technique often for children with sensory disorders, autism and ADHD.
Now that weighted blankets are becoming more popular here are some of the benefits of buying a weighted blanket:
Eases stress and anxiety: the feeling of having a weighted blanket on your body can stimulate the hormone "Dopamine" which is that feel-good hormone helping you to feel relaxed and get a better nights sleep.
Better Sleep Quality: Studies have been done on the effectiveness of using a weighted blanket to help those that have insomnia. The study found that using a weighted blanket improved sleep quality by reducing the amount of tossing and turning someone did in their sleep. More Information: Study on the Positive Effect of Weighted Blankets on Insomnia
Helps those with OCD: A common problem for people living with Obsessive Compulsive Disorder is not able to sleep or stay asleep. A weighted blanket encourages the body to relax, regulates the brain chemistry, boosts serotonin "the happy hormone" helping to get a better night's rest.
Reduce symptoms of restless leg syndrome (RLS): Restless Leg Syndrome is known as a "pins and needles" sensations which creates an irresistible urge to move your legs. It often gets worse when you lie down, and you can imagine how disruptive it would be to your sleep. By using a weighted blanket, that feeling of pressure can be of relief to someone suffering of RLS.
Improves focus in children and adults with ADHD by creating a soothing and calming effect easing anxiety.
My Weighted Blanket Story:
I purchased a 9kg weighted blanket for my ASD son – before realising that it was way too heavy for him (I didn't realise back then). So one night it was cold and all the blankets were on the boys' beds, so I grabbed the weighted blanket to try. Now, I have restless legs and have suffered from insomnia forever – I'm not a good sleeper. My biggest problem is that I can't get to sleep – once I do, I will stay asleep.
The blanket was heavy enough to stop my restless legs from flying about. I got to sleep in half the time that I usually do.
Yes, sometimes it can be a bit hot in Summer, but then I fold it in half and just have the blanket on my legs, and it really has made a huge difference to me and my quality of sleep.
What Weight Should my Weighted Blanket Be?
Experts say that a weighted blanket for adults should be approximately 10% of your body weight. So if you are 80kg, you should be looking to buy a weighted blanket around 8kg. For children, 5% of body weight is usually recommended. A weighted blanket that is too heavy for a child can be dangerous as they may struggle to move.
Here is a basic buy guide for recommended weighted blankets sizes:
Less than 25kg – 2.2kg blanket
25kg – 55kg – 4.5kg blanket
55kg to 80kg – 6.8kg blanket
80kg+ – 9.9kg blanket
Please note that weighted blankets are not recommended for children under the age of 2 years of age.
Weighted blankets are designed for weight to be evenly distributed over one person. So if your partner would like to use a weighted blanket, it is recommended you both have one each.
How Do Weighted Blankets Work?
Weighted Blankets are heavy due to having metal, glass or plastic weights sewn into compartments in the blanket, making them heavy. The compartments are evenly divided throughout the blanket.
The Best Weighted Blanket to buy for Kids
The Hotto Cuddle Comfort Weighted Blanket is a budget-friendly choice that comes in colours dark, coffee and maroon. It comes in a number of different weights depending on body size (or child or adult). The cover is 100% cotton which is removable for washing.
This blanket comes in the following sizes:
Single Bed (91cm x 121cm) 2.2kg
Twin Bed (104cm x 152cm) 4.5kg
Full Bed (127cm x 190.cm) 6.8kg
Queen Bed (127cm x 190.5cm) 9kg
King Bed (127cm x 190.5cm) 11.4kg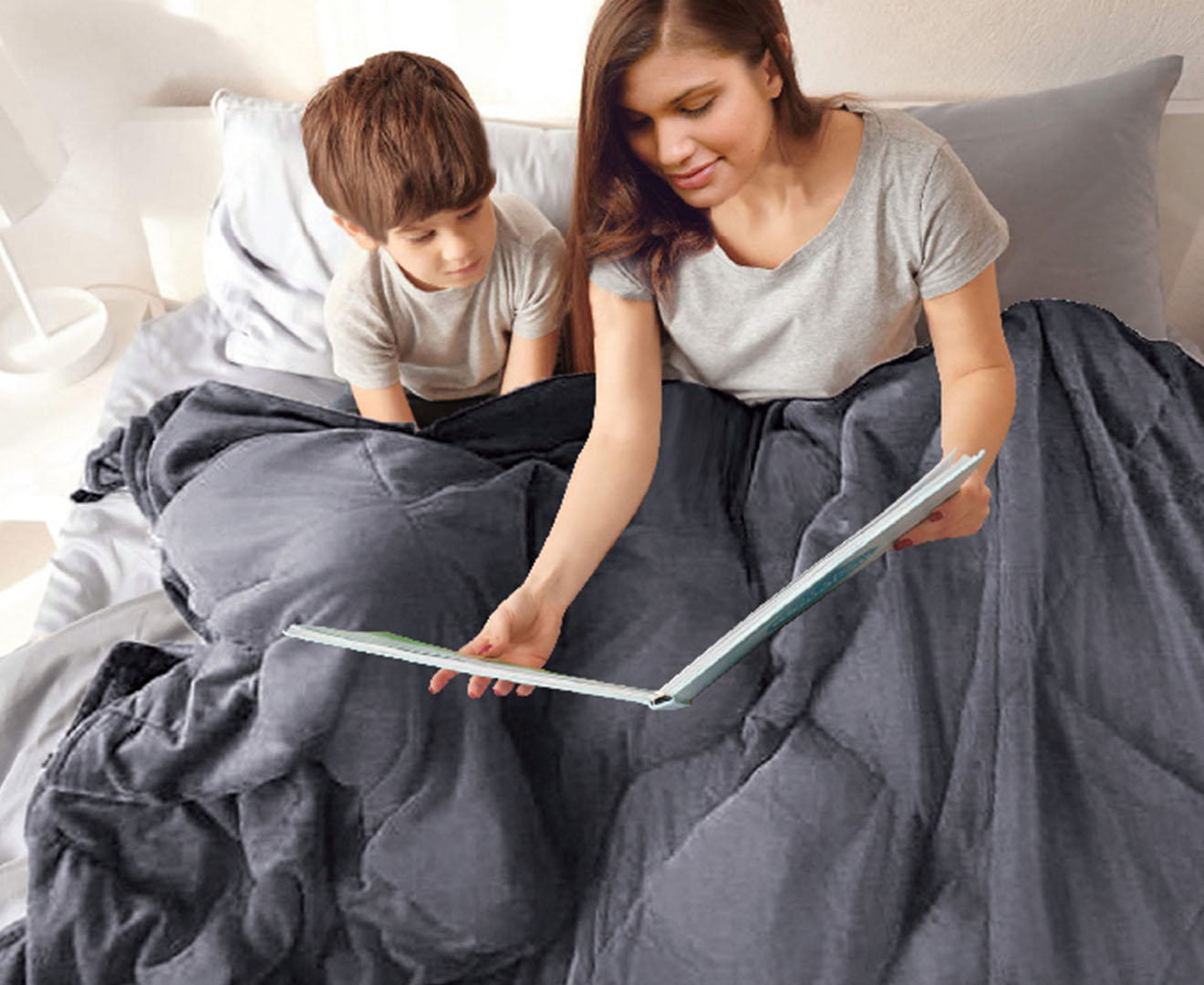 Best Weighted Blankets to buy for Adults
This beautiful grey faux fur weighted blanket comes in a 5kg size, is machine washable and roughly covers half of a queen-size bed. I like that this weighted blanket has a bit of 'pizzazz' about it instead of the usual boring grey colour that they tend to come in. This blanket is 122cm x 183cm so perfect for a Queen Bed and the weights are made of glass beads. The faux fur cover is removable to be able to be washed.
Many weighted blankets are quite warm. But this one is different – perfect if you are a 'hot and sweaty' sleeper. This new ultra-soft cooling weighted blanket uses a unique cooling material that reduces heat and irritability.
Size is 152cm x 203cm
If you are after a weighted blanket that's a bit heavier, the Accessorise Queen Bed 9kg Weighted Blanket ticks that box. The blanket is 100% cotton made up of non-toxic micro fibreglass beads to add weight and comes in a size large enough to cover a queen bed.
The cover of the weighted blanket is removable so it can be washed and is 100% cotton.
Dimensions are 151cm x 202cm. This weighted blanket also comes with a 12-month manufacturers warranty.
Weight: 7kg, 9kg and 11kg
The Ecosa Bamboo Weighted Blanket comes in a variety of sizes: 7kg, 9kg and 11kg. The additional weight is made up of micro glass beads and the blanket is covered with cooling bamboo material. Because of the bamboo, this weighted blanket is naturally hypoallergenic and moisture-wicking.
Best Budget Weighted Blanket
Weights: 2.3kg, 7kg 9kg
The Trafalgar All Seasons Weighted Blankets comes in multiple sizes including 2.3kg, 7kg and 9kg. It comes in a removable 100% premium cotton grey faux fur cover. The material is breathable and perfect for all year round! These are very reasonably priced and a good budget weighted blanket.
High Quality weighted blanket
This 9kg Giselle Plush Minky Weighted Blanket comes in a grey plush cover with polyester and glass-filled beads used for the additional weight. This weighted blanket is totally machine washable and has a 100% premium plush cover. It has excellent leak-proof stitching and has five layers of comfort to ensure it is comfortable, soft and snuggly.
Other Related Articles on SAHM: