It was a long time ago when women began to wear dresses and gowns on their wedding day. But our society is changing, and so is our confidence to baulk tradition!
Nowadays, there are women who want to be less feminine and aren't comfortable with flowers and lace. They want to present themselves as individuals, and so they opt to wear something that would somewhat show who they are. The number of people who ditch gowns for pants is increasing, so it's not anymore unusual at all.
Here are 20 wedding pant suits that you can use as a pattern or an inspiration for your wedding attire if you don't want a traditional wedding dress.
If you don't want to wear overalls, you can choose to wear a two-piece wedding trouser suit that is comfortable to wear, like this Modern Two-Piece Wedding Trouser Suit, which is also a conservative outfit. This super-feminine wedding trouser suit comes in white and light ivory and is made from chiffon, crepe and lace.
If you want to reveal some parts of your body, this Modern Two-Piece Halter Neck Trouser Suit is perfect because it isn't too revealing.  Made from crepe, lace and light crepe, this is a unique take on the traditional wedding suit outfit for women.
This Modern Wedding Jumpsuit Made of Silk is for ladies who don't want their pants to be too long. This also has pockets so it would be very convenient if ever there's something that you have to keep near you, like a handkerchief or a lipstick for a retouch. Made from 100% silk. Hand made in Germany.
This is very simple, minimalist but elegant wedding trouser suit for your big day.  Made from a silk satin top and trousers, the top has a v-neck, has a soft fit and the straps are sewn on the outside creating a draping look.  The Palazzo trousers are wide and close at the waist, curling with a chiffon strap.
Hand made to order from Italy.
As you can see, this Ivory Bridal Suit with a gorgeous cape is both modern and perfect for the inner-city wedding reception.  Perfect for the girl who 'doesn't do dresses'.
Hand made to order from Russia.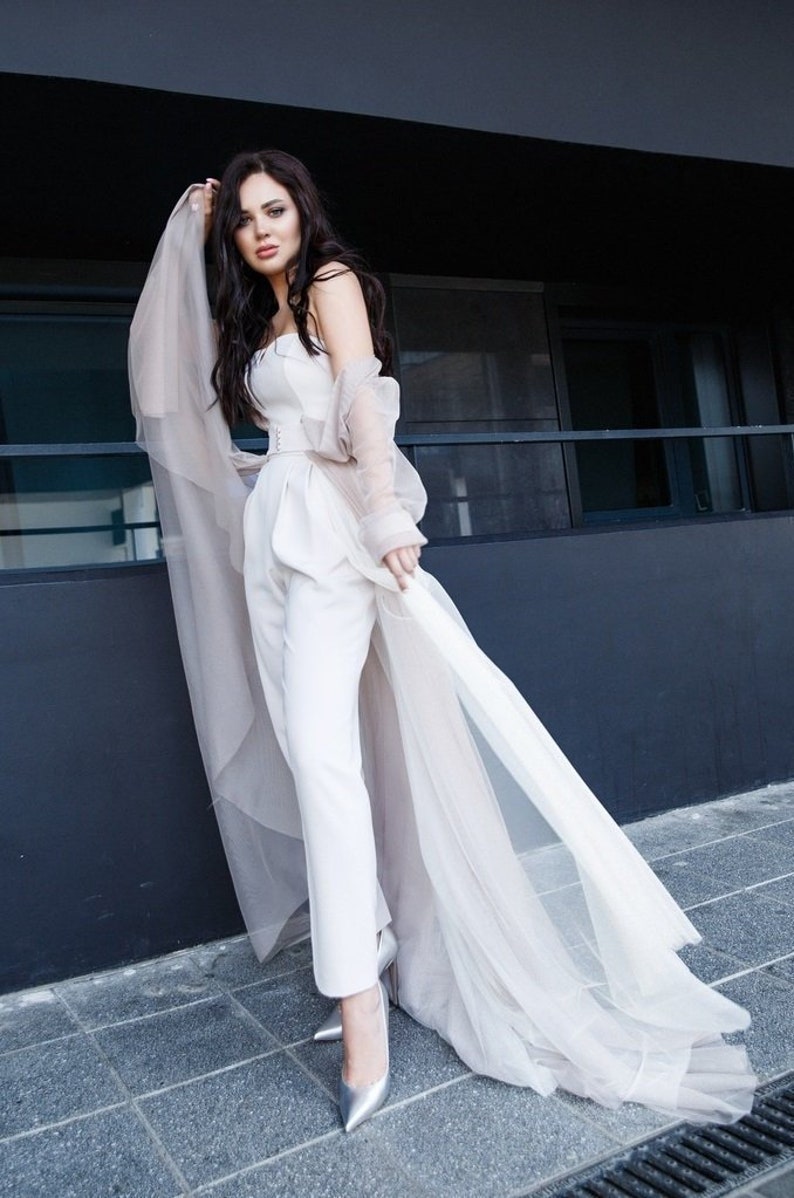 If you aren't into dresses, but still aren't sure about wearing pants to your wedding, than this outfit is a fantastic compromise!  Made from soft and high-quality fabric, with high-waisted pants, a basic top and gorgeous atlas skirt.
Hand made to order from Ukraine.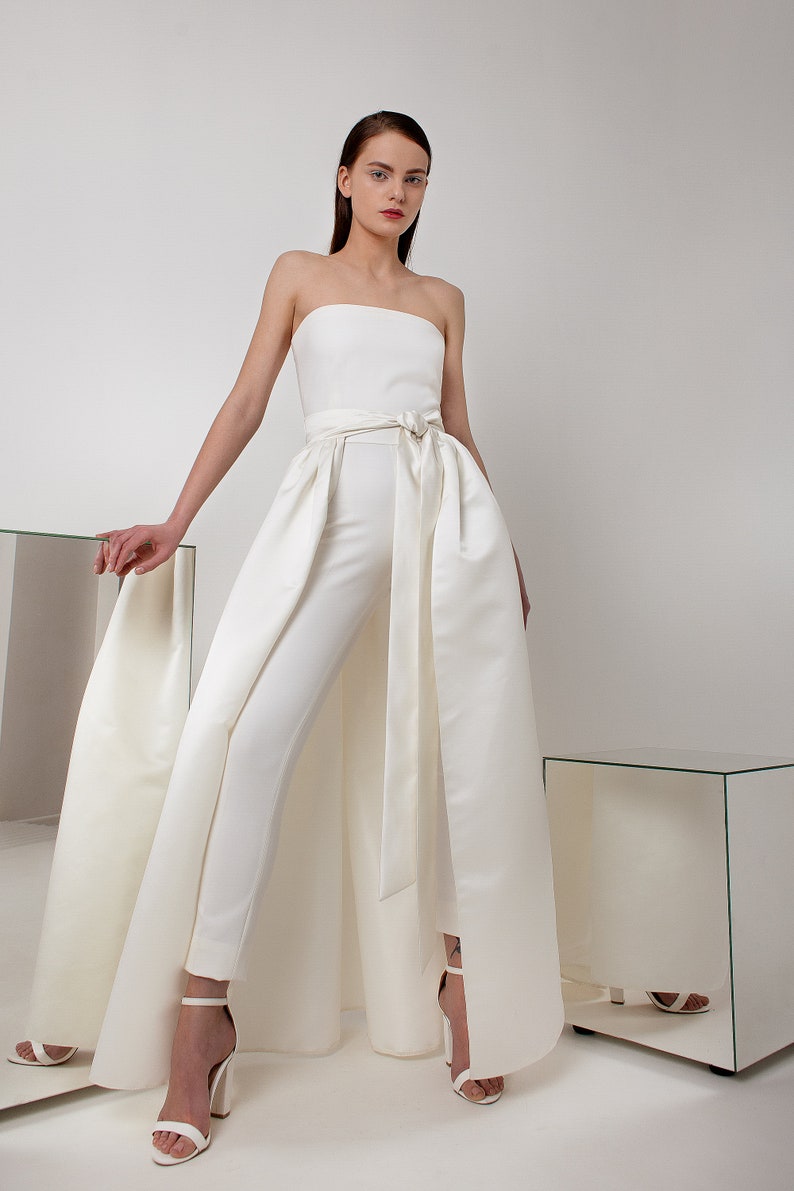 A super feminine yet modern silk suit that is available in a variety of colours.  The fabric has a slight elastic and it falls heavily and gives the body a sense of freedom.  Made from high-quality flax.
Hand made to order from Bulgaria.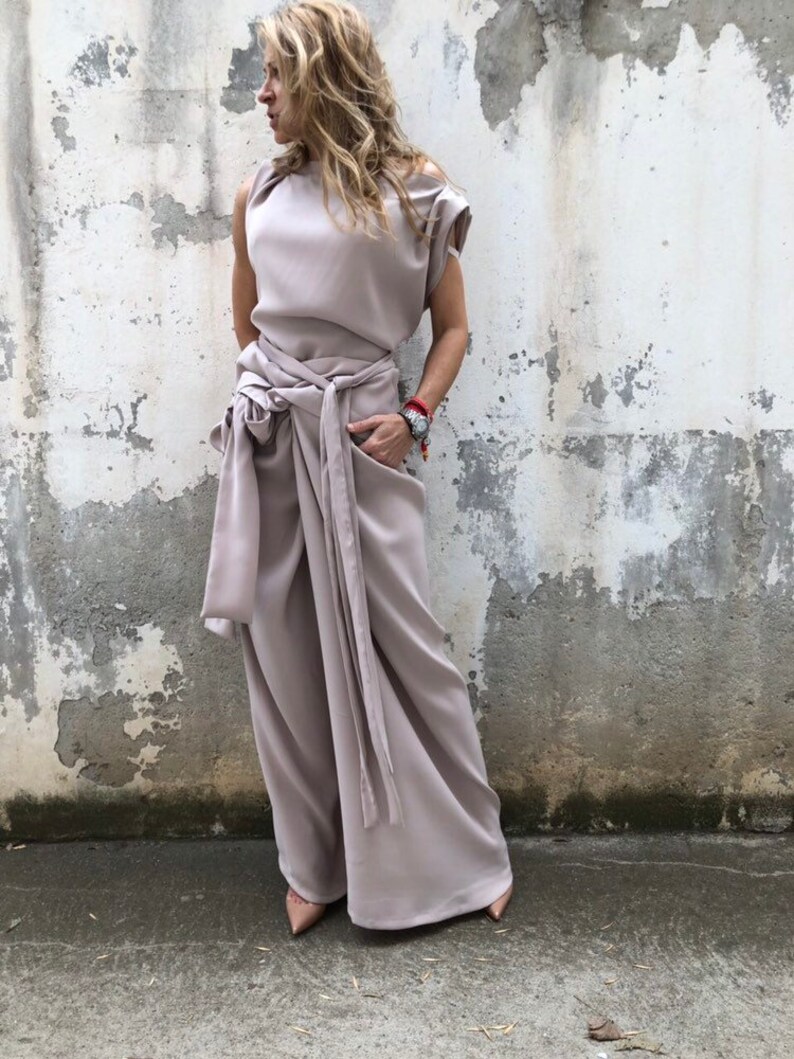 A mixture of elegance and power. This ivory maxi wide pants that are super comfortable to wear and fall to the ground seamlessly.
Hand made to order from Israel.
If you don't want to wear white, that's okay. You can use another color, like with this Detachable Train Pant Suit. You can also use a detachable train so that you can remove it once the wedding ceremony is done.
Stockist: DHGate.com
10. White Halter Jumpsuit
Here's a sexy alternative for wedding gown. White Halter Jumpsuit is backless, your back is exposed. If you want to be elegant without sweating too much, you can try this.
This is one of those wedding pant suits that don't totally remove the presence of the traditional wedding gown. This bridal pant suit has Swarovski Crystals so if you wear this on your wedding day, you can surely get the attention of other people.
This Minimal Lace Pant Suit can be worn as an alternative for wedding gown or just as a casual wear. I find this lovely.
13. Strapless White Jumpsuit with Train
This Strapless White Jumpsuit with Train still has some of the elements of a wedding gown, like the train and the wedding gloves, so you can opt to use this kind of wedding pant suit if you want to be semi-traditional on your wedding day.
This White Strapless Jumpsuit is very clean and polished and is perfect for the minimalists!
This is also the same as White Strapless Jumpsuit. The only difference is the style.
16. Minimal Bridal Pant Suit with Ribbon
This Bridal Pant Suit with Ribbon is very minimal but can attract the attention of others because of the style. It's very feminine but can show power because of the pants.
This Lace Bustier Catsuit shows the sexiness in you!
This Enticing White Jumpsuit is plain, neat, and very minimal but can still make you stylish on your wedding day. If you don't want to be flamboyant, you can opt to wear this.
19. Elegant Halter Jumpsuit
This Elegant Halter Jumpsuit is perfect for people who want to be effortlessly stylish. You don't have to wear neck accessories at all because there's already a beautiful neck design on this dress.
If you love laces so much, you can make it the entire design of your wedding pant suit, like with this White Lace Halter Jumpsuit.
Which of these wedding pant suits do you like the most?