Save a fortune on Christmas Gifts this year by shopping at Online Deal Sites rather than going to a Shopping Centre!
Australia is a land of many great deals. You can find almost anything you need on sale somewhere, whether it's in a physical store or online. But with so many different places to look for deals, it can be hard to know where to start.
These are the best online deal sites to get a bargain – everything you could possibly need for Christmas, Birthdays – anything! Discount toys and games, discount groceries and discount department stores. Because if you have to buy it anyway, you may as well pay as little as possible – and have them delivered to your home.
Plus I love these types of websites because it gives you great ideas on what to actually buy for the family.
More Reading:
Our List of Best Online Deal Sites to Get a Bargain
Australia is a land of bargainers. We love a good deal, and thanks to the internet, we can now search for bargains from the comfort of our own homes. There are a number of online deal sites that offer great discounts on everything from fashion to travel. To help you find the best deals, we've compiled a list of our favourite Australia online deal sites.
Ozsale is one of Australia's largest online retailers, offering discounts on everything from groceries to homewares. Ozsale covers a wide range of categories, making it a great go-to for all your shopping needs. Kogan Australia is another popular online retailer, specialising in electronics and appliances. They offer competitive prices and often have sales on big-ticket items like TVs and white goods.
If you're looking for deals on fashion, check out The Iconic. They offer free delivery on orders over $50 and have regular sales on both men's and women's clothing. For travel deals, booking is a great option. They offer discounts on accommodation and flights and often have package deals that can save you even more money.
So whether you're looking for a new wardrobe or planning your next vacation, be sure to check out our list of Australia's best online deal sites.
---
BEST FOR FASHION, TOYS AND BEAUTY GIFTS
Ozsale has daily deals and provided you are happy to wade through the heaps of sales, it is a good site. You can get some designer items super cheap (especially really high-end skincare). I also bought my weighted blanket from Ozsale as it was about half the price. The only problem with Ozsale is that they don't always have the same products all the time – you have to wait and see. Ozsale – is one of my personal favourite online deal sites to check out!
But they do have specific categories such as tech, women, home and garden, kids and toys, men and beauty!
And if you are into luxury brands – Ozsale is the place to get a steal! Jimmy Choo anyone?
---
BEST FOR TECH GIFTS, GAMES & TOYS AND INEXPENSIVE BEAUTY ITEMS
Amazon Australia may have gotten off to a really slow start, but it is starting to boom – and the choice is just massive (as are the savings!). The best bits to check out on Amazon include:
BEST FOR ELECTRONICS, PHONES AND COMPUTERS
Kogan is a huge Department Store, great for electronics, phones, computers and holidays at a great price. Kogan is a fantastic online deal site to pick up laptops, technology, home appliances and even holidays at a bargain-basement price.
Kogan is an Australia-based online store that offers a wide variety of items ranging from general items to everyday wear. The store also offers a variety of hobbies and activities for its customers. Kogan is one of Australia's premiere all-around shopping stores with something for everyone.
The store's mission is to provide its customers with the best possible shopping experience and to offer great deals on a variety of items. Kogan is dedicated to providing its customers with a great shopping experience, and it offers a wide variety of items at great prices. Visit Kogan today for the best deals on all your shopping needs!
Crazy Sales is really starting to get HUGE – remember Deals Direct years ago (not sure if they are still around…) – this is like that but on steroids. Crazy Sales is an online deal site, dedicated to bringing you the best deals and discounts on a huge range of products.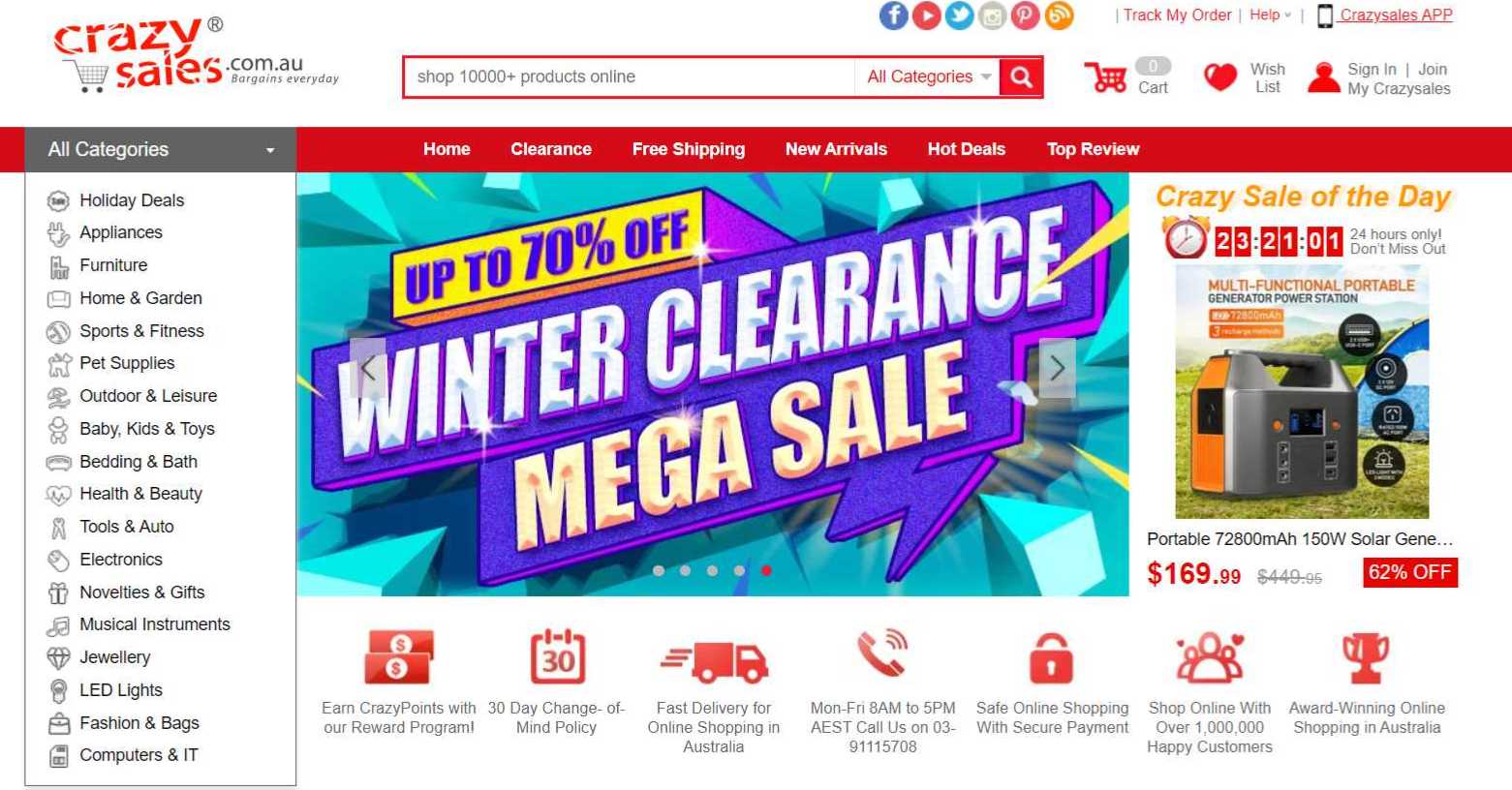 We work closely with Australia's biggest retailers to bring you exclusive deals and offers that you won't find anywhere else. Whether you're looking for a new TV, a new car, or just a great deal on a pair of shoes, Crazy Sales has you covered. We also have a huge range of everyday items at heavily discounted prices, so you can always find a great deal on the things you need.
---
Bargains Online has some super cheap products that are worth checking out – particularly in the home sector.
Cheap exercise equipment
Cheap Mattresses
Cheap Renovator Goods such as Vanity Units, Curtains and Home Decor
Camping Gear
Kids Toys
Outdoor Furniture
Definitely worth checking out!
---
Deals.com.au shows you all the deals that are located in your area of Australia. Get discounts on eating out, health and fitness, activities, travel, shopping and gifts. This is a great site for anyone who wants to lead a champagne life on a beer budget!
Hint: If you sign up for their newsletter and use the code DEALS10 at the checkout – you get 10% off any purchases.
If you're looking for the best deals on flights and hotels in Australia, look no further than Deals.com.au. They've got a competitive selection of travel deals for Australians, all in one convenient place. Whether you're planning a holiday or a business trip, they've got you covered. Deals are updated daily, so you're always getting the latest and greatest offers. And the price match guarantee means you're always getting the best price possible.
Best Deals Today collates all of the really best deals around Australia and puts them in a single place for you to find. Popular products regularly available on Best Deals Today include Laptops, Fitbits, Michael Kors Fashion, PS4 Consoles, Nike Shoes, Smart TV's, Apple iPhones and more!
That's where Best Deals Today comes in. They're an online deal site that covers a wide range of items, from electronics to fashion to homewares. They work with Australia's top retailers to bring you the best deals every day, so you can save time and money.
Plus, they've got a team of deal experts who are always on the lookout for new offers, so you can be sure you're getting the best possible price.
Positioned as one of Australia's premier online deal websites, Bargain Avenue is a treasure trove for savvy shoppers. This platform offers a wide range of product categories, from electronics to fashion and travel, ensuring that consumers can find discounts on virtually anything they desire.
What sets Bargain Avenue apart is its commitment to real-time deal updates, exclusive coupons, and a user-friendly interface that simplifies the shopping experience. Users can easily search, filter, and engage with a community of fellow deal seekers, making it a comprehensive and interactive destination for those looking to save while shopping online.
Bargain Avenue's dedication to providing up-to-date deals and fostering a community of engaged shoppers distinguishes it as a top choice for Australian bargain hunters. With its user-friendly design, exclusive coupons, and extensive coverage of categories, it ensures that users have easy access to the latest discounts and promotions.
Whether you're in search of tech gadgets, fashion items, travel deals, or everyday essentials, Bargain Avenue offers a valuable resource for finding bargains and making informed purchasing decisions in the Australian market.
Groupon is good for experiences. Get low-cost dinners, outings, travel deals and spa treatments. I think Groupon Vouchers make a great Christmas Gift for the person who is really hard to buy for.
This deals website offers unbeatable discounts on activities, restaurants, hotels, shopping, and more in hundreds of cities across the country. Whether you're looking for a fun day out with friends or a romantic weekend getaway, they've got you covered. And because their deals are always changing, there's always something new to discover.
Scoopon is based on where you live and offers the best deals nearby. They have food and drink deals, holidays, and cheap accommodation deals. If you're looking for a great deal on travel or other goods in Australia, Scoopon is definitely worth checking out.
They offer online-based discount coupons which can often give over 50% off the normal prices. Plus, they have a wide range of deals available so you're sure to find something that suits your needs. And if you're not sure what you're looking for, their friendly customer service team will be more than happy to help you out.
It's pretty similar to Groupon, and it's actually an off-shoot-based sited from it.
---
Payday Deals is one of Australia's leading online deals sites bringing you the best deals from across the country, all in one convenient place.
Whether you're looking for homeware, technology, beauty or fitness products, they've got you covered. There are new items to add to their catalogue, so you can be sure you're getting the best possible deals.
A new kid on the block of deal sites!
Costway Australia is a standout online deal website that caters to a diverse range of consumers looking for quality products at affordable prices. They sell wholesale furniture, appliances, baby and kids products, toys, sports, pet products and health and beauty products – more to be honest can't name everything off the top of my head!
With a commitment to offering exceptional value, Costway has gained recognition as one of the best online deal destinations in Australia. The website's strength lies in its vast selection of products, spanning categories like home and garden, electronics, furniture, fitness equipment, and more.
Costway's appeal extends beyond just great prices; it also emphasizes product quality and customer satisfaction. The website regularly features exclusive deals and promotions, making it an attractive option for budget-conscious shoppers. Navigating the site is a breeze, with intuitive search and filter options, ensuring that users can quickly locate the best deals that align with their preferences. Whether you're in the market for home appliances, outdoor gear, or fitness equipment, Costway Australia offers a wealth of discounted options, making it a must-visit site for those seeking bargains without compromising on quality.
These are our list of over 12 best online deal sites to get yourself a bargain!
Australia is a bargain hunter's paradise, with a wide variety of online deal sites to choose from. Our list includes sites that offer a great selection of deals on everything from fashion and beauty to homewares and electronics.
Whether you're looking for a discount on your next holiday or a new outfit for a night out, there's sure to be a deal site that can help you save. So, what are you waiting for? Start browsing and see how much you can save!