List of the Cheapest Meal Delivery Services in Australia
You've seen all the advertisements on the television and online about Meal Delivery Services…. You've had a quick look but geez, some of them are expensive! If you have had these thoughts, you certainly aren't alone!
But there is a reason more and more meal delivery services are popping up everywhere – they are convenient! And with the expanding market – there are now low cost or budget options to take advantage of!
Table of Contents:
More Reading:
1. The Benefits of Meal Delivery Services:
There are really two different types of Meal Delivery Services – ones that provide whole pre-prepared meals that just need to be reheated and eaten – and those that provide pre-measured ingredients and a recipe that you follow to enjoy a delicious meal at the end. Both have their pro's and con's and both are considered meal delivery services.
Pre-Prepared Meals Pro's and Con's:
The meal is already prepared – so it is fast – you just need to pop it in the microwave
Fantastic for time-poor people or people who don't like to cook
The whole meal is already pre-measured and pre-portioned
Pre-prepared meals don't always look tremendously delicious from a microwave dish
No option to tweak the meal or change ingredients
Pre-Measured Meals Pro's and Con's:
All the ingredients are usually fresh and pre-portioned so there is no waste
Meals can take a while to prepare
You can leave out ingredients or add ingredients in should you wish
You can learn new cooking techniques by following the instructions
2. Can Meal Delivery Services Really Save You Money?
For some families, yes they can! If you are the type of person who can't shop with a list, and consistently over-purchases at the supermarket – and struggles with what to make for dinner every night – then meal delivery services are perfect for you!
They save the stress out of having to think about what to make, what ingredients to buy, portion control and budgeting. Look – that stuff isn't for everyone – and that's okay!
3. What the Difference Between Other Meal Delivery Services and These Cheap Ones?
Two words – Purchasing Power. If meal delivery services provided meals that didn't taste good or their ingredients weren't fresh and of good quality – they wouldn't be in business anymore. When a company is doing a great job, they can afford to negotiate better deals on their ingredients and therefore pass their savings onto their customers – you!
Some meal delivery services are more expensive because of the actual food – if they are specifically catering to food sensitivities, a strict diet or lifestyle, you are going to be paying more per meal. For example, vegan meals, keto or dairy and egg-free diets or weight loss plans take a lot of pre-planning and work to ensure they have all the required dietary requirements in a single meal – that means time and preparation – which of course means it costs you the consumer more!
Plus most of these cheap meal delivery services have no lock-in contracts – so if you don't like their meals – just cancel and change! Easy!
More Reading:
4. What is the Cheapest Meal Delivery Service in Australia?
Well, it depends on whether you are looking at pre-prepared or pre-measured meal delivery services.  We have a list of the cheapest meal delivery services in Australia below – including pricing and what you get for your money!  We have listed these Meal Delivery Services from the cheapest through to the most expensive.
5. List of All the Cheapest Meal Delivery Services in Australia
Minimum Cost Per Meal: $4.79 per plate (if you ordered 6 meals per week for 6 people)
Maximum Cost Per Meal: $6.99 per plate (if you ordered 3 meals per week for 2 people)
Box Types: They have boxes for 2, 4 or 6 people, serving 3, 4 5 or 6 meals per week.
Serviced Areas: Currently EveryPlate delivers to the vast majority of NSW, VIC, ACT, QLD and WA. Click here for delivery details >
Deals:
EveryPlate has no lock-in contract and you can skip weeks in advance if you are planning on going away. EveryPlate keeps its prices down as it cuts out all the 'frills' associated with most other meal delivery services.
EveryPlate was the cheapest meal delivery service I could find in Australia. The recipes were easy but most took longer than the 30 minutes it said it would take. So it is a delicious meal delivery service – without the hoo haa of branding.
Some of the recipes that were on offer when I looked (and these change all the time by the way) include:
Asian Pork Meatball Tacos
Spiced Chicken & Roast Veggies
BBQ-Style Beef Bowl
Sweet Chilli Pork Stir-Fry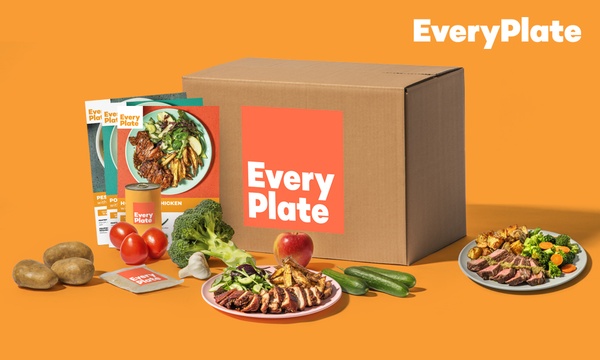 Minimum Cost Per Plate: $4.85 per portion or $83.95 per week (if you chose a Family Box with 6 meals per week) + $8.95 shipping cost
Maximum Cost Per Plate: $7.25 per portion or $52.45 per week (if you chose a two-person box for 3 meals per week) + $8.95 shipping cost
Box Types: Two Person Box or a Family Box
Serviced Areas: Dinnerly ships to most of NSW, VIC, QLD, SA, NT, ACT, WA and TAS.
Deals:
Dinnerly are great as they offer different meal delivery kits depending on your dietary requirements (ie they also offer dairy-free, low-calorie, gluten-free, kid-friendly, vegetarian and reduced-carb meals). Dinnerly touts itself as the most affordable meal delivery program in Australia.
Advantages of Dinnerly are:
No locked-in contract – you can skip, pause or cancel your order at any time
They offer a large range of meals including a great range of multicultural meals
Meals are simple but filling
Dinnerly Coupons
Minimum Cost Per Meal: $5.99 per plate (which is 3 meals for four people) with free shipping
Box Types: Meat & Veggies, Calorie Smart or Family Friendly. Boxes suitable for two or four people.
Serviced Areas: Hello Fresh currently delivers to SA, VIC, ACT, QLD, WA and NT
Hello Fresh is a global leader when it comes to Meal Delivery Services. I have personally used Hello Fresh before (and I have another box coming tomorrow) – and it is absolutely scrumptious! The only negative I have about Hello Fresh is that some of the recipes take a bit of time to make – so if you love cooking and love learning new recipes – then this is the meal delivery service for you. If you aren't a fan of cooking – I'd look for another one!
Their recipes include:
Vegetarian Options
Quick Dinner Ideas
Low Carb Recipes
Hello Fresh meals are truly spectacular – and I'm yet to find a person that has tried Hello Fresh that doesn't actually enjoy the meals.  I love that every recipe comes with a cardboard recipe card so that I can recreate the same recipe again.  Even my fussy eating boys loved Hello Fresh.
An example of some of the recipes that were available when writing this article include:
Classic Pork Sausages & Scalloped Potatoes
Quick Mild Tomato Chicken Masala
Quick Sesame Beef & Broccoli Stir-Fry
Chicken Tenderloins & Cheesy Garlic Sauce
Hello Fresh Coupons
Minimum Cost Per Plate: $7.86
Box Types: They have 'Bundle' deals which include:
5 Day Weight Loss Bundle from $143.62
Best Sellers Bundle from $69.65
Clean & Lean Bundle from $69.65
Muscle Builder Bundle from $76.65
Serviced Areas: They deliver to a wide range of addresses but they also have over 4000 retailers stocking their meals including Woolworths, IGA, Coles, BP and Foodworks
Deals: Get 7 Meals for $55 – Use the code: Week-Sorted
YouFoodz is a pre-prepared Meal Delivery Service with all the foods pre-made – frozen and ready to be reheated when you are ready to eat them. They have a great range depending on your dietary requirements including:
Clean Eating Range (under 350 calories)
Large Range
Gluten-Free Range
Vegetarian Range
No Nuts Added
No Eggs Added
No Dairy Added
And their meals aren't all 'Seaweed and Snot' – they have some nice big 'man meals' including Steak & Chips with Mushroom Sauce and BBQ Meatballs and Potato Salad. I like that there is a range to suit the whole family – especially if the family have different requirements – everyone can have a separate meal without all the rigmarole that goes with cooking separate dishes.
YouFoodz Coupon Code
Buy in Bulk
Grab 9 meals for $69
Grab 9 meals for $69. See website T&C's may apply.
Grab 9 meals for $69. See website T&C's may apply.
Show Less
Minimum Cost Per Meal: From $9.95 per meal
Box Types: Everyday Box or Weight Loss Box
Serviced Areas: Check their Delivery Check to see if they deliver in your area
I'm lucky enough to have tried ChefGood not so long ago – and I can honestly say the meals were delicious! They were so tasty – I would purchase this meal delivery service with my own money! They offer loads of different meals and cater to dietary requirements such as vegetarian, vegan, no-added gluten and no-added dairy.
None of ChefGood's food contains preservatives, unhealthy fats or added sugars. Best of all – they are Australian made.
Popular recipes at the time of spring include:
Ricotta Gnocchi with Tomato & Basil Sauce
Chicken & Black Bean Burrito
Nonna's Lasagne
ChefGood Coupon:
$50 OFF
$50 OFF ($30 OFF your 1st order + $20 off your 2nd)
SAHM Exclusive: $50 OFF ($30 off your first order, $20 off your 2nd). Click "show code"...
Show More
SAHM Exclusive: $50 OFF ($30 off your first order, $20 off your 2nd). Click "show code" then input code in by clicking the "Add Promo or Gift Voucher Code" in Order Summary below credit card details during checkout to apply.
Show Less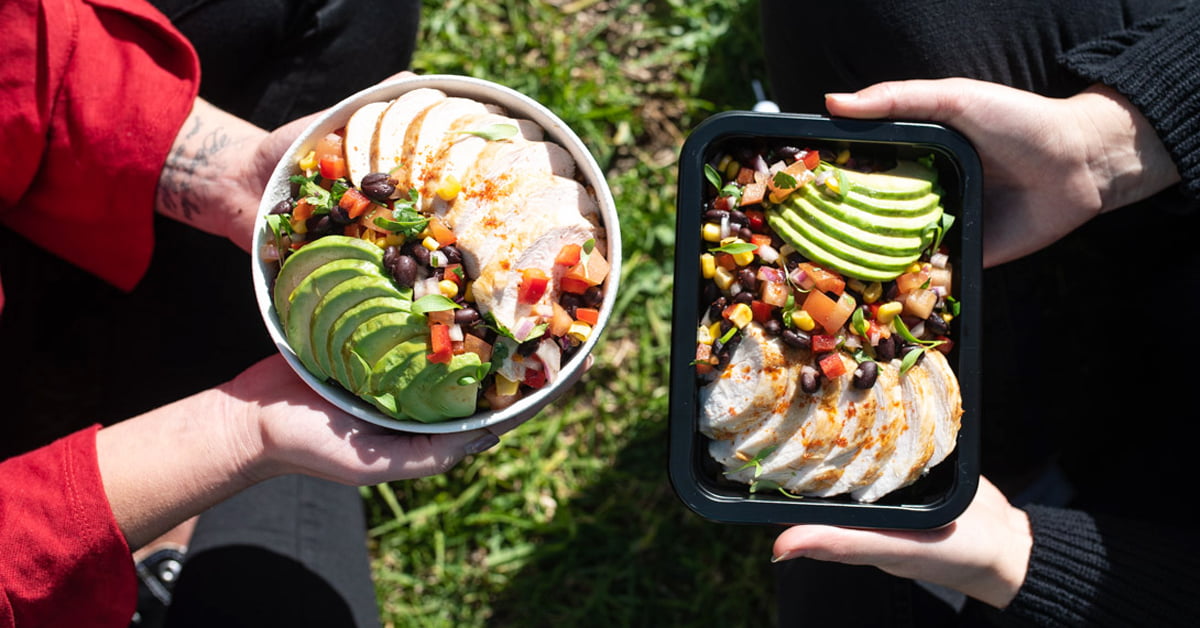 This is a list of the Cheapest Meal Delivery Services in Australia. What do you think? Do you still consider them cheap or do you find them an expensive luxury not suitable for families?
Discuss it further over on our Anonymous Forum – Ask Stay at Home Mum.