Father's Day Hampers for men!
Manly Men don't want a gift hamper full of fancy chocolates and satin eye masks. Nope! They want manly-man items. Like beer, a stubby cooler with a picture of a naked chick on it, and maybe a pair of double pluggers.
These here are Gift Hampers for Men. Fathers Day Gift Hampers, Blokey gift hampers for men — real men! Snort.
We've featured several gift baskets for gentlemen in some of our previous gift recommendations, such as Father's Day gift ideas! But we were intrigued to see how many options there are out there. So we went on a search!
Why Gift Hampers For Men?
Finding a decent gift hamper for men is notoriously tough; but finding a good gift for a manly man? It's a much more difficult task! 
The question is, what is the greatest present to purchase him for Holidays or any celebrations that he will enjoy and appreciate? Your best bet is to get him a gift basket or gift hampers for men packed with his favourite items!
For guys who are difficult to buy presents for, gift sets and baskets are ideal since they feature a range of items based on stuff they TRULY love!
Is your partner a beer fan? He'll like a fantastic beer gift set that includes a personalized pint glass and bottle opener! Is he a coffee drinker? The finest surprise ever will be a gift basket filled with several types of coffee and snacks. Is your macho man a whiskey connoisseur? For Christmas, get him a present set that consists of a set of glassware and whiskey stones!
For the wonderful man in your life, these 10 Best Blokey Gift Hampers for Men offers a little bit of everything!
Say no to socks, jocks, and a voucher for Bunnings! First Class Hampers helps you break the pattern of boring gifts with their extensive range of men's gift hampers uniquely designed for the special guys in your life.
Inside each basket he'll discover his favourite local and international beers and spirits from Archie Rose, Heineken, Asahi, Chivas, and Wild Turkey, gourmet sweet and savoury food, and high-end homewares to serve it all on. Australian-owned and operated, First Class Hampers has a great reputation for curating gift packs people love, and offer speedy same-day hamper delivery in Melbourne – ideal for those last-minute Fathers Day gifts. Discover their range of gift hampers here.
Get a Father's Day Gift he will never forget – a set of Double D Donut's – delivered right to his door!
Price: $38.00
Melbourne Only
Father's Day is just around the corner! What better way to give Dad a little taste of luxury than with Penfold's Father Grand Tawny Port. This smooth red treat will delight his senses and keep him feeling sharp even on those long days. But that's not all! He'll also receive some goodies from two favourite Australian brands—Maggie Beer and Morgan's—to satisfy his sweet tooth.
So manly, that after consuming these gift hampers for men, you will feel the need to build something – with a toolbelt!
Here's a ballsy gift for the cricketing tragedy! These gift hampers for men contain 3 all-rounder products; the Bat Line Up Mini Wash Bag, Enamel Mug and Cricketers Soap.
Such a manly gift that you will start resembling Bruce Willis in Die Hard.
For a taste of adventure, get the James Squire Ale Hamper and explore the James Squire craft beer range!
From bold and daring to subtle yet complex. Explore the flavours and aromas with each sip whilst uncovering tales from our adventurous past behind names such as "Hop Thief" or "One Fifty Lashes".
These gift hampers for men also contains an assortment of tasty beer snacks.
Want to experience the Hennessy VSOP and accompanying delicacies in every way possible? We've made it easy- for you. Treat yourself to the Luxury Hennessy Hamper filled with the superior quality of Hennessy VSOP Cognac and a wide variety of Australian snacks and spreads.
Cognac. As manly as Magnum PI.
The Glenmorangie Quinta Ruban Scotch Whisky is the perfect gift for any man who enjoys quality. Whether he's savouring a smooth drink or indulging in snacks, this hamper has what it takes to please him!
So manly, you will feel like fighting whilst wearing a leather jacket and eating a good steak.
Beer and nuts. What could be more masculine and manly for Father's Day. Includes:
2 x Carlton Crown Lager 335ml
2 x Coopers Clear Dry Lager 355ml
2 x Dry Dock Premium Lager 355ml
Roccas Deli Baker Chips 100g
Rosenborg Mild Danish Brie 125g
Suncoast Gold Sea Salt Macadamias 50g
My Snax Salted Peanuts
Walkers Traditional Shortbread 125g
Grand Sea Salt Potato Crisps 45g
In Season Sea Salt & Garlic Crisp Breads 100g
Herb & Spice Butter Shortbread Bites 50g
Patons Chocolate Coated Macadamia Royals 55g
Assortment of Caramels
Presented in a Modern storage basket
Professional Shrink Wrapped with a gift card and ribbon.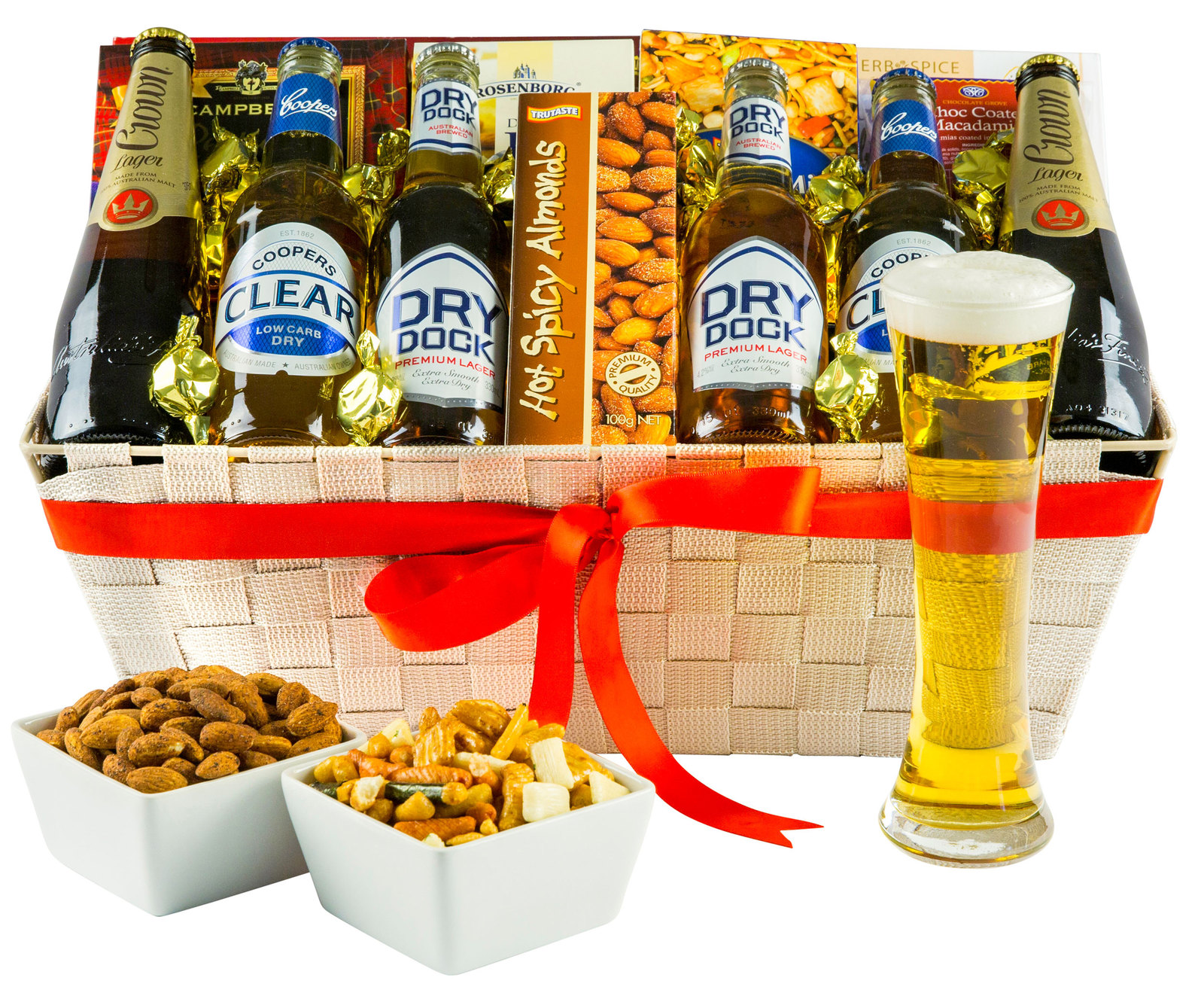 Price: $79.00 with free shipping within Australia
Stockist: Hard to Find
The good ole tinnie holds a special place in Australian culture and its making a comeback with craft brewers around the country embracing this much-loved retro vessel. Airtight and light resistant, tinnies maintain the awesome flavour of beer and nothing beats the sweet sound of cracking open a cold one. Here 10 of the best have been bundled up for you:
1 x Stockade Mr Fruju NEIPA
1 x Colonial South West Sour
1 x Brick Lane One Love Pale Ale
1 x Sidewinder Hazy Pale
1 x Slipstream Billy Cart Rye Pale Ale
1 x Mornington Brown
1 x Jetty Road Pale Ale
1 x Foghorn Newy Pale Ale
1 x Ballistic Hawaiian Haze Pale Ale
1 x Mismatch Lager
Tasting notes
Beer glass guide
Personalised gift card (optional)
Price: $149 including free Australia-wide shipping
Stockist: Hard to Find
If your man loves whisky – then he is going to shit himself when he opens this bad boy on Father's Day this year.
Twelve 30ml samples of Australian whiskies:
– 'Rye Whisky' by Belgrove Distillery
– 'Port Cask' by Overeem Distillery
– 'Signature Single Malt' by Morris Whisky
– 'Muscat Cask' by Headlands Distilling
– 'Old Reliable' by Dobson's Distillery
– 'House Malt' by Fleurieu Distillery
– 'Corn Mash Whisky' by Grove Distillery
– 'Limeburners Sherry Cask' by Great Southern Distilling
– 'Peated' by Hellyers Road Distillery
– 'O'Grady's Stand' by Kinglake Distillery
– 'Nova' by Starward Distillery
– 'Upshot' by Whipper Snapper Distillery
Every man will feel like a king when he opens this indulgent hamper. Treat him to Bourbon Wood Cleansing Wash and Bar from Nēktar Australia, a soft plush robe, the finest gourmet sweet treats, and more divine gifts. The true star of this hamper is a bottle of Shiraz from Cape Mentelle. Hailing from Margaret River, this drop is second-to-none. Spoil Dad on Father's Day, or surprise the man who deserves to slow down and unwind.
Enjoy FREE delivery Australia-wide. You can also add a free gift card to be personalised with your message at checkout.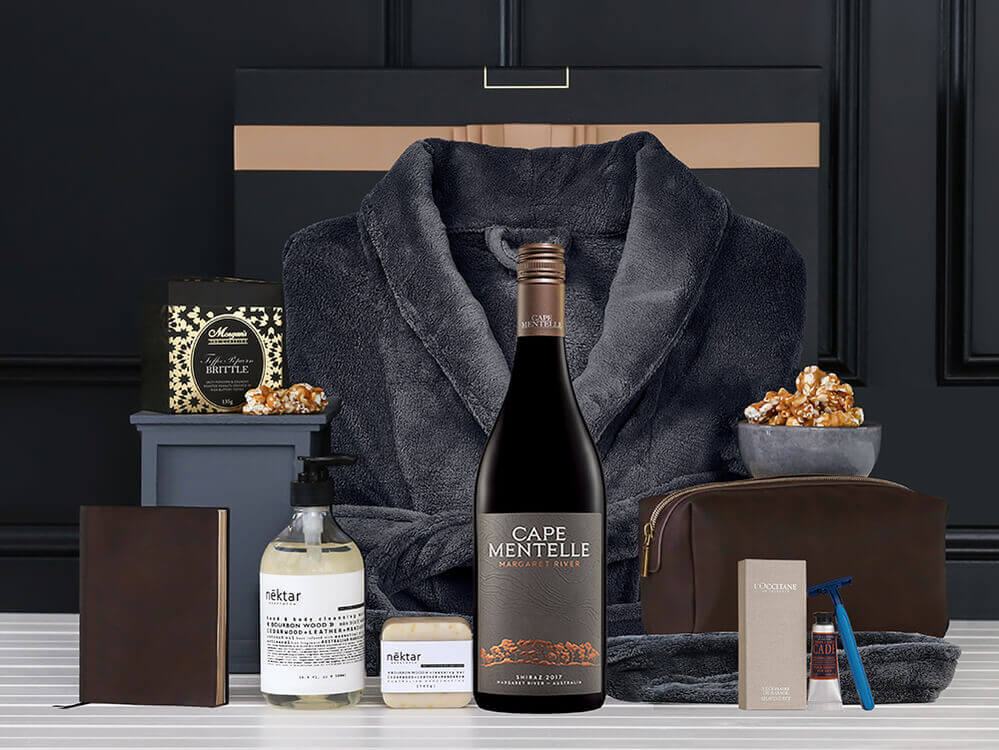 Read More: