We have an assorted range of the BEST Advent Calendars 2021 has to offer!!
I absolutely love the fact that there are so many for grown-ups now as they make a fantastic Christmas gift!
In days of old, the only real advent calendars (apart from those we made ourselves) were the Cadbury Chocolate type ones. Now, there are advent calendars for everyone. It's a fun way to count down the days to Christmas.
We cover Advent Calendars for the following categories:
1. List of Kid's Advent Calendars
Experience the magic of a moonlight night with this unique transparent advent calendar from Advent Wonderland. Each window reveals an intricate scene in silhouette, made from black card cut-outs on a translucent background. It has a ribbon for hanging and is best placed in front of a light source to illuminate the design. Size is 51cm x 32cm.
Price: $32.95
Stockist: Advent Wonderland
Suitable for ages 5+, This Lego City Advent Calendar from Kmart bursts with loads of awesome mini-builds.
Count down to Christmas with this Pokemon Pop Advent Calendar featuring all of your favourite Pokemon characters from the original generation – now all in miniature. Each mini is 3.8cm tall and is officially licensed merchandise from Pokemon.
Price: $99.00
Stockist: EB Games
Any Harry Potter fans out there? Well, they will adore this Officially Licensed Harry Potter Advent Calendar. Each Calendar has 24 windows open every day until Christmas; each contains a Harry Potter themed item.
It contains items such as kids stamps, magnets, socks, badges, pins and more!
Price: $85.00
Stockist: Catch
---
2. List of Beauty Advent Calendars
The famous Look Fantastic Annual Advent Calendar is back, and it is more significant than ever. Worth a staggering $770 – you get all this for only $155 – but only whilst stocks last, and it always sells out (this Calendar has sold out six years running now!).
Some of the super-secret ingredients to this year's calendar include:
ESPA Active Nutrient Clean & Green Detox Night Mask
Shiseido Ultimune Power Infusing Concentrate
Aveda Botanical Repair Treatment
NARS Blush (Shade: Orgasm)
Kate Somerville Goat Milk Moisturing Cleanser
And back by popular demand is the Men's version of the Look Fantastic annual beauty advent calendar. With 25 essential grooming and male beauty products, this is the perfect gift for the man in your life who likes to look after himself.
Some of the contents in the Mankind box include:
Molton Brown Orange and Bergamot Body Wash 100ml
Gentlemen's Tonic Immune Defence & Energy Supplements
Dr Brandt MicroDermabrasion Age-Defying Exfoliator 60g
Gruum Gosta Rejuvenating Facial Tonic 50ml
Daimon Barber Texture Clay 50g
American Crew Fiver 50g
The limited-edition Glasshouse Fragrances Advent Calendar Gift Set for 2021 is as magical as it is every year. Presented in a delicious sparkling red foil glitter box, the Advent Calendar has 24 mini sizes of all your favourite Glasshouse products.
Price: $150.00
Stockist: ASOS
Exclusively from ASOS is this gorgeous 24 Day Advent Calendar stocking 24 products (including 15 that are full-sized) that are a mix of skincare, makeup, haircare, body care and accessories, all in a branded tote bag.
Price: $60.00
Stockist: ASOS
This Advent Calander by Revolution contains eight products, three brushes and a mirror, including chocolate-inspired eyeshadow palettes and lip glosses. At only $60 – it is affordable to pop into the old Santa Sack this Christmas.
---
3. List of Foodie and Drinkie Advent Calendars
Who doesn't love a good biscuit – or 24! Lovingly handmade from a small business in Australia, the Sweet Pantry Advent Calendar will count down 24 days with a delicious sugar cookie.
Price: $79.95
Stockist: Etsy
Just think about all the new flavours you'll discover over the course of 24 days, all ready to be shared with someone special! This embraces the true meaning of the holiday season. They're celebrating their 10th anniversary by combining old favourites with brand flavours.
It serves two people, but one is usually more than enough for most people. Plus, everything is made of recyclable materials!
I super love this countdown Christmas advent calendar! The letters are engraved, so it's secured the letters and numbers won't come off! Measures are approx 47cm x 29cm x 15cm. Super ideal!
Price: $24.95
Stickist: Etsy
Let's start with some tea, shall we? It's the final days until Christmas, and these teas will keep you energized while you sip. A total of 24 different types of loose-leaf teas and tisanes are waiting for you to try them out. They'll make your palate dance, your senses sing, and your mind wonder!
A superb way to keep track of how many days are left until Christmas with this individualized Calendar for grownups. There are 24 small bottles in each tree. Designers have stocked up on mini wine bottles and James Squire beer cans for the occasion. There are 24 engravings on the tree from December 24 through December 1 to represent the number of sleep left until Christmas.
Price: AU$45.00
Stockist: Etsy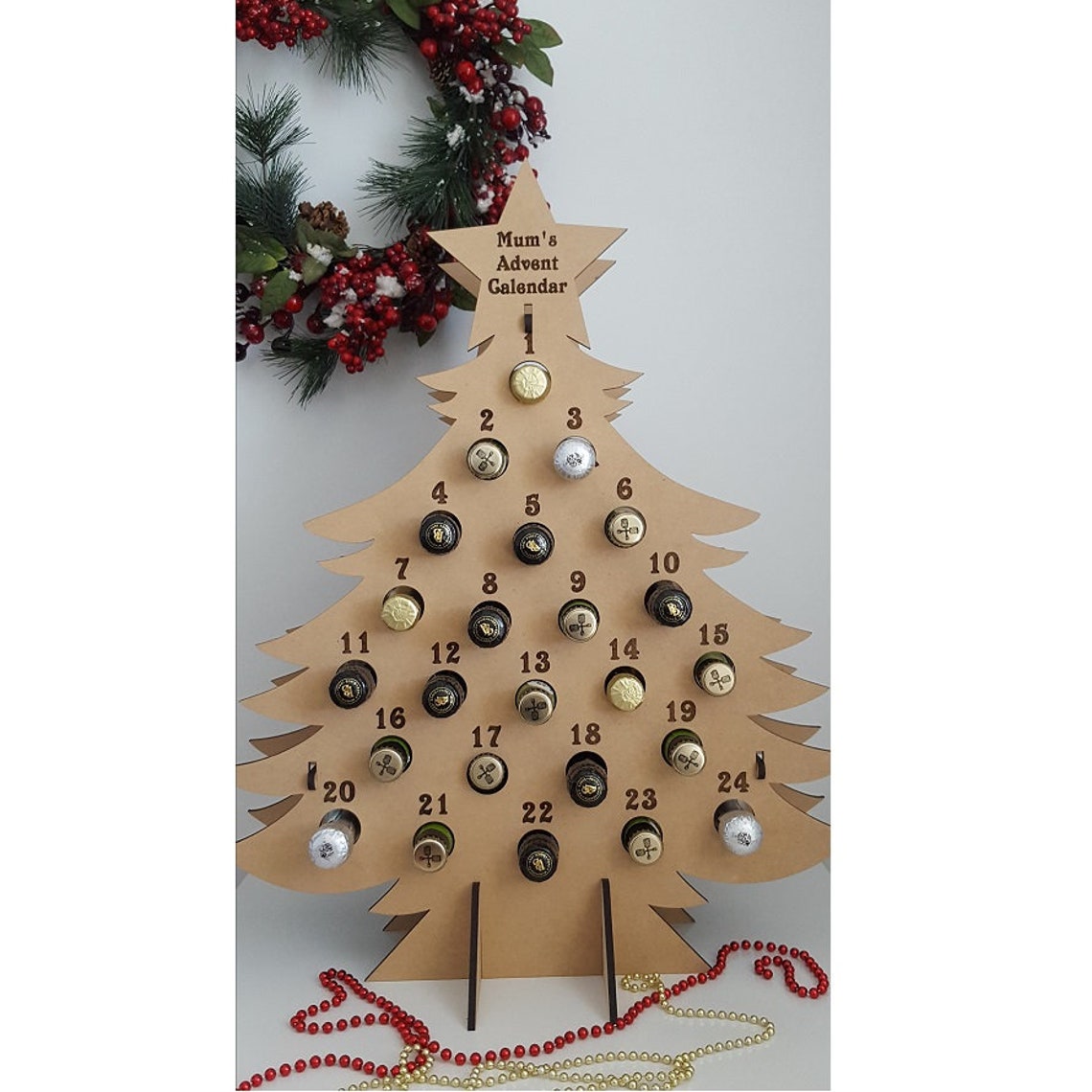 Price: $45.00
Stockist: T2
Tea lovers rejoice! T2 have released their Tea Bag limited edition Advent Calendar for 2021. 24 delicious teas and tisanes in tea bags await your discovery—the perfect gift for a neighbour or Grandparent.
---
4. Adults ONLY Advent Calendars
LoveHoney's couple's advent calendar for 2021 is finally here, and it's even better this year. Loads of fun things to tickle and jingle your senses!
This thrilling pre-Christmas gift, which includes 24 delectable treats to share, is a superb way to mark the days until the big day. There's anything in here for everyone, whether you're looking for new ways to spice up foreplay, experience contemporary BDSM, or have your best orgasm yet! Enjoy yourself!
Vulva-owners, rejoice! This one's for you… This sexy 12-day advent calendar is ideal for tracking down to the big day with sexy presents. No matter if you've been good or bad this year, don't miss out on this holiday extravaganza!
There are vibrators, Kegel balls, and a jewelled butt plug in this festive package, making it a kinky and fun way to appreciate the most beautiful time of the year. Use plenty of water-based lubricant in conjunction with your toys, and don't forget to pick up 2 AAA batteries!
This one is for the penis owners! Whether you're looking for a festive fap in the run-up to the big day, or you want to give a gift that keeps on giving, this 12-piece Calendar has everything you'll need for the holidays!
With cock rings, strokers, and a prostate massager, it's a fun and flirty way to highlight the most amazing holiday of the year. And remember— adding water-based lubricant to your play will enhance your experience!
It's back, and this time, it's better than ever. There's no better way to celebrate your body than with the $170 value of the Lovehoney Lingerie Calendar. Ideal for those who enjoy the naughtier aspects of life! This stunning collection creates six exquisite lingerie pieces in deep indigo lace with soft satin ribbons and a seductive floral design. Since all of the pieces can be worn separately or with the rest of the ensemble, you'll have plenty of options for mixing and matching.
Open the gates to unveil a cleavage-boosting bustier, a soft halterneck bra, a booty-revealing thong, and more when you give this alluring collection to someone special.
List of Other Advent Calendars Worth Mentioning:
With this hanging advent calendar, you can count down the days until Christmas with ease— and charm! The advent calendar is a beautiful way to spread Christmas cheer and happiness to everyone you know. It also makes a thoughtful gift for friends and family. Have a Merry Christmas and Happy New Year!
Price: $32.99
Stockist: Catch
---
Two Little Ducklings' Advent Magic Cards are brimming with ideas for getting into the holiday spirit. There are 24 cards in the bundle, and each one offers a simple tip for getting ready for the holiday season.
For instance –, you can put up your Christmas tree, make some Holiday decorations, bake or buy cookies and decorate them, produce Christmas cards, learn how to say Merry Christmas in a different language, dress up for Christmas, and have Christmas get-togethers! What a fun way to enjoy this season with the family.
This beautiful advent calendar will infuse your home with the spirit of Christmas. This West Avenue piece is scented with cinnamon, nutmeg, vanilla cookies, and gingerbread in a limited edition run and is only available from Catch. This tree-shaped Calendar, made out of wood and painted in red and gold tones for a Scandi vibe, adds ambience throughout the holiday season. The most appealing feature?
This advent calendar can be reused the following year, and a new batch of treats can be added!
Price: $89.99
Stockist: Catch
Daily life's frantic pace can quickly drain your resources, leaving you depleted of both motivation and drive. An adventure of experiences and activities to help you take a different perspective on life and appreciate the things you might not usually think about are contained in the Maison & White Mindfulness Jar by Maison & White.
Innovate your Christmas senses this year; try something new. Why not treat your mind and soul to something special this Advent instead of just eating a piece of chocolate every day? This Christmas Mindfulness Jar has 24 activities to help you de-stress and enjoy the holiday season without succumbing to the pressures of everyday life! Enjoy!
Enjoy the cute wag of the dog's tail as they anticipate what's behind each of the advent calendar 2021's doors. Each day of the Laila & Me Advent Calendar contains a small sample of one of the fantastic dog and cat treats collections.
The Calendar includes 17 different Laila and Me cult favourites, as well as some brand-new, never-before-seen treats that their testers adored! Prepare yourself for some enthusiastic jingle-woofs!
Price: $69.95
Stockist: Catch
Squeeeeaal Christmas isn't far away now! We will be adding new Advent Calendars as we find awesome ones that you might like!!!