Here's the story of why Gypsy Rose Blanchard HAD to kill her mother.
The body of 48-year-old Dee Dee Blanchard was found sprawled on her bed in her home in Springfield. She was lying in a pool of blood. She had been there for days. She had been stabbed multiples times.
Missing, was Dee Dee's severely mentally and psychically disabled daughter, Gypsy Rose.
But who would kidnap a child who suffered from leukaemia, asthma, muscular dystrophy and was wheel-chair bound?
A child, who's brain is a capacity of a seven-year-old as a result of her premature birth.
It's not like Gypsy Rose could just get up and walk out?
But that is what makes this story so darn interesting.
Gypsy Rose DID get up and walk away.
She also orchestrated her mother's murder.
Her mother, who had the worst case of Munchausen By Proxy, seen to date.
More reading: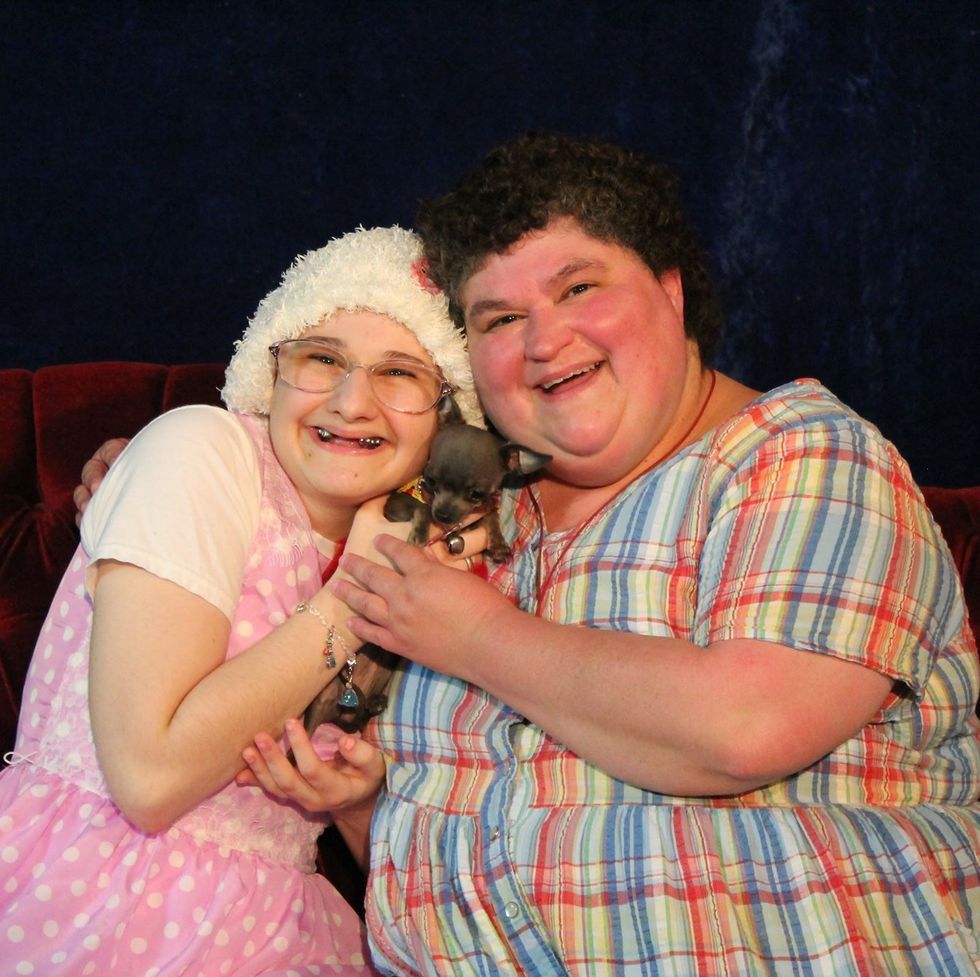 This is the true story of Gypsy Rose Blanchard
In the beginning….
When you read about a child abuser, Dee Dee Blanchard would not be someone that would come to mind.
She appeared to be devoted to her daughter Gypsy Rose. In fact Dee Dee couldn't work because all of her time was taken up with nursing Gypsy. But let's go back a bit further….
Dee Dee Blanchard was born 'Clauddine "Dee Dee" Pitre' in 1967. Dee Dee was a rebellious child who liked to engage in petty theft. She lashed out at her family when she didn't get her own way. She is described by her father as 'A devious and sneaky child'.
As she got older, Dee Dee had begun to get in trouble with law for writing bad checks and other small misdemeanours which gave her a criminal record. At the time, 24 year old Dee Dee was attending nursing school and was working as a nurse's aid when she met 17-year-old Rod Blanchard.
Early in their relationship Dee Dee became pregnant.
Rod married Dee Dee to 'make things right'. But the relationship didn't last long. Soon after their marriage Rod had realised that he had married Dee Dee for all the wrong reasons and they separated before Gypsy Rose was born in July 1991.
Rod was a huge fan of Guns N Roses, which is where the name Gypsy Rose came from. Rod was a good father and provided child support for Gypsy Rose. He soon re-married and had two more children. Rod had Gypsy Rose over as often as he could to spend time with her siblings, even though Dee Dee would make every excuse for him not to see her.
The Early Life of Gypsy Rose
Gypsy Rose had been born prematurely, but not by much. Not enough for anyone to really notice. However, Dee Dee blamed her infant's ill health on the fact Gypsy was born so early. By the time Gypsy was only three months old, Dee Dee had her formally diagnosed with sleep apnea. She was given a breathing apparatus and placed on a monitor. Gypsy had multiple stays in the hospital connected to sleep monitors and enduring multiple blood tests to find a diagnosis. Dee Dee was absolutely convinced that Gypsy also had a chromosomal disorder.
Gypsy had a feeding tube put in when her weight was too deemed too low. When she was diagnosed with epilepsy, the Doctors gave her the medication Tegretol which rotted the teeth from her mouth.
Gypsy Rose and her mother Dee Dee Blanchard
Dee Dee and Gypsy moved around often. As Gypsy's medical bills stacked up, Dee Dee and Gypsy moved in with Dee Dee's father and step-mother to save money
Shortly after they moved in, Dee Dee's stepmother, Laura Pitre, became so ill she was bedridden for nine months.
Today, Laura knows exactly what made her sick that time. It was the Roundup that Dee Dee had put into her food. Dee Dee had nursed her own mother Emma about the same time as she was direly ill. According to relatives, it is suspected that Dee Dee killed her by slow starvation.
When she was about seven years old, Gypsy went for a ride with her Grandfather on his motorcycle and they had a minor accident. The only outside damage to Gypsy was a scraped knee, but Dee Dee said that it was more serious and required multiple surgeries to treat properly. Gypsy was then confined to a wheelchair full time as Dee Dee said walking would just 'aggregate' her knee further.
Once Gypsy was permanently in a wheelchair, Dee Dee decided she would pull Gypsy Rose out of mainstream schooling and would homeschool her to work around her many doctor's appointments and medical treatments. But Dee Dee didn't home school Gypsy. Her complete education went to year two.
Dee Dee's father and step-mother then clashed with Dee Dee over Gypsy's care. Dee Dee had fraudulently opened a credit card account in her father's name then Dee and Gypsy left their home in the middle of night leaving no forwarding address.
The two moved to Missouri where Dee Dee added an 'E' to the end of their name making it Blancharde to reinvent themselves. Dee Dee told neighbours and friends that she had no family and that they had to move to hide from Gypsy's father Rod, whom she said was abusive. Little did people know that Rod will still sending Dee Dee $1200 per month in child support, even though he hardly saw his daughter anymore. He had seen how Dee Dee fused over their daughter, and trusted her word on her health.
By this time, Dee Dee had told Gypsy she had cancer and shaved her head as 'Her hair will fall out anyway'. She had her a feeding tube placed in her stomach. She had multiple eye surgeries, ear surgeries and muscle biopsies. Dee Dee would rub numbing cream on Gypsy's gums before seeing the doctor about 'Her drooling problem'. First they injected botox into Gypsy's gums to try and prevent the drooling, but later on, her entire salivary glands were removed.
Gypsy, too, trusted her mother's judgement. Bored at home, she taught herself how to read with Harry Potter Books.
"I believed I had all these illnesses, except I knew that I could walk and I knew that I could eat."
Hurricane Katrina
In 2005, the town Dee Dee and Gypsy Rose were living in, Slidell, was hit by Hurricane Katrina. Dee Dee took Gypsy Rose to a special-needs shelter in Covington, Louisiana after she claimed that their apartment had been ruined in the storm.
All of Gypsy's medical records and her birth certificate were conveniently destroyed. A new special needs doctor was appointed to look after Gypsy, and recommended that the two be relocated to Missouri.
They were air-lifted from Slidell and they rented a home in Aurora. The media covering Hurricane Katrina picked up on the heartbreaking story of little Gypsy and her plight. With Gypsy's childlike mannerisms, tiny stature and little squeaky voice, she became a darling of the media. She was awarded as 'Child of the Year' in 2007 by the Oley Foundation.
In 2008, Habitat for Humanity built the two their very own home with a fully customised wheelchair ramp and a spa bath to help Gypsy with her muscles. Dee Dee was starting to seriously profit from her daughter's conditions. They had free trips to Disney Land, free tickets to concerts provided by the Make a Wish Foundation.
As more and more offers of help came in to assist Gypsy Rose, the more conditions Gypsy Rose seemed to have. The two often stayed at Ronald McDonald House and they got free flights from volunteer pilot organisations to wherever they needed to go for treatment.
Meanwhile Rod Blanchard was still financially providing for his daughter, even after she passed her 18th birthday. When Rod called to speak to Gypsy on her 18th birthday, Dee Dee intercepted the call and told Rod not to tell her that she was 18. 'She thinks she is 14' Dee Dee told him, and he obeyed. After all, doesn't mother know best?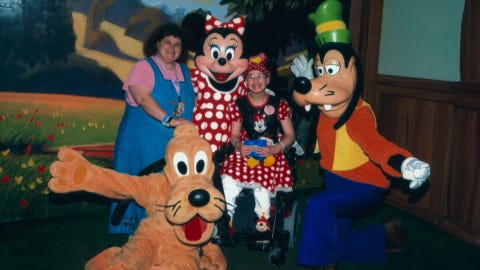 The Abuse Steps Up
With every move Gypsy made being covered by the media, multiple doctors nationwide reached out to Dee Dee to see if there was anything that they could do for Gypsy. In return, Dee Dee stepped up the abuse.
Dee Dee had taken Gypsy to a hospital in New Orleans for treatment of her chromosomal disorder and muscular dystropy. Gypsy had tubes implanted in her ears to control the many ear infections she suffered from. She had multiple eye surgeries for her 'weak eye muscles'. Additionally, Dee Dee told doctors that Gypsy Rose had started having seizures and she was prescribed seizure medication. This medication caused all of her teeth to fall out.
Gypsy was treated for cancer. Many of the medications Gypsy was taking were not prescribed at all but were stolen by Dee Dee from various hospitals visited for treatment over the years. Dee Dee's former employment as a Nurse's aid was used to her advantage as she had a vast knowledge of medical terminologies.
Dee Dee and Gypsy Rose at the build of their Habitat for Humanity House
Suspicious of Her Diagnosis
In 2007 Dee Dee took her daughter to Pediatric Neurologist, Bernardo Flasterstein about her muscular dystrophy and all the other health conditions Gypsy was afflicted with. Dr. Flasterstein ordered extensive blood tests and an MRI. He could find no abnormalities and was baffled why Gypsy Rose was in a wheelchair.
When he asked Gypsy to stand, she could do so under her own weight.
Dr Flasterstein contacted some of Gypsy's former doctors in Louisiana about her condition. Both doctors advised that they shared their concerns about Gypsy's health being fine, but suspected Dee Dee had Munchhausen by Proxy, but when they discussed this with Dee Dee, she abruptly stopped bringing Gypsy to see them.
That's when Dr Flasterstein first raised the red flag and noted this possible diagnoses in Gypsy's medical file.
'Analysing all the facts, and after talking to her previous paediatrician, there is a strong possibility of Munchhausen by Proxy, with maybe some underlying unknown aetiology to explain for her symptoms.'
Falling Apart
In 2009, Police received a call from an unknown person claiming that Dee Dee had listed different names and birth dates for both herself and her daughter. They also claimed that Gypsy was in much better health than her mother let on.
Police conducted a wellness check on the pair and accepted Dee Dee's explanation that she purposefully did this to try and avoid 'Gypsy's abusive father' from finding them.
Gypsy now thought she was 14 years old, until she discovered her own Medicaid card that stated she was born in 1991, not 1995 like she had led to believe making her 19 years of age.
But Gypsy was a believable 14-year-old, seeing she had been malnourished and over-medicated her whole life, she was tiny in stature and with her teeth removed and various other surgeries, she never grew out of her 'little girl voice'.
Suspicious, Gypsy begun to listen to the Doctors diagnosis and was starting to realise that she wasn't as sick as her mother made her out to be. In fact Gypsy started to tell her mother and other people that she could walk and wasn't sick, but Dee Dee just convinced everyone that she said that as 'Her mind was riddled with disease.'
Life with Dee Dee was abusive.
If the two argued, Dee Dee wouldn't feed Gypsy for days. Dee Dee would beat Gypsy with a coat hanger if she said anything about not being sick.
When Gypsy tried to escape, Dee Dee would find her and chain her to the bed or the Police would just return Gypsy home to her mother.
It was then that Gypsy Rose realised that the doting parent Gypsy had always looked up to and admired, might just be a monster, a monster she couldn't escape.
"I felt like there was no hope. I kept thinking, 'Dear God, get me out of here somehow."
Dee Dee had taken away Gypsy's phone and banned her from using the computer. But Gypsy always found a way to get online when her mother was asleep.
Love and Escape Attempts
Gypsy had started using the internet at night after Dee Dee had retired for the evening. Gypsy had met a 35-year-old man at a science fiction convention and the two began communicating online. When Dee Dee found out about the online relationship she smashed the family computer with a hammer. When the computer was finally replaced, it was only with Dee Dee's supervision.
But Gypsy found a way.
In a online Christian chatroom, she found Nicholas Godejohn, a 23-year-old with a history of mental illness and a criminal record for indecent exposure. The two bonded instantly and started an online relationship for the next three years.
Nicholas didn't care that Gypsy was in a wheelchair. Gypsy planned on marrying Nicholas and having his babies as a way to escape. They made up different 'online characters' as a way of escape. Gypsy's alter ego was Ruby. The two sent each other steamy photos including one of Gypsy Rose licking a knife.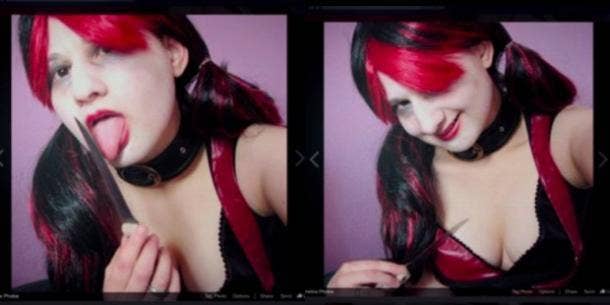 Nicholas made plans to visit Gypsy in her hometown on one of Dee Dee and Gypsy's rare outings to see the film Cinderella. Gypsy and Nicholas managed to meet and the two snuck away from the movie and consummated their relationship in the theatre toilets. When Gypsy returned to the theatre, Dee Dee was furious and forbid her from seeing Nicholas again. It was then that Gypsy saw her mother as a captor.
Feeling trapped, Gypsy and Nicholas started planning an Gypsy's escape from her mother. There were two options, either they get pregnant so that Nicholas would be forced to be part of Gypsy's life, or they kill Gypsy's mother.
"I felt how else am I going to escape?'

'It seemed like taking her out of the equation completely was the only option'.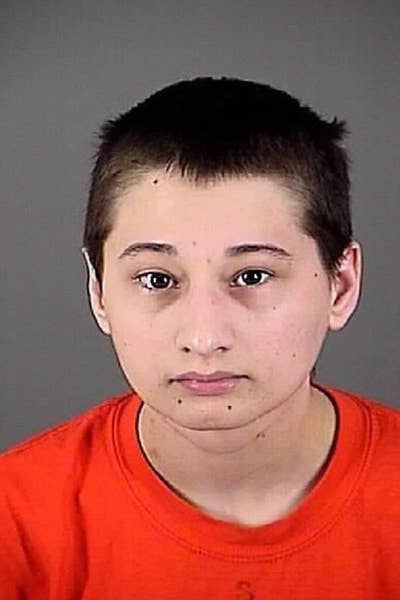 The Murder of Dee Dee Blanchard
'The Bitch is Dead'.

'I slashed that fat pig and raped her sweet innocent daughter. Her scream was so loud lol.'
These are the bizarre messages that popped up on Dee Dee Blanchard's Facebook Page on the day of her murder.
Friends were wild with disbelief and thought that perhaps Dee Dee's Facebook Page had been hacked.
Kim Blanchard (of no relation to the two) was a close neighbour. Her and Dee Dee had coffee together regularly. She tried to call Dee Dee and when there was no response, Kim's husband David suggested that they drive over there just to make sure everything was okay.
When the couple arrived, there was a small crowd of worried neighbours already out the front. They tried knocking on the door. They noticed that Dee Dee's new cube van that they used to transport Gypsy for her medical appointments was still parked in the driveway. Kim called 911. A search warrant finally arrived so that the Police could break into the house.
Nicholas arrived at the little pink bungalow on West Volunteer Way in Springfield, Missouri the night before, after Gypsy had sent him the money to travel. Gypsy handed him a pair of blue gloves and a knife. Gypsy hid in the bathroom, whilst Nicholas crept into Dee Dee's room and began to viciously stab Dee Dee in the back. Gypsy heard the whole thing, whilst she was shaving her legs in the bathroom.

Later, Nicholas Godejohn said that Dee Dee had 'cried out' for Gypsy during the killing.

The two cleaned up the scene as best they could before having sex in Gypsy's bed. The two removed over $4000 from Dee Dee's safe before fleeing the scene.
The Police arrested the two less than 48 hours after Dee Dee's body was discovered. They had tracked Gypsy and Nicholas from the Facebook Post that had alerted that something was wrong. They found the couple at Godejohn's home in Big Bend, Wisconsin. Gypsy was found unharmed and in surprisingly excellent health. She didn't need a wheelchair, she hadn't taken her oxygen tank or any of her medication and there was nothing wrong with the muscles in her legs.
That's when Police realised that all was not as it seemed.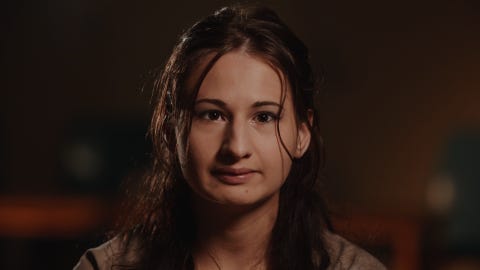 Trial and Prosecution
Gypsy lied to Police and told them she had nothing to do with the murder.
But text messages between Nicholas and Gypsy proved that it was Gypsy who was the mastermind of the murder. Although Gypsy and Nicholas could have both gone for the death penalty, a plea deal was worked out as Gypsy's medical records were finally located (they had not been destroyed in Hurricane Katrina) and the overwhelming evidence of abuse was presented.
When Gypsy was first taken to the Greene County Jail, she was sent to the infirmary to be seek treatment for her epilepsy, cancer and numerous other illnesses. It was there that she was given a clean bill of health.
Where is Gypsy Rose Now?
Gypsy Rose Blanchard is now 27 years old.
She pleaded guilty to second-degree murder of her mother and was sentenced to 10 years in prison. Prosecutor Dan Patterson cited that her extensive medical and physical abuse by her mother was a huge mitigation for receiving an unusually light sentence.
Even in prison, Gypsy says she is happier now than when she was with her Mum. Gypsy has put on much needed weight and has 'thrived' with the right nutrition and exercise. She is also attending education programs so that she can catch up on her schooling.
Her boyfriend, Nicholas Godejohn was convicted of first-degree murder and sentenced to life behind bars with no possibility of parole. The two are no longer a couple.
She is incarcerated at Chillicothe Correctional Center in Chillicothe. She will be eligible for parole in 2024. She will be 32 years old on her release.
According to Rod Blanchard, Gypsy will move in with him and his new wife on her release from prison.
This story is truth stranger than fiction…