These are the BEST TV Series ever made, the shows you just have to watch. Some are from a few years ago, others are current – but they are the cream of the crop!
The only downtime I have is my beloved television. I adore tv series – it's my jam!
So here it is, ladies and gentlemen! My pick for the best TV series of all time, the 65 TV series you must watch before you die!
Stars: James Gandolfini, Lorraine Bracco, Edie Falco
Genre: Mafia Drama, Crime
Tony Soprano is a New Jersey Mafia Boss. But even powerful men of means have trouble with both his family – and 'THE family'.
One of the most highly rated "black comedies", this TV series follows the personal and professional life of Tony Soprano.
Stars: Kit Harrington, Emilia Clarke, Peter Dinklage
Genre: Fantasy Family Saga
Nine noble families fight for the control of Westeros, a mythical land, leading to a full-scale war amid an ancient evil. Watch this show if you are into political conflicts and sexual intrigues!
3. Ozark (4 Seasons)
Stars: Jason Bateman, Laura Linney, Julie Garner
Genre: Drama, Crime
An amazing drama about the Byrde family, a family who seem perfect from the outside, but inside, they are money laundering for a drug cartel. Marty Byrde is a Financial Advisor who was enticed to laundry money for a Mexican drug cartel. But he got sticky fingers and stole from the cartel. The family move from Chicago to the Ozarks to try and get away but the cartel follows.
An excellent, excellent series – comparable to Breaking Bad.
Stars: Bryan Cranston, Aaron Paul, Anna Gunn
Genre: Crime Drama
Chemistry teacher, Walter White, is diagnosed with stage 3 lung cancer and given only 2 years left to live. Determined to give his family a secure future, he enters the drug trade and manufactures methamphetamine with a former student.
Stars: Kevin Spacey, Robin Wright, Michel Gill
Genre: Political Thriller
Congressman Francis Underwood, together with his wife, exacts vengeance to the people who betrayed him, namely his cabinet members and the president of the United States of America.
What You Will Love About It:
I think this should be key viewing for anyone in business. The savvy thoughts that Congressman Underwood explains directly to the camera are genius. Plus, you will have his ringtone in your head forever!
Note: The last season is insanely shit. Kevin Spacey, although has a dodgy personal life, makes this series what it is.
Stars: Bob Odenkirk, Rhea Seehorn, Jonathan Banks
Genre: Crime, Drama, The Spin-Off Series From Breaking Bad
The prequel to the show Breaking Bad, this TV series takes us on a journey with Jimmy McGill, a small-town attorney, during a time before he came to be Walter White's lawyer, Saul Goodman.
What You Will Love About It:
It is no Breaking Bad, but you can see the escalation of the sheer edginess episode by episode. Plus, it explains many of the Breaking Bad backstories of characters.
7. Cobra Kai
Stars: Ralph Macchio, William Zabka
Genre: Family Drama
Following from the story of The Karate Kid, all parties involved are now all grown up. Danny LaRusso owns a successful motor dealership and is married with two kids. His arch-enemy Johnny Lawrence is a down-and-out divorced Dad of one who is lost in the world. Both are the original leads from the movie, and they incorporate many of the original cast.
See the story from the other side – you will actually be cheering for the 'villain' in the story!
Even if you didn't watch Karate Kid, this is a great show to watch with the whole family!
Stars: Seth Rogan, Busy Phillips, James Franco, Jason Segal
Genre: High School Drama
Set in the 1980s, this TV series chronicles the journey of two siblings in high school after the death of their grandmother. Normal teen problems are set against the school's two groups: the Freaks and the Geeks.
What You Will Love About It:
Seeing all the up and coming stars before they hit the big time!
Stars: Michael C. Hall, Jennifer Carpenter, David Zayas
Genre: Serial Killer, Crime, Anti-Hero
Miami Police forensics expert, Dexter Morgan, is a blood pattern expert, but at night, he morphs into Dexter, the serial killer, killing with a precise "moral code".
What You Will Love About It:
Seeing how a serial killer thinks and stalks his prey.
Stars: Taylor Schilling, Danielle Brooks, Taryn Manning
Genre: Jail Time Drama
A TV series that is one of the very few that tackle life in jail, this show follows the story of Piper Chapman, who is sentenced to 15 months in prison when she gets convicted of transporting money for drug deals.
What You Will Love About It:
The relationships and backstories of what led the women to jail in the first place. Plus, the first series is based on a true story.
Stars: Michael C. Hall, Peter Krause, Frances Conroy
Genre: Black Comedy Set in a Funeral Parlour
Another TV series featuring a dysfunctional family, this show focuses on the Fishers, a family who runs a funeral home and then needs to learn how to deal with a death of their own.
What You Will Love About It:
Michael C. Hall before he was famous is brilliant.
"Well, isn't it comforting to know that being miserable is still better than being an idiot?" – Claire Fisher
12. Deadwood (2004-2006)
Stars: Timothy Oliphant, Ian McShane, Molly Parker
Genre: Western Drama
IMDB Rating: 8.6/10
Set in Deadwood, South Dakota during the 1800s following the Custer massacre, this TV series follows ex-lawman, Wild Bill Hickok, and a man hoping to find a new start, Seth Bullock, and Al Swearengen, boss of Deadwood.
Most of the characters in this show were real people!
What You Will Love About Deadwood:
How many times can 'Cocksucker' be said in a single episode? You count them!
The word 'Fuck' and its derivaties are used 2,980 times through the series.
Note: The TV series was so popular they made a movie that was released in 2009.
Stars: Benedict Cumberbatch, Martin Freeman
Genre: Detective Drama
One of the most popular series today, this show features Sherlock Holmes reimagined as a detective in early 21st century London and John Watson as an Afghan war veteran.
What You Will Love About It:
Benedict is simply superb as Sherlock Holmes.
"I'm not a psychopath, Anderson. I'm a high-functioning sociopath. Do your research." – Sherlock Holmes
Stars: Hugh Bonneville, Phyllis Logan, Elizabeth McGovern
Genre: Historical Drama
Taking place in the years leading to World War I, this TV series chronicles the lives of the Crawley family. Upon the death of Lord Grantham's heir on the Titanic, Matthew Crawley suddenly becomes next in line in inheriting Downton Abbey.
What You Will Love About It:
Maggie Smith is full of pomp, ceremony and sarcasm!
"Don't be defeatist, dear. It's very middle class." – Dowager Countess
Stars: Gillian Anderson, David Duchovny
Genre: FBI Science Fiction
Watch it on Netflix
It's safe to assume that everybody knows The X-Files. This iconic television show follows two FBI agents, Fox Mulder and Dana Scully. Their investigation of the paranormal cases leads them to discover alien conspiracies within the government.
What You Will Love About It:
Sheer brilliance. Like a prequel to Supernatural.
"And a lie, Mr. Mulder, is most convincingly hidden between two truths." – Deep Throat

Stars: David Threlfall, Rebecca Atkinson, Alice Barry
Genre: Family Drama
You won't truly know dysfunctional until you see this show. The Gallagher's have a drunk for a dad, a "prostitute" brother, a gay brother, a sister who steals, a budding sociopath and arsonist, and the youngest brother that is black.
What You Will Love About It:
The UK version is MUCH grittier and better acted than the US version. But I have heard the US version is good too!
"That's right. No one fucks with a Gallagher!" – Debbie Gallagher
17. Misfits (2009-2013)
Stars: Nathan Stewart-Jarrett, Iwan Rheon
Genre: British Comedy, Drama, Fantasy
Nathan, Kelly, Simon, Alisha and Curtis are all young offenders who need to do community service when lightning from a freak thunderstorm struck them and gave them superpowers.
Best Part:
Robert Sheehan who plays Nathan is just the ultimate bad boy you can't help but adore.
What You Will Love About It:
When you try and explain this TV series to anyone, it sounds just ridiculous. It is the sort of show you will watch in a single night because you can't help keep pressing the 'play' button.
"You lot, superheroes? No offence, but in what kind of fucked-up world would that be allowed to happen?" – Nathan Young
18. Sex Education (2019- )
Stars: Gillian Anderson, Asa Butterfield, Emma Mackey
Genre: British Comedy, Drama
A British series about a Sex Therapist (Gillian Anderson) and her high-school-aged son who is afraid to masturbate and starts giving out sex advice to fellow students (for a fee). It will make you cringe with embarrassment and laugh out loud.
Best Part:
Ncuti Gatwa who plays Eric has a smile that lights up the room. I think he is a star!
What You Will Love About It:
It is British. Gillian Anderson is smoking hot in a jumpsuit and the cringeworthy moments are hysterical.
"Sometimes the people we like don't like us back, and there's nothing you can do about it." – Otis Milburn
Stars: Caitriona Balfe, Sam Heughan
Genre: Historical Drama, Fantasy, Romance
This show follows the story of Claire Randall, a combat nurse from 1945, who gets transported in time to 1743. Already married, she is then forced to marry Jamie Fraser, a young Scottish warrior.
What You Will Love About It:
The sex scenes are pretty damn HOT!
"Last I was here I was Claire Randall, then Claire Beauchamp and Claire Fraser. The question was, who did I want to be?" – Claire Randall
20. Mindhunter
Stars: Jonathan Groff, Holt McCallany, Anna Torv
Genre: Crime, Drama
Watch it on Netflix
If you love True Crime, you will adore Mindhunter. Based on how the FBI came up with serial killer profiling and interviewing criminals to see how they think.
What You Will Love About It:
Two words: Based on a true story
Stars: Jon Hamm, Elisabeth Moss
Genre: Historical Drama
Set in the 1960s, Mad Men revolves around the lives of the men who work in advertising at Madison Avenue, focusing on a smaller firm called Sterling Cooper and Donald Draper, its creative genius. But Don Draper isn't who he says he is.
What You Will Love About It:
Finding out what a housewife in the '60s was REALLY like.
"What do you want me to say?" – Don Draper
22. Tiger King: Murder, Mayhem and Madness
Stars: Joe Exotic, Carol Baskin
Genre: Documentary
Watch it on Netflix
When this Documentary came out at the beginning of 2020, everyone thought that was as strange as the year could possibly get. After all, who would believe this story if it wasn't true. So to sum it up, it is about a camp tiger zoo owner, his two husbands (a throuple), a woman who allegedly killed her husband and fed him to her big cats, hiring a hitman, a transgender tiger worker who has their arm eaten and the singing career of the Tiger King.
What You Will Love About It:
You can't help but go 'WTF' after every single episode!
"Hey all you cool cats and kitten!", Carol Baskin

Stars: Adeel Akhtar, Paul Higgins
Genre: Dark Drama, Science Fiction, Mystery
A group of people meet online and then discover a strange graphic novel that seems to be the manuscript of a cult. The group then find themselves targeted by a mysterious group known as "The Network". This is the British Utopia – nothing like the Australian series of the same name.
The US has now released their version of Utopia starring John Cusack – mehhhh – nothing beats the British version I'm sorry!
What You Will Love About It:
This series is so dark, the characters are just plain evil with no apologies. British TV series are always outstanding and this is one that frequently gets overlooked – but it shouldn't!
"Well, for the artwork. The stories, the sheer… imaginative vision. It's like opening a door into another world. Why diminish it by pretending it's real?" – Ian
Stars: Adrian Grenier, Kevin Dillon, Kevin Connolly
Genre: Comedy, Drama
This show is about a rising film star, Vince Chase, learning the ropes of show business with his chosen entourage – his close friends since childhood – and how they progress from ordinary kids from Queens. Plus it is HBO and they are always amazing!
What You Will Love About It:
20-minute bite-sized episodes that are light. Perfect for nights when you are tired and don't want to get into anything involved. Jeremy Piven is a standout as Ari Gold.
"If you play gay or retarded you get an Oscar. I'd take in the ass for an Oscar." – Johnny Drama
Stars: Travis Fimmel, Gustaf Skarsgard, Katheryn Winnick
Genre: Historical Drama, Adventure
This is the story of Ragnar Lothbrok, a Norse farmer who eventually becomes the greatest hero of his age and the King of the Vikings tribes. And legend has it that he is actually a direct descendant of Odin.
What You Will Love About It:
The She-Maiden Lagertha is a kick-ass woman.
"I hope that some day our Gods can become friends." – Ragnar Lothbrok
Stars: Gillian Anderson, Jamie Dornan
Genre: Crime, Mystery
The story revolves around a cat-and-mouse chase between Paul Spector, a serial killer in Belfast, Northern Ireland, and Stella Gibson, a female detective from London Metropolitan Police.
What You Will Love About It:
The sexual tension between a female detective and a sexual predator is both hot and wrong.
"That's what really bothers you, isn't it? The one-night stand. Man fucks woman. Subject, man. Verb, fucks. Object, woman. That's okay. Woman fucks man. Subject, woman. Object, man. That's not so comfortable for you, is it?" – Stella Gibson
Image via BBC.co.uk
27. Carnivale (2003-2005)
Stars: Michael J Anderson, Adrienne Barbeau, Clancy Brown
Genre: Historical, Drama, Fantasy
Set in 1934, during the time of the Great Depression, this show tells the story of Ben Hawkins, a fugitive who joins a travelling carnival, and Brother Justin Crowe, a Methodist preacher, and the battle between good and evil.
What You Will Love About It:
I've never seen a series quite like this before. It is dark and almost 'smothering' to watch – but you can't look away.
"I'm reminded of the phrase 'making a deal with the devil.'" – Justin Crowe
Stars: Dominic West, Lance Reddick, Sonja Sohn
Genre: Crime Drama
The show takes us to the inner-city drug scene of Baltimore and Detective James McNulty's mission to bring down drug kingpin, Avon Barksdale.
Best Part:
Many people feel The Wire is the best TV show of all time. Omar coming!
What You Will Love About It:
Gritty and real.
"A life, Jimmy, you know what that is? It's the shit that happens while you're waiting for moments that never come." – Lester Freamon
Stars: John Altschuler, Mike Judge, Dave Krinsky
Genre: Comedy
Inspired by the creator's own success as a Silicon Valley engineer, this comedy takes us on a journey to Silicon Valley and how it seems that the people qualified to succeed are the least capable of handling success.
Best Part:
Cleverly funny, especially if you are in the internet business!
"Jobs was a poser. He didn't even write code." – Richard
Stars: David Tennant, Olivia Colman
Genre: Crime
Taking place in Broadchurch, a seemingly peaceful and quiet seaside town, the story begins when an 11-year-old boy gets murdered and the entire town becomes a place wrapped in secrets.
What You Will Love About It:
Who dunnit? British mystery at its best!
"I'm one up from the man who sits there giggling to himself." – Rev. Paul Coates
31. Longmire (2012-2017)
Stars: Robert Taylor, Katee Sackhoff, Lou Diamond Phillips
Genre: Western Crime
Watch it on Netflix
Based on a novel of the same name, Walt Longmire is a sheriff of a small town in Wyoming. Longmire is a traditional man grieving for his wife. When he finds out that she was possibly murdered, he works with his team to solve the mystery!
Six amazing seasons to watch!
Best Part:
Robert Taylor is an Aussie! Perfect for the whole family to watch.
"If you repeat a lie often enough, it becomes the truth." – Walt Longmire
32. Schitts Creek
Stars: Catherine O'Hara, Eugene Levy, Dan Levy, Annie Murphy
Genre: Comedy
Watch it on Netflix
Now this took me a few episodes to get into – but once I was – I was blown away by just how much I utterly adored this series. It didn't win 7 Emmy's for anything! The story is about an uber-rich family that loses everything and so the family has to move to 'Schitt's Creek' – a tiny town that they bought as a joke. Now they must re-build their lives whilst living in a motel room.
What You Will Love About It:
The love story, the relationships, the 'Ewwwww David!'.
"I could not be more at one with nature. I do Coachella every year." David Rose
Stars: Claire Danes, Damien Lewis, Mandy Patinkin, Rupert Friend
Genre: Political Spy Drama
This award-winning drama centres on Carrie Mathison, a CIA operations officer, who is the only one who suspects that Nicholas Brody, US Marine Sergeant turned hero, has been turned by Al-Qaeda. It is the sort of series you need to really concentrate on as there is so much happening.
"I missed something once before. I won't… I can't let that happen again." – Carrie Mathison

34. Queer as Folk (UK Version) (2000-2005)
Stars: Gale Harold, Hal Sparks, Randy Harrison
Genre: Romance, Drama
The lives and love of a gay group of friends. This is graphic, gritty, real and probably one of the best TV series I've seen. Not one to watch with the kids!
Best Part:
Oh Brian!!!!!
"Oh for fuck's sake, stop your moaning. If you fancy a threesome at this time of night, you can't start getting choosy about which particular three!" – Alexander
Stars: Simon Bird, James Buckley, Blake Harrison
Genre: British High-School Comedy
This show revolves around the lives of four friends, Simon Cooper, Jay Cartwright, Neil Sutherland, and Will McKenzie as they deal with issues on family, sexuality, and relationships.
Best Part:
Every episode will make you snort with laughter! Cringeworthy and excellent! It is the sort of series you will watch again and again and again – and keep laughing at the same jokes!
"How long after a poo do you have to wait before you can have sex?" – Neil Sutherland
36. Boardwalk Empire (2010)
Stars: Steve Buscemi, Kelly Macdonald, Michael Shannon
Genre: Historical Gangster
Nucky Thompson is a politician in Atlantic City during the prohibition era. He plays both sides of the law to get what he wants.
"We've got a deal, but just so we're clear, my ice box is filled with pieces of fellas who tried to fuck me over."
Stars: Kyle MacLachlan, Machael Ontkean
Genre: Mystery, Crime, Drama
The story, set in the town of Twin Peaks, begins when the body of a young girl is washed up on a beach near it. When FBI Special Agent Dale Cooper is called to investigate, he unravels a web of mysteries connected to him.
"She's dead. Wrapped in plastic."

38. The Handmaid's Tale (2017- )
Stars: Elisabeth Moss, Amanda Brugel, Max Minghella
Genre: Drama, Science Fiction
A Dystopian future where the ability to breed is down to a select few who become 'The Handmaiden'. Forced to have babies for the better good of the civilization.
"A rat in a maze is free to go anywhere, as long as it stays inside the maze."
Stars: Vanessa Redgrave, Laura Main, Jenny Agutter
Genre: Historical Drama, Comedy
Set in London during the 1950s to 1960s and based on Jennifer Worth's memoirs, the show chronicles the life of Jenny, a midwife, who finds herself living in a convent, Nonnatus House, and discovers the harsh living conditions of the slums.
"I must have been mad. I could have been an air hostess. I could have been a model. I could have moved to Paris, or been a concert pianist. I could have seen the world – been brave, followed my heart. But I didn't. I side-stepped love and set off for the East-End of London, because I thought it would be easier. Madness was the only explanation." – Jenny Worth
Stars: Anthony Starr, Ivana Millicevic, Ulrich Thomsen
Genre: Action, Crime, Drama
Set in the town of Banshee, Pennsylvania, this follows the life of Lucas Hood, an ex-con who assumes the identity of the murdered sheriff. Using this as cover, he continues his illegal activities but finds himself imposing justice when violence occurs in town.
Best Part:
Job is an Asian cross-dressing computer hacker who dresses so fabulously. I want his wardrobe, and his attitude.
"You know, generally, Banshee is a pretty quiet town but after you arrived it's been one thing after another. It's almost as if you brought it all with you." – Kai Proctor

Stars: Taissa Farmiga, Sarah Paulson, Evan Peters, Emma Roberts
Genre: Fantasy
Witches are born, not made. Young girls with the gifts are sent to a ladies school to develop their powers and to see who will become The Supreme – the Queen of Witches.
"You're doing it wrong. If you're trying to kill yourself, you cut vertically. They can't stitch that up." – Tate Langdon
42. The Haunting of Hill House (2018)
Stars: Michael Huisman, Carla Gugino, Henry Thomas, Elizabeth Reaser
Genre: Horror, Mystery
A family moves to Hill House where in the middle of the night, the father drags all the children out of the house, never to return and leaving their mother behind. All the kids are drawn back to the house that has been abandoned and locked up – for good reason.
"A ghost can be a lot of things. A memory, a daydream, a secret. Grief, anger, guilt. But, in my experience, most times they're just what we want to see." – Steven
Stars: Nicole Kidman, Reece Witherspoon, Shailene Woodley, Alexander Skarsgard
Genre: Mystery, Crime
Based on the books by Australian author Liane Moriarty (who is one of my favourite authors!), Big Little Lies focuses on the very different lives of three mothers. But what could they have in common that can lead to murder?
Note: Nicole Kidman and Reece Witherspoon loved the book so much, they bought the rights to the series!
"Every day I think, 'Gosh, you look a bit tired today', and it's just recently occurred to me that it's not that I'm tired, it's that this is the way I look now."
Stars: Keri Russell, Matthew Rhys
Genre: Political Mystery
This crime-mystery thriller focuses on the lives of two Soviet intelligence agents masquerading as a typical American couple and posing as travel agents to spy on the American government.
"If she said one more thing about nonviolent resistance, I was gonna punch her in the face." – Philip Jennings
45. The Tudors (2007-2010)
Stars: Jonathan Rhys Meyers, Henry Cavill, Natalie Dormer
Genre: Historical Drama
This period drama focuses on the interesting life of King Henry VIII, his political struggles and ambitions, treachery and betrayals, family conflicts, and sexual intrigues.
Best Part:
See where Henry Cavill gets his start, and Natalie Dormer is truly THE BEST Anne Boleyn ever.
"You think you know a story, but you only know how it ends. To get to the heart of the story, you have to go back to the beginning." – King Henry VIII
Stars: Hugh Laurie, Omar Epps, Robert Sean Leonard
Genre: Medical Drama
Dr Gregory House is an arsehole with a brilliant mind. With no bedside manner to speak of, and a drug habit, the hospital only keeps Dr House on because he solves the unsolvable mystery ills.
"Patient: Oh wow. Oh thank God. Wow, I'm gonna be a mom. Whoa. Thank you so much, I gotta get you a gift or something.
House: Sometimes the best gift is the gift of never seeing you again."
47. Band of Brothers (2001)
Stars: Damien Lewis, Donnie Wahlberg, Scott Grimes
Genre: Historical War Drama
The epic masterpiece about Easy Company in the US Army's Airborne Division. Not only does it follow the story of the soldiers who fought, it also interviews the real-life soldiers who survived today.
"We're all scared. You hid in that ditch because you think there's still hope. But Blithe, the only hope you have is to accept the fate that you're already dead. And the sooner you accept that, the sooner you'll be able to function as a soldier is supposed to function. Without mercy. Without compassion. Without remorse. All war depends on it."
Stars: Anna Paquin, Alexander Skarsgard, Stephen Moyer
Genre: Horror, Fantasy, Romance
Sookie Stackhouse is a telepathic waitress whose life turns upside down when she meets Bill Compton, a man from southern Louisiana who turns out to be a vampire.
Best Part:
The opening theme will stick in your head for weeks!
"There is nothing more natural than the act of making love. Who am I to try to change what comes naturally to you?" – Bill Compton
49. Nip/Tuck (2003 – 2010)
Stars: Dylan Walsh, Julian McMahon, Joely Richardson
Genre: Medical Drama
Two plastic surgeons and long-time friends have a medical practice. One is married with kids, the other is a playboy with fast cars and fast women.
Best Part:
Like UnReal and Nashville, the sheer scale of trashiness is just so bad it is good.
"Christian: Can I buy you a drink?
Kimber: I don't drink.
Christian: Can I buy you an appetizer?
Kimber: I don't eat, I'm a model."
Stars: Hayden Panettiere, Clare Bowen, Connie Britton
Genre: Country Music
Rayna Jaymes, a 40-year-old superstar whose career begins fading, needs to gain her label's steady support for her latest record, and the only way to do this is to work with Juliette Barnes, a rising teen star.
Best Part:
The music is AWESOME!!!!
"I don't have friends. I have people who want to be seen with me." – Juliette Barnes
Stars: Courtney Cox, Jennifer Aniston
Genre: Comedy
A story of 6 friends live the BFF kind of life in the same apartment in New York. It's a popular hilarious comedy series of friendship and relationship and everything that's in between lookalike
– the kind that all people can relate from.
"Chandler entered a Vanilla Ice lookalike contest and WON!"
52. Frasier (1993-2004)
Stars: Kelsey Grammer, Jane Leeves, David Hyde Pierce
Genre: Comedy
Dr Frasier Crane moves back to Seattle where he lives with his father. He is a psychiatrist on a radio advice show
"Frasier: God, I hate lawyers.
Niles: Me too. But they make wonderful patients. They have excellent health insurance and they never get better."
53. UnReal (2015-2018)
Stars: Shiri Appleby, Constance Zimmer
Genre: Drama
The story of the TV crew behind a 'Bachelor' type television show. There is backstabbing, sleeping around, bitchiness, cat fights and nudity.
Best Part:
Just a BITCH FEST!
"Do what I say, meat puppet." – Quinn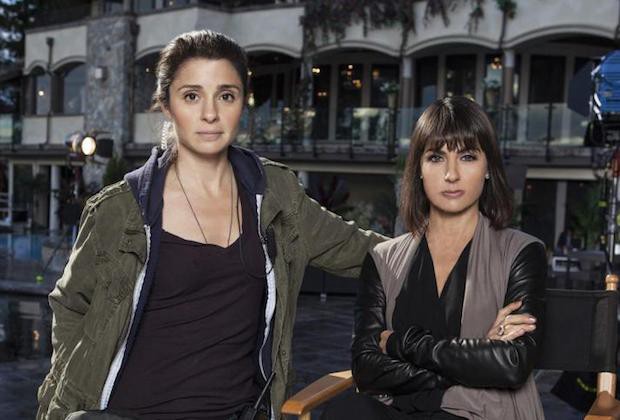 54. Big Love (2006-2011)
Stars: Bill Paxton, Jeanne Tripplehorn, Chloe Sevigny, Ginnifer Goodwin
Genre: Family Drama
Bill Henrickson is a polygamist with three wives.
"Okay, here's how it goes; it's complicated, so try to follow along. I'm 32nd of 56 children and when I married Roman, I became my own step-grandma because my father married Roman's daughter, Baylene. So, little Josie, that makes you my step-grandma, and I'm your stepmom. And when I had Alby, he became my great-uncle and I became his great-great-grandfather, which of course makes me my own grandmother." – Adaleen
Stars: Sarah Michelle Gellar, Nicholas Brendon, Alyson Hannigan
Genre: Fantasy, Drama
Buffy is a young woman with a destiny to slay vampires, demons and other other-world creatures.
"Strong is fighting. It's hard and it's painful and it's every day. It's what we have to do, and we can do it together, but if you're too much of a coward for that, then burn."
56. Eastbound and Down (2009-2013)
Stars: Danny McBride, Steve Little, Katy Mixon
Genre: Comedy
Kenny Powers is a foul-mouthed burned up major league baseball player. With no work, he returns to his home town to teach Physical Education.
What You Will Love About It:
It is filthy, obscene, foul-mouthed and cringeworthy.
"There is not 'i' in team, but there is a 'u' in cunt." – Kenny Powers
Stars: Jensen Ackles, Jared Padalecki
Genre: Comedy, Horror
Supernatural takes a spooky and rip-roaring journey of two brothers Sam and Dean Winchester, who continue their father's legacy to fight evil supernatural beings, monsters, demons and gods that wander in the world. The final series is currently being aired.
This show is much like a sequel to The X-Files.
"Driver picks the music, shotgun shuts his cake hole." – Dean Winchester

58. Crazy Ex-Girlfriend (2015- )
Stars: Rachel Bloom, Vincent Rodriguez III
Genre: Musical, Comedy
Rebecca Bunch is a successful albeit unhappy New York lawyer who once kissed Josh at Summercamp when they were kids. They met up again unexpectedly and she decides to move to Josh's hometown in California. This series is a funny musical – a musical you won't cringe at!
"What's that burning feeling,
Every time you pee,
Well, that's how it goes,
After you have so much awesome sex with me,
I gave you a UTI."
59. The Crown (2016- )
Stars: Claire Foy, Matt Smith, Victoria Hamilton
Genre: History, Drama
The story of the ascension to the thrown of Queen Elizabeth II. The story begins in Lizzy's childhood and the abdication of the throne, through to the death of Princess Diana in 1997.
"I will not kneel before my wife!" – Prince Phillip
60. The Queen's Gambit (2020)
Stars: Anya Taylor-Joy, Bill Camp, Moses Ingram, Marielle Heller
Period Drama
Limited Edition Series
Watch it on Netflix
The Queen's Gambit makes the 'boring' game of Chess positively gripping. Filmed like it was a true story (bummer that it isn't), it follows the life of Beth Harmon, an orphan by the age of 9 and a prodigious introvert addicted to pills, she grows up in an orphanage and is taught chess by the Janitor. She soon uses Chess as a way to escape.

61. Luther (2010- )
Stars: Idris Ilba, Ruth Wilson, Warren Brown
Genre: Crime, Drama
Luther is a British detective and crime series focusing on the personal and private life of a brilliant detective whilst hunting down murderers.
"The media don't care if it's lies, as long as there's a good story." – Justin Ripley
62. Alias Grace (2017)
Stars: Sarah Gadon, Edward Holcroft, Rebecca Liddiard
Genre: Crime, Drama
Based on the book by the best-selling author Margaret Atwood (author of The Handmaid's Tale). The story is about a young woman accursed of murder. She is interviewed by a psychiatrist, trying to see if she is insane or just a brilliant storyteller.
"If we were all on trial for our thoughts, we would all be hanged."

Stars: H. Jon Benjamin, Judy Greer, Amber Nash
Genre: Animation, Comedy
An American animated adult TV series that is about ISIS or International Secret Intelligence Service, a secret spying agency where covert black ops and espionage are happening even among agents.
"Lana, your eyes are amazing. I mean, not compared to your tits, but…"
Stars: Justin Theroux, Amy Brenneman, Christopher Eccleston
Genre: Fantasy, Mystery, Supernatural
2% of the world's entire population just disappeared in an event called 'The Sudden Departure'. The remaining population are 'The Leftovers'. They struggle to deal with the disappearances.
"It's like the human race has been programmed for misery." – Tom Perrotta
Stars: Daniel Lapaine, Hannah John-Kamen, Michaela Coel
Genre: Drama, Science Fiction, Thriller
Each episode of Black Mirror is a story in its own right. The whole series is about what happens when technology goes wrong or is used inappropriately. Very well written, fascinating and frightening.
"They filmed me… you know… jerking off."
What's your all-time favourite TV series?