30 Gorgeous Handmade Wedding Veils You Can Buy
Finding the perfect styled veil for your wedding can be tricky! There are so many beautiful designs it's so hard to choose.. so we've put together a list of our favourite veils for 2019!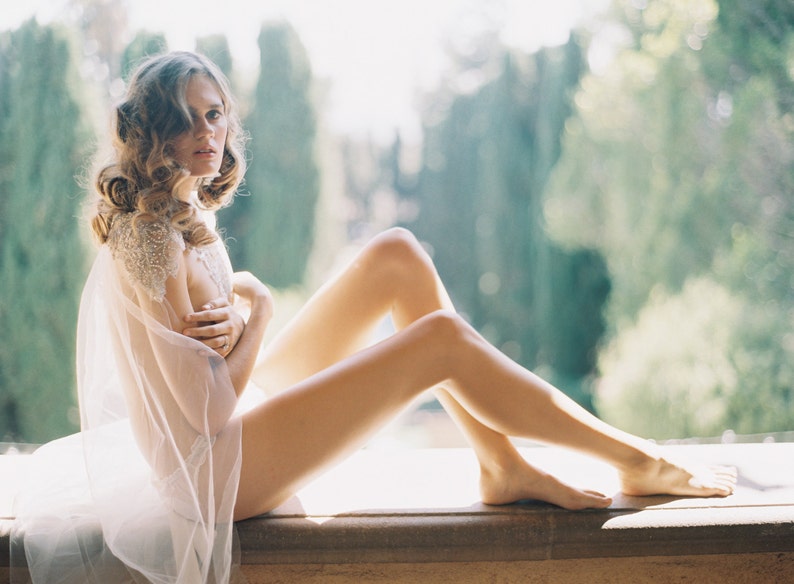 The Rosella chapel veil with blusher layer offers a lean and streamlined silhouette, an easy compromise between the beauty and glamour of a long veil without the puffiness. It adds the perfect amount of drama with its long blusher layer that can be pulled back to create a beautiful cascade effect from the sides. The soft and light netting is just enough to accentuate your dress without overpowering your bridal look. The perfect piece for modern and vintage-inspired brides alike.
This stunning raw edge drop veil speaks for itself with it's 105″ width and extra long 5 foot blusher in the front that adds the perfect dramatic effect to any gown!  Each veil is custom handmade to order using only the highest quality, and softest bridal illusion tulle available; and is attached to a clear comb to create a beautiful sheer effect, with no gathering.
A feminine and beautifully handmade item to suit many styles of weddings and brides dresses. Materials: Tulle, Chantilly Lace. 
A beautiful hand-made veil constructed with high-quality artificial flowers (no wilting!) secured by a large comb that sit at the back of the head.  Comes with a free matching garter!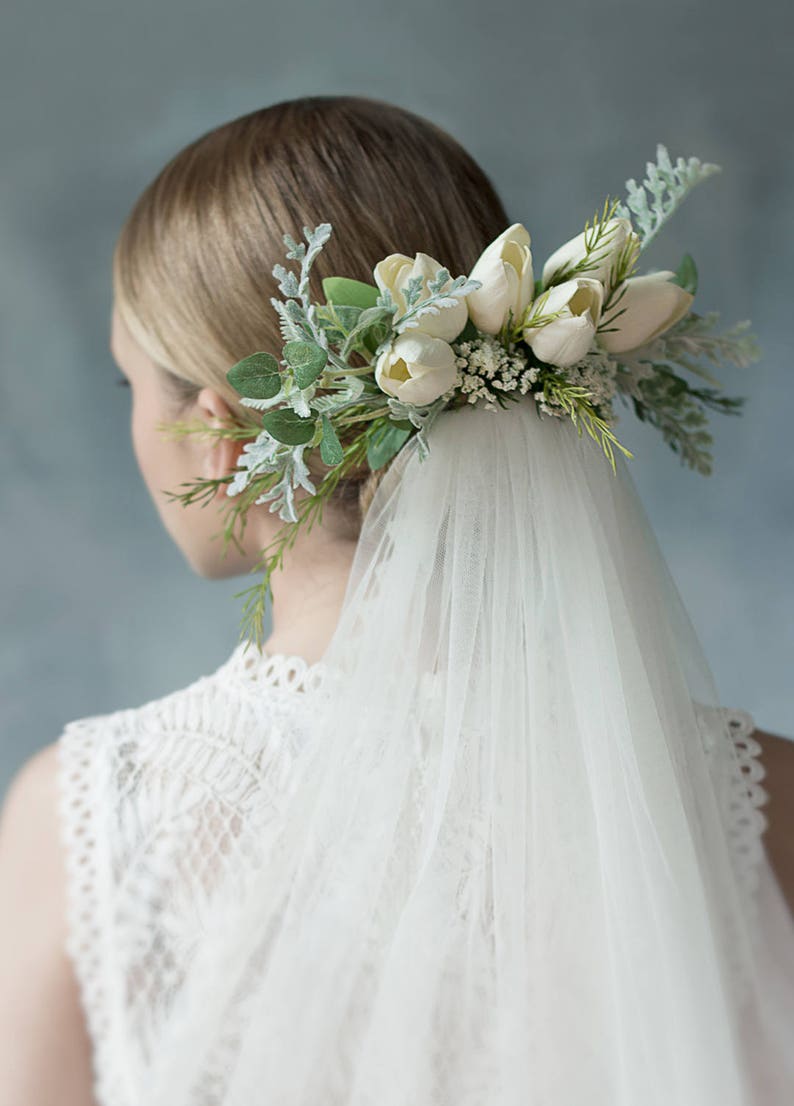 The perfect wedding veil with an ethereal drape, made from softest English tulle. Completely handmade in my studio, using only the best materials, and a lot of love:)  You can wear this wedding veil with a boho wreath or simply wear alone to show off your amazing hairdo! The modern bohemian bride will certainly fall in love with this elegantly draped wedding veil.
The Bubble Veil is a one tier short wedding veil that is made with quality illusion tulle.  Comes in white, bright white, cool white, silk white, warm white and light ivory.
The Princess Swarovski Crystal Veil
If you want sparkle plus on your wedding day, this veil is for you.  With 1200 crystals embroidered into the veil – double sided for maximum bling, it is a work of art!
Stockist: LC Brides
Shipped from The United States
This elegant white wedding veil will make any bride feel like a fairy tale princess. Made from soft tulle with delicate scalloped-edge lace detailing and embellished with sparkling sequins, this cathedral veil has 2 tiers with the top tier ending at the elbows and the second tier trailing behind you.
This beautiful floral embroidered lace veil will nicely complement any wedding gown.  Available in off white (ivory) only.
This lovely horsehair Veil adorned with floral lace appliques makes this a sophisticated addition to your Bridal look. This veil has tulle rounded at the edge with 2-inch horsehair trim all way around. It also comes with a metal comb wrapped in bridal illusion tulle. The wedding veil is made with the softest bridal illusion tulle. Lovely to show off the elegance of the back of your dress.This elegant and luxury bridal veil will embellish any wedding dress.
This silk flower wedding veil is made with handmade silk organza flowers, which are centered with crystals and pearls. Flowers are cascading over the side and end in sprinkles of petals, crystals and pearls. This veil measures approximately 32″ and 47″ from the top of the head, and it has a silver plated comb attached underneath the flowers for a secure fit.
This beautiful cap veil is created using illusion tulle with a single layer cut edge. This style of veil is designed so that the sides of the veil will hang longer than the back. The veil is attached to two silver color metal combs for a secure fit. Attached to the combs are stunning art deco inspired crystal rhinestone pieces. The rhinestones pieces can be detached from the veil to be worn on future occasions.
A handmade waltz length wedding veil completely sewn by hand. A very unique and modern lace with a gorgeous vine motif. Hand embroidered with hand pressed silk and cotton flower petals finished with delicate seed beads.
A pure silk veil made using the finest quality silk tulle.  This veil is so sheer and drapes just beautifully.  Half of the hem (up to fingertip level) are adorned with subtle pure Italian leavers lace trim.  Fine beaded lace applique with beautiful flower detail is used for the crown.
This short leaf trim veil is 13″ long and is available in both white or ivory.  It is on a metal comb base.
Hand made to order, the Hera Veil is a delicately draped veil dripping in rose gold metallic flakes.  Available in bright white, silk white, ivory or champagne. Allow four weeks to be made to order.
Stockist: Cleo and Clementine
Shipped from The United States
The Emmeline is completely hand made with two silk roses and lace embellished with tiny faux pearls.  It has a detachable wide net tulle and the bandeau attaches with two tiny six prong silver combs.
A one of a kind veil for a magical bride who likes to be unqiue.
A modern take on the classic bridal veil, the Janna draped bridal cape was designed with the contemporary bride in mind.Made from soft English net, this detachable cape features a sleek silhouette and an elegant draped back. It easily secures to your gown with petite metal clips that fit sleeves or straps over 3mm wide. Simply open the clip, slip it underneath your strap/sleeve and shut it closed.
A chapel length tulle train with intricately hand embroidered and beaded shoulder adornment.  The front covers the decolletage and shoulders and the back replicates the front shape and bead design.
An elegant one layer traditional bridal veil in black.
This blush coloured two layer veil is made from soft bridal illusion tulle.  Available in one, two or three layers and is hand made to order.
Looking for just a touch of blush? This ombre hand dyed wedding veil is offered in pink (shown), purple, gray or blue. Available in all the traditional bridal veil lengths from finger tip to cathedral length. Offered in a double layer drop veil with no gather at the comb for a soft, minimal look. A Veiled Beauty one of a kind!
The most beautifully ornate bridal veil, By The Seine represents artisan craftsmanship combined with luxury quality. Embroidered entirely by hand, each tiny silk anemone flower is entwined delicately with opal and platinum crystal vines encompassing the entire border of this oblong shape veil. A true romantics veil.
A dreamlike confection of sparkling hand set crystals, platinum lined glass beads and the finest silver toned Paulette sequins. Delicately embroidered by hand onto the sheerest tulle, the Marchesa is a masterpiece of embroidery work. A dazzling cape that epitomizes luxury and sophistication and a strong favorite amongst brides who appreciate the finer details and want to really stand out with unique yet timeless accessories on their wedding day. The Marhcesa can be worn as two different looks on the day, either as a cape around the shoulders or attached around the waist as a long flowing train. Both looks completely transform a wedding gown into something spectacular.
The extraordinary piece is delicately hand embroidered with swarovski crystals, in an Art Deco geometric star burst design, onto a double layer of the finest illusion tulle. Each crystal is individually hand sewn with precise measurements to encapsulate the finest structured symmetric patterns of the decadent 1920's. When worn next to the skin the tulle becomes almost invisible creating a waterfall effect of the crystals. One large geometric dagger shape,sits neatly at the decolletage, made of crystal clusters in varying shapes and sizes, truly in line with the luxurious designs of that era.
Stockist: Gibson Bespoke
Shipped from The United Kingdom
This hand beaded and embroidered bridal capelet acts as the perfect shoulder topper to spark up your dress. Made with Swarovski crystals, beads, and pearls. Made with nude tulle and adorned with oversized Marquise Swarovski crystal at the center, with cascading scalloping pearls and bead strands. Would adorn your bridal or evening gown beautifully. Hook and eye closure at the back. Handmade heirloom finery.
Stockist: Minaree
Shipped from The United States
This opulent beaded bridal and evening bolero will be a conversation piece. Made with Swarovski crystals, beads, and teardrop pearls. Made with nude tulle and ornate embroidered jewels and fluttering tassels and pearl fringe dripped from gilded jewels. Would adorn your bridal or evening gown beautifully. Hook and eye closures at the back. Handmade heirloom finery.
A sparkling addition to any forward thinking bride's wedding day look. Perfect for a luxurious and contemporary twist on the traditional veil and for the bride who wants something utterly unique. This exquisite cape can also be worn as a crystal cape with double watteau trains.