Most people remember hearing about the death of Zahra Baker, a disabled 10-year-old who was gruesomely murdered and dismembered in 2010.
The case was, at first, a mystery resulting in worldwide media coverage.
Read here:
There's a lot of confusion surrounding the death of young Zahra. Even now, with people imprisoned for her murder, police aren't exactly sure how she died or even when. But it seems clear to all that her death was tragic, violent, and likely perpetrated by someone she trusted. Someone that should have treasured her as a member of the family.
More Reading:
Zahra's Australian BeginningsThe Most Evil Stepmother And The Death of Zahra Baker I Stay at Home MumZahra's Australian Beginnings
Zahra Baker was born on the 16th of November 1999 in Wagga Wagga, Australia. Her biological mother, Emily Dietrich, gave up custody of Zahra not long after her birth, for reasons relating to postpartum depression. Adam Baker, Zahra's father, took the baby and moved in with his parents in Giru, Queensland.
In 2005, Zahra was diagnosed with bone cancer, and later lung cancer. As a result of this, she had the lower part of one of her legs amputated and required hearing aids. By all accounts, she was a delightful child, with a sunny disposition despite her difficult lot in life.
Zahra Baker as a newborn with her birth mother, Emily Dietrich
In 2007, Adam Baker decided to take Zahra and move to North Carolina in pursuit of a woman he had met online. Her name was Elisa Fairchild.
Despite already being married, Elisa went on to marry Adam not long after he and Zahra arrived in America.
Zahra Baker's Terrible History of Abuse
By many measures, life wasn't that good for Zahra Baker. Child Protective Services had been involved with the Baker family several times prior to Zahra's death, and also had ongoing investigations relating to Elisa Baker as far back as 1999 for her behaviour around her other children.
Zahra did attend a public school at some point but was taken out to be homeschooled, according to her family. Now, investigators believe this was to stop rumours of abuse in their tracks.
The Call to 911
Early in the morning on October 9th 2010, Elisa Baker made a 911 call. She was reporting a fire at the back of their family residence in Hickory. When police attended the scene, they found a ransom note and Adam's company truck smelling strongly of gasoline.
Later that same day, Adam Baker called 911 and reported his daughter missing. He explained that the ransom note that the police had found was addressed to his boss and landlord, Mark Coffey. Adam told police he believed that someone had deliberately lit the fire as a distraction in order to take Zahra, and he believed that they had mistaken her for Mr. Coffey's daughter.
Stepmother from Hell – Elisa Baker. (Image via CNN.com & Hickory Daily Record)
According to Adam Baker, he had last seen his daughter at 2:30am that morning when he left for work. Zahra's father also explained why it had taken him more than 12 hours to report his daughter's disappearance, saying that his daughter rarely came out of her room because she was brooding due to puberty.
The Search for Zahra Baker Begins
Police interviewed both Adam and Elisa Baker in relation to Zahra's disappearance and searched their residence with cadaver dogs the next day. The dogs give "positive alerts" indicating human remains on both of the Baker's cars, and police take swabs of potential bloodstains.
That same day Elisa Baker is arrested for a number of crimes, not related to Zahra's death. However, she is also charged with obstruction after admitting to writing the ransom note, which wasted police time. Police also confirm that they haven't been able to confirm where Zahra has been in the last month.
By October 12, police were certain that 10-year-old Zahra Baker was dead. The Hickory Police Chief made a statement saying that the Amber Alert that had been in place was now cancelled and that the investigation was a homicide. Over the next few days, police search in vain for any clues to where Zahra might be, draining ponds, searching in land-fill, and canvassing large wooded areas with cadaver dogs.
Zahra's father, Adam Baker (Image Via ABC News)
On October 25th, Adam Baker is also arrested, again on charges that are not related to his daughter's disappearance.
A Tragic Ending for Little Zahra Baker
Police uncovered a prosthetic leg in Caldwell County on October 26th. It was later confirmed to be Zahra's. At two other sites in Caldwell County on November 3rd and November 10th, police uncovered human remains. By November 12th, police announced that at least one of these remains belongs to Zahra Baker, confirming that she is dead.
It wasn't until November 30th that the full reality of what happened to Zahra was made public. A number of search warrants were unsealed by Catawba County Superior Court. They showed that Zahra had been dismembered in the bathtub at her home. Her body parts, along with vital evidence, were then scattered at a number of sites across three counties. More warrants were unsealed on January 5, 2011. They revealed that Zahra died on the 24th of September and that she was dismembered the next day.
A Charge Is Laid Against Zahra's Stepmother
Due to the nature of which Zahra's body had been disposed of, police weren't able to determine exactly how she had died. Her death was ruled as an "undetermined violent homicide." According to some reports, Elisa Baker had told police that both she and Adam Baker had dismembered and disposed of Zahra's body, but cell phone records dispute this. Police believed that Elisa alone was behind both the death and dismemberment of the 10-year-old.
Elisa Baker will serve up to 18 years imprisonment for the death of her Stepdaughter Zahra Baker
On February 22nd 2011, Elisa Baker was indicted by a grand jury for second-degree murder with aggravating circumstances. She was able to dodge a first-degree charge because it was revealed she led law enforcement to Zahra's remains.
But Elisa Baker's aunty Buzzie Winkler said that Zahra died after being ill for two weeks, then both parents dismembered her body. Adam Baker denied any involvement in the death of his daughter, and police were unable to find evidence that he was connected to the event. He was however charged with identity theft.
Along with the murder charge, Elisa Baker was charged with more than 20 drug charges, of which she pleaded guilty to seven. She is currently imprisoned in North Carolina's Correctional Institute For Women where she is serving an 18-year sentence.
Elisa Baker's Story
To those on the outside, the story of Zahra's death is a tragic tale. But it's very different when you hear Elisa tell it. According to her, Zahra died of natural causes relating to her cancer, despite her having been in remission for several years.
In March of 2016, Elisa launched an appeal to her sentence, despite pleading guilty to second-degree murder. Her sentence remains unchanged.
Elisa Baker was born Elisa Fairchild. She was the middle child of three girls and lived in North Carolina. Her parents worked in textile mills and furniture factories in the 1960's. She was a much loved child, doted upon by her father, but as she approached teenage years, she rebelled, swearing at her mother who fought back with slaps.
Elisa had three biological children, Amber, Brittany and Douglas.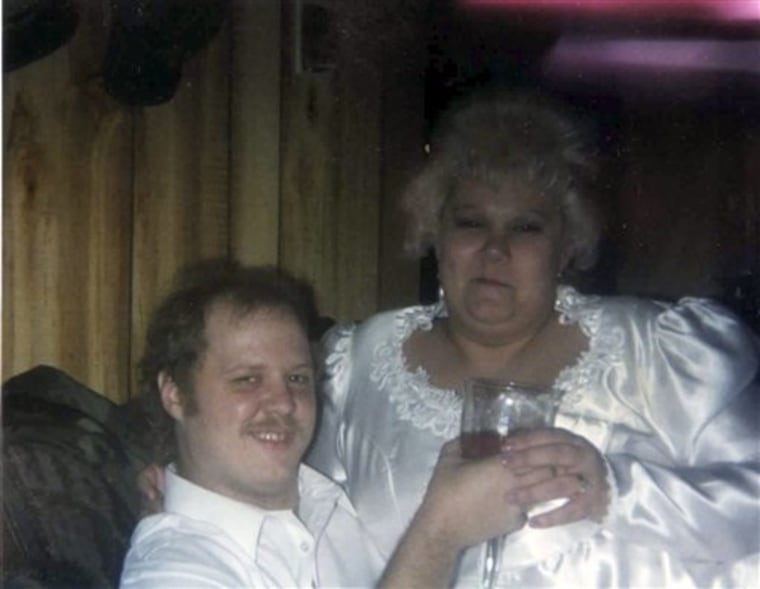 Schoolmates of Elisa said that she was a popular, attractive girl who was an excellent dancer, but was manipulative, cunning and very insecure. She also struggled with her weight.
Elisa Baker was married six or seven times. In fact she was a bigamist, being married to two or even three men at the same time. She was married when she met Adam Baker on a gothic website called IMVU. Little did Adam Baker know, but Elisa left behind a slew of debts, police charges and social worker inquiries as once she left a husband, she cut all ties.
More Reading About Zahra Baker:
There are some fantastic Podcasts about the case – we highly recommend:
True Crime Brewery: Step-Monster: The Murder of Zahra Baker