50 Fun Ideas for Work Christmas Parties
It's coming up to that time of year already – the work Christmas party.  Does your workplace do the same old boring thing every year?  Well as a boss I've had about enough of boring Christmas Parties where I'd rather stay home in bed with a cup of tea.  From now on – we only do fun stuff as a team.  Here are a few Christmas Party ideas, some we have done already – some that we are planning to do!  Make it exciting and bring together your team!

Invitation

Hey you! You're invited by Jody to join the Stay at Home Mum survey panel with her! Earn

an income

, give your opinion, and have a voice from home!
This is what we here at Stay at Home Mum are doing for our Christmas Party this year.  There are Escape Rooms everywhere now – not only are they are a fun activity, they are team building as well!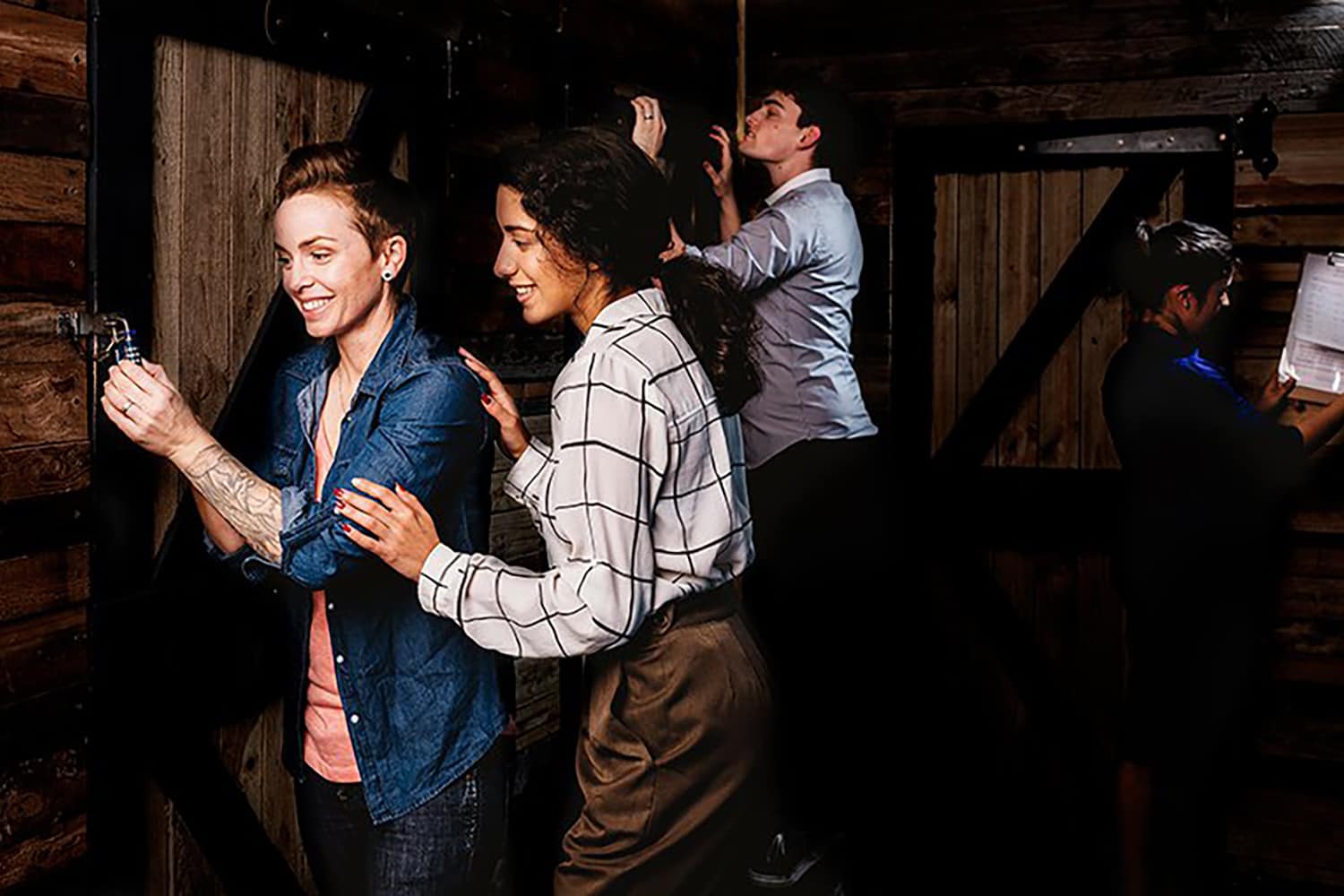 2. Have Your Work Christmas Party at a Theme Park
This is a great idea if you have a large team with loads of kids.  Think Movie World, Wet N Wild, Dreamworld or wherever is close to where you work.
You can pick up three day passes that include Warner Brothers Movie World, Sea World and Wet N Wild Gold Coast for $129.00
3. Take Your Team for High Tea
We recently had a very fancy High Tea at Aimee Provence at Buderim.  There I had the very best scones I have eaten in all my life (highly recommend!).  High Tea is a very decadent Christmas Party – and the best part is that you can do it for Morning Tea or Lunch – so no going out at night!
4. Go to a Comedy Club
Comedy is huge right now, you only have to look at all of the Netflix Specials to know!  But did you also know that Comedy Clubs have popped up all over Australia?
For a list of upcoming Comedy Events, check out Event Finda.
5. Go Ten Pin Bowling
Ten Pin Bowling is a fun, family friendly way of enjoying a casual no-fuss Christmas Party.  Book in advance, organise some nibbles and have fun!
6. Go to a Karaoke Club
See how Karen from Accounting sings 'Blaze of Glory' or how Gary the IT Manager belts out 'It's Raining Men'.
We have a list of all the Australian Venues that do Karaoke right here!
7. Book a Work Cooking Class
Cooking Classes are a terrific team building activity – and best of all – you get to eat what you make at the end of the session making it a perfect Christmas Party! Some different Cooking Class ideas include:
8. Have a White Elephant Gift Giving Session
9. Book a Party Boat
10. Visit an Inflatable Water Park 
11. Have a Dress Up Themed Party 
12. Only a Small Team? Have a Pool Party!
Simple doesn't mean boring.  A pool party could have fancy nibbles, and all the kids could come along.  Perfect for the Australian Summer. Put loads of cold drinks on ice, get the music flowing and you have the perfect laid back Christmas Party!
13. Go to a Fancy Rooftop Bar for Cocktails
If you have a bit of a budget, why not book a beautiful rooftop bar for the evening and enjoy the view with fancy cocktails!
14. Book a Cocktail Bartender for Your Barbecue
15. Hold a Murder Mystery Night
16. Have a Trivia Night
17. Book a Cinema for a Movie Marathon Night with Fancy Nibbles
18. Set up a Slip n Slide and Have a Caterer Make the Food
This is for the small team where no one has a pool!  A Slip N Slide is an Aussie tradition.  Sure there will be bruises but it will be hilarious!
19. Volunteer at a Local Pet Shelter and Have Drinks Afterwards
20. Go to a Theatre Restaurant
There is nothing more fun then being entertained as you eat!  There are a few awesome Theatre Restaurants around the place – see which will appeal to your team the most!
Our Picks:
21. Go Paintballing as a Team
22. Hire a Local Live Band
23. Organise a Secret Santa Gift Exchange
24. Hire a Tent at the Local Races
25. Have a 'Bad Taste' Dress Up Party
26. Have a Bonfire Night with S'Mores
27. Have a Wine Tasting Day
28. Small Team? Have a Progressive Dinner.
29. Take the Team Whale Watching
30. Climb the Sydney Harbour Bridge
31. Go on a Horse Riding Adventure
Give your team memories to treasure forever with a horse riding adventure.  Available all over Australia – some even include an ocean swim!
Invitation
Hey you! You're invited by Jody to join the Stay at Home Mum survey panel with her! Earn
an income
, give your opinion, and have a voice from home!
32. Team Drive A Lot? Book a Defensive Driving Day
33. Book Dinner at the Australian Outback Spectacular
If you are located in Queensland or Northern New South Wales – you have access not only to the best theme parts in Australia – but also the Australian Outback Spectacular which includes dinner and a show – perfect for a Work Christmas Party. The show delves into real-life struggles Aussie Farmers face, see the most amazing horses and you get free beer!
34. Go on a Paddle Streamer Cruise
35. Visit a Brewery
36. Take the Team to the Melbourne Ice Bar
37. Go on a Swan Valley Wine Cruise with Lunch
38. Visit a Dessert Bar
39. Book a Sustainable Farm Tour
40. Teach the Team How to Make Fresh Pasta
41. Make Your Own Bottle of Bundaberg Rum
42. Got all Girls? Have a Spa Day
43. Visit a Jail as a Group
44. Go Deep Sea Fishing
45. Hire a Bus and Do a Pub Tour
46. Or Book an Outlet Shopping Day with Lunch
47. A Wine and Cheese Night
48. Mini Golf Day
49. Have a Casino Night
50. Laser Tag
These are just 50 ideas for a great Work Christmas Party!