International Retailers Who Dropship to Australia
Drop Shipping is the ultimate in online stores. You don't need stock, you don't need to post products, you don't even see the products. It is the hottest way to run a business and business is BOOMING. We have another article that lists all the Australian Retailers that Offer Drop Shipping, but this one is for the rest of the world. Let us know if you have one to add to our list!
International Dropshipping Companies:
We have listed the big guys here as most of them integrate directly with Shopify. So for Drop Shippers that have their own Shopify store, this makes your life so much easier as you can import products from these suppliers at the click of a button. Many require a paid plan, so shop around first to see which will be the very best fit for you and your business. If you are not sure, many have a free-trial period.
SaleHoo has the very best selection of products for Drop Shippers – their list is HUGE. The are one of the largest International Retailers that dropship to Australia. Now they do have a $67 per year membership fee which I balked at at first, BUT they do have a 60 day guarantee so I totally think signing up and having a good look around at their products – then if it isn't for you – just get your money back – easy. The membership gets you access to their drop shipping supplier directory, members forum and all the research that will help you become a successful drop shipper.
SaleHoo has more quality products for drop shipping than most of the others.
Has over 2,500,00 products and brands.
SaleHoo has been around since 2005 – so they are one of the longest running drop-shipping companies.
All of the SaleHoo Sellers are real and authorised distributor of the products you are buying.
If you can't find products you are looking for, SaleHoo will refund your money.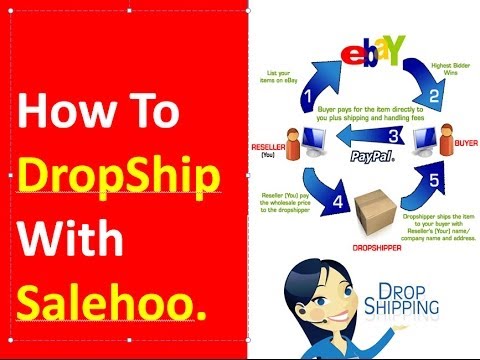 Another dropshipping juggernaut, Source of Goods is a drop shipping membership website that has over two million products!  Source of Goods are used by some of the largest United States based businesses such as Barnes & Noble and American Express.
You can get a free trial to see what it is all about before you have to purchase a membership, but even then it is quite affordable with the Basic Plan only $5 per month.
Their produce niches include:
Electronics
Furniture
Health Products
Homewares
Baby Products
Fashion
Simply Wholesale drop ship electronics, home and garden, health and beauty products and tools and equipment. However, the very best items they sell are fashion accessories – items like watches, hats, bags, sunglasses – and they have some really great brands such as Adidas and UGG.  Now their range is far from extensive, but if you are just dipping your toe into the business, they can be a really good start.
Has over 100,000 products
Has an easy 14-day returns policy
Get a $10 coupon to spend on your next order when you sign up to their newsletter
Free Shipping Australia Wide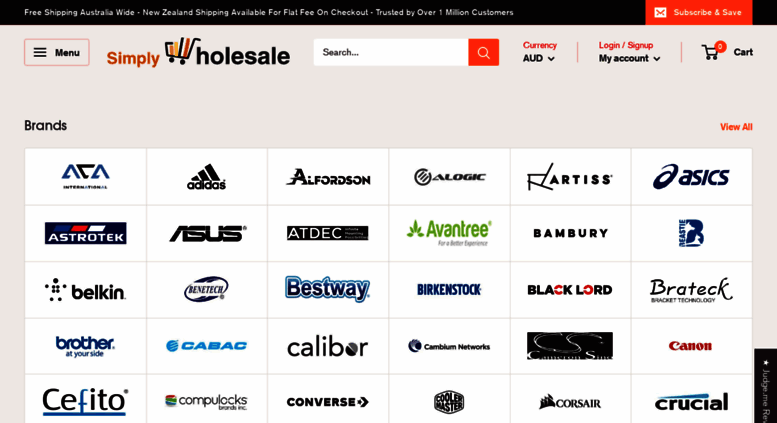 Wholesale2B is not based in Australia but do offer drop shipping to Australia and they have warehouses all over the world.  They have over one million different drop shipping products to choose from (these guys are one of the World's largest drop shipping companies) – but if you are really serious about starting a small business doing drop shipping, you will need to sign up for one of their plans which integrate with Shopify and Woocommerce – or they can even help you assemble your very own Drop Shipping website.
Now this can save you a lot of time and energy if you are a real newbie to business. You can directly sell products on Ebay ($24.99 per month) or Amazon ($37.99 per month) or have your very own pre-loaded drop shipping website from $39.99 per month (which is a freaking bargain!).
You can sign up for a free account to go have a look around.
Factory Fast is Australian and they stock Furniture, Games, Outdoor Furniture, Toys, Travel Goods and Baby Products. Not only do they dropship, you can also become a reseller of their products.  Now there is no membership fee – but their products are fairly limited unless you are into the above niches.
Get $10 off your next order when you join their newsletter
96% of items are dispatched within 1 business day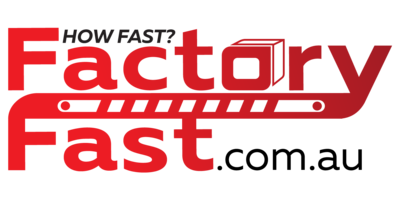 DH Gate is another of the HUGE companies that have worldwide factories to get products to your customers. Their motto is 'Buy Globally, Sell Globally'.
Their ranges include:
Wedding Gowns, Bridesmaid Dresses, Flower Girl Dresses, Mother of the Bride Dresses, Cocktail Gowns
Phones and Tablets
High-grade hair extensions
Designer Kids Clothing
Home Decor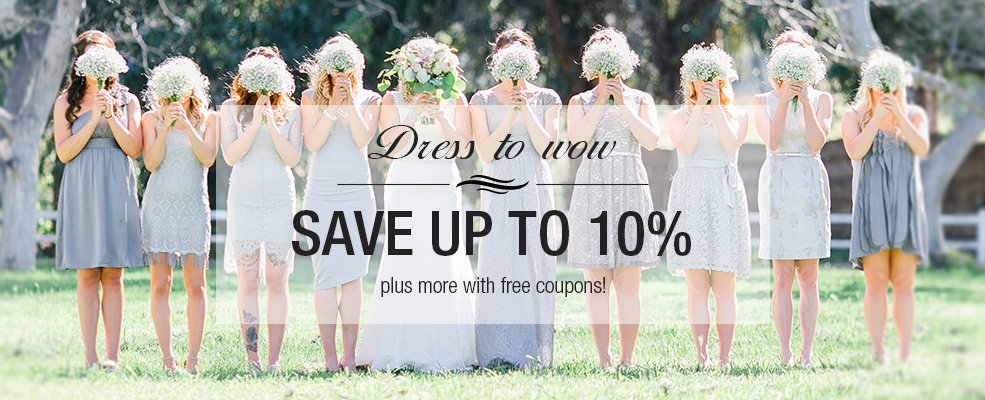 Brands Distribution is the place to go if you are interested in Fashion Drop Shipping. They have 500,000 products from 120 fashion brands ready to be delivered and it is free to subscribe to their newsletter. They offer drop shipping at 60% of the retail price with high-quality fashion brands such as:
Michael Kors
Versace
Gucci
Burberry
Addidas
Pierre Cardin
Laura Biagiotti
New Balance
Armani
They do have a minimum order amount and you need to sign up as a member before you can access stock which is about $110 per membership (they are based in London but ship to Australia!).
This is another large brand that doesn't offer dropshipping products, but a list of suppliers for a fee.  Worldwide Brands hand picks the suppliers they work with to ensure that they and their suppliers maintain a good reputation – even more so for smaller businesses who can't afford for their suppliers to let them down. They guarantee that their suppliers are Spam Free, secure, authorised and promote that they only choose the best of the best of the best!
They also have WBI Certification which means that they do factory tours to know each supplier and do a very extensive qualification process to ensure they are a top supplier in that market.
Oberlo is a subsidiary of Shopify and it allows you to drop ship products directly from Ali Express. Now I have tried this myself and they have an amazing variety of women's fashion however you really need to be Shopify Savvy to import products, write a description and have a fully fledged Shopify Dropshipping Store.
Personally, it took me a few weeks of playing around with Shopify and Oberlo to get the hang of it – and I did tear my hair out quite a few times – BUT, once I had it – it was so simple and I can add products in literally 10 seconds now. So if you are a bit tech savvy, this can be a fantastic option. If you have never used a computer, I don't recommend you go this way.
Spocket is another Shopify App that finds the very best products from around the world in all different categories and will import them directly to your Shopify Store. With over 30,000 wholesale dropshipping sellers from around the world, Spocket gives you access to suppliers in a neat, simple app.
Spocket allows you to:
Order samples to test for quality yourself
Will fulfil your orders automatically once purchased
Has fast shipping as Spocket has dropshipping suppliers in the US or Europe.
If you aren't keen on forking out for a Shopify account, Spocket also integrates with:
Wix
BigCommerce
WooCommerce
Squarespace
Allscraper
11. Modalyst
Okay whilst we are talking about Shopify embedded apps, I have to mention Modalyst because it has high-quality women's fashion that can be drop-shipped. BUT (and this is a big but), not all of the suppliers on Modalyst ship to Australia.  But if you only choose the fashion items that do ship to Australia – you will be right. Modalyst does have a membership fee to join.
This is another App I personally tried but had already paid the fee before I realised the limited supply to Australia – but they happily refunded my money so they are pretty good to work with and deal with.
Women's Fashion Drop Shippers:
CollectiveFab has over 6,500 fashion and beauty items that are easily added to your Shopify store.
The Details:
Costs US$29/month
Can be cancelled at any time.
Offers international shipping.
One of the downsides is that they don't have great reviews online. So please do your research first before handing over your money.
CC Wholesale Clothing has the advantage that the clothing is made in the United States.
What they offer:
Women's apparel
Plus Size Fashion
Jewellery
Beauty
Shoes
The Details:
Has free shipping over $300
The Details:
Costs US $19/month with a 14 day free trail or US$29/month to integrate into the Shopify App
Dropship Clothes
Dropship Clothes as an international fashion manufacturer of womens clothing. They supply all types of womens clothing such as swimwear, dresses, lingerie, costumes, cosplay and more. They are based in China and have inexpensive fast clothing.
China Brands
China Brands is one of the most popular drop shippers in the world and they are now international. They are included in here as the United States market is one of the biggest.
China-Based Fashion Drop Shippers:
Panda Hall
Tmart
Alibaba
Made in China
CJ Dropshipping
Tmall
JD.com
Global Sources Direct
Taobao
Wish
Focal Price
Sourcing Map
1688.com
DealeXtreme
UK Fashion Drop Shippers
Raslin Clothing
Clothes 2 Order
Fashion Dropshippers
China Brands
International Baby and Children's Fashion Dropshippers:
Pout in Pink is a wholesaler of gorgeous clothing for little girls.
International Jewellery Drop shippers:
Trendsgal
Brands Gateway
Plum Island Silver
Ruby Imports
Watch Wholesalers
Cookoo
International Beauty & Cosmetics Drop Shippers:
ISO Beauty
Beauty Joint
Volcanic Earth
Fragrance.net
International Shoes & Accessories Drop Shippers:
Trendsgal
Brands Gateway
Alonai
Star Bay
Silvert's
LED Sneakers
Buy 2 Bee
Technology & Electrical Drop Shippers:
Cost Tag
D&H
Novatech
Hypercel
Albany Distributing
Chinavision
Made in China
The B & F System Inc
Children's Toys & Games Drop Shippers:
Home Decor and Furniture Drop Shippers:
Fast Furnishings
Modloft
Park Designs
East Wind Wholesale Gift Distributors
VIG Furniture
Wholesale Interiors
Adult Product Dropshippers:
This article is constantly being updated. So check back regularly to see updates!
If you want to start selling online, need help on marketing strategies, website development, content creation, video production and much more! We could help you to start your business online!