Where to Buy Womens Workwear and Business Attire Online
Depending on where your work – it is expected that the clothing you wear is a reflection of the company you work for. Whether you are required to wear a suit with stockings and heels or jeans and a t-shirt, workwear should always be neat and tidy, durable, comfortable and professional.

Invitation

Hey you! You're invited by Jody to join the Stay at Home Mum survey panel with her! Earn

an income

, give your opinion, and have a voice from home!

Keeping the Cost of Workwear Down
Having mixed pieces (top and bottom) rather than dresses may seem a bit more expensive when purchasing, but because you can mix and match with other items in your wardrobe, it is the most cost effective way of dressing yourself for work.  Keep the colours of pants and skirts neutral (ie black or navy) – then invest in a few brightly coloured tops that will make the whole outfit look new every time.
Spending more on these basic pieces and less on 'seasonal' trends will save in the long run.
Have a Work 'Capsule' Wardrobe:
If you want to save a fortune on the clothing you have to wear to work, look at putting together a work 'capsule' wardrobe.  These are a selection of 5 – 8 pieces of good-quality clothing that you can mix and match – and takes the thought about 'What do I wear today' – out of the picture.  A traditional style capsule would include:
1 x Pair of Slacks (black or navy)
1 x Skirt (black or navy)
2 long sleeve blouses (white, black, navy, red)
1 x Black or Navy Dress
With a work capsule you can then use accessories such as scarves, statement necklaces and shoes to dress up or down the pieces.
What NOT To Wear to Work
What you wear on your own time is up to you – but work is a different matter.  Avoid the following:
Low cut tops
Mini skirts
Anything see-through
Very high high-heels
Very tight clothing.
How to Make Cheaper Pieces Look a Million Bucks
If you don't have a lot of money to spend on work clothing, you can still look a million bucks with cheaper items.  Just ensure that they fit well!  In fact, every girl should know a dress-maker that can take the pieces you do buy and ensure they fit you like a dream.  Nipping and tucking a good blazer or dress to fit your body makes your outfit look expensive!
Look at local tailors, clothes hospitals or alterations specialists to find someone that will quickly (and hopefully cheaply) adjust each piece to fit you well.
List of Affordable but Good Quality Workwear for Women:
Forcast has a good selection of tailored pants, women's suiting, a-line dresses and work-appropriate outfits.
When shopping online you can get free express shipping on orders over $50
Forever New has timeless pieces – many very suitable for work attire.  They also have some pretty funky looking shoes!
Witchery
You'll find Witchery in most Australian Shopping Centres, but I still think you get better deals when you check online regularly.  Witchery is just about perfect for womens workwear, their clothing lines are sophisticated, elevated and feminine.
Veronika Maine is more of a high-end store with quality materials and finishes to their garments.  Every piece from Veronika Maine will be a timeless garment to be enjoyed for years to come.
Boden was originally an English brand that has been in Australia for a few years now.  Boden Clothing is beautifully made with high-quality materials and are simply timeless!  From tailored pants through to silk shirts, you can fill your whole wardrobe with beautiful pieces from Boden.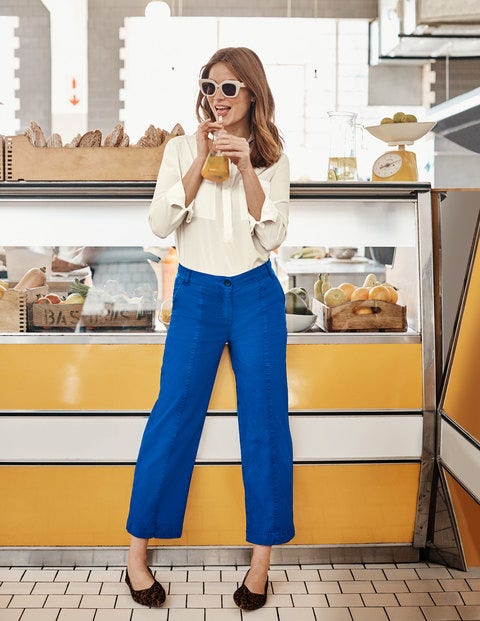 With all their pieces made in Australia and ethically sourced, Cue has beautifully made high quality pieces that are on-trend.
Jacqui E
Mainly for the over 30's woman, Jacqui E has a fantastic range of workwear, their dresses are flippy and on-trend, but will still be wearable for years.  They have a great range of basics and their knits are just darling.
Trenery
Trenery is another of the super luxe workwear womens brands that offer quality and simplicity in their pieces. They are focused on designing sustainable fashion and each piece is designed for you to get the most out of your clothing for years to come.
Founded in 1965, Saba offers a contemporary range of both womens and mens workwear and fashion items.  I particularly love their range of crepe wool!
Invitation
Hey you! You're invited by Jody to join the Stay at Home Mum survey panel with her! Earn
an income
, give your opinion, and have a voice from home!
Remember to save this link and check back regularly as we update it on a regular basis!