We've all heard of double-barreled surnames – but there are loads of unique and beautiful first names that can also be double-barreled.
Double-barreled names are particularly popular in the United States where women used their maiden names as their middle name to preserve the history of the family name.
But, with celebrities having double-barreled first names, there is now a growing trend of making first names double-barreled which is actually cute. So, we've got you 25 unique double-barreled baby names and a list of celebrities with lovely double-barreled first names so you can take your pick for your precious bundle of joy.
History of the Double Barrel Name:
The double-barrelled surname is nothing new. In England, double surnames are inherited, especially if the woman comes from a family of great nobility or wealth. In fact now there is many triple-barrelled surnames which are more than a mouth-full!
In the United States, women used their maiden names as their middle names to ensure the carry-on of their heritage. Other countries such as Germany and Spain have similar traditions.
Nowadays, when a couple have a child, the parents have the choice which surname or combination of surnames they wish for that child. But what about first names?
Well doubled-barreled first names used to just be for the posh! Not anymore! Now you can double-barrel any name you like so it just rolls off the tongue! Many couples choose a double-barrelled name instead of giving their child a middle name.
Double-Barrelled Girl's Names
Amelia-Rose
Amy-Leigh
Anna-Maria
Ann-Marie
Ava-Grace
Ava-Mae
Billie-Jo
Casey-Leigh
Chloe-Amanda
Cora-Lee
Ella-May
Ellie-Mae
Esme-Rose
Everleigh-Drew
Heaven-Leigh
Isla-Marie
Jamie-Lee
Kellie-Anne
Kirra-Belle
Lila-Grace
Lily-Anna
Lily-Rose
Lola-May
Mary-Alice
Mary-Elizabeth
Mia-Jane
Milly-Jane
Oliva-Faye
Olive-Ann
Rose-Aliyah
Ruby-May
Sarah-Jane
Scarlett-Rose
Sophia-Rose
Summer-Rose
Violet-Jane
List of Boy's Double-Barrelled Names
Archie-Jay
Alfie-Jack
Bailey-Raye
Beau-Alexander
Benjamin-Grey
Billy-Joe
Bradley-John
Cody-Lee
Corey-James
Ethan-Lee
Haley-Joel
Harvey-Dean
Harvey-Lee
Jaiden-Lee
James-Dean
John-Michael
John-Paul
Joshua-Lee
Marley-Jay
Nicholas-Wayne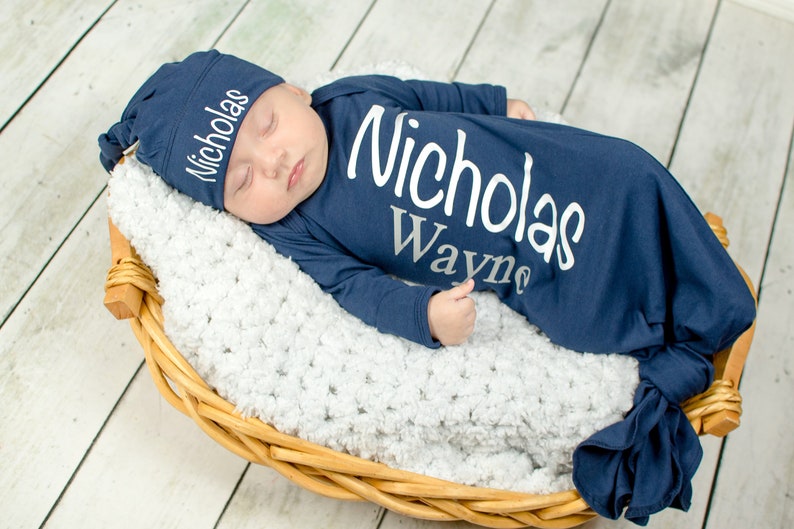 Newborn Boy Coming Home Outfit – Personalised via Mama Bijou (Ships from United States)
Noah-Presley
Oliver-James
Riley-James
Sawyer-Ford
Thomas-Lee
Tucker-Davis
Tyler-James
Wyatt-West
What's your favourite double-barreled baby name?