You can grow your hair extra long if you want, but growing it extra healthy can be a challenge.
It's always easy to maintain short hair, but having long locks requires more effort and yes… patience. I have been growing my tresses for two whole years now (I only get one haircut per year) and it has certainly taken a lot of work to get it long, and healthy!

Here are my 20 tips to get the long beautiful hair you have always wished for!
1. Let your hair get dirty.
A bit of natural oil is good for your hair and scalp. Even if you have really oily hair, try and stretch your wash out to three, four or even five days. Greasy hair can be worn up in a ponytail or bun. If it is truly driving you mental – try dry shampoo! The natural oils from your scalp are conditioning on your hair, and washing your hair too often will just be drying it out – and dry hair means you can't get your hair long as it will eventually snap! So if you can – go three, four, even five days between washes!
Once you start getting the 'Dirty Hair Itch' – then it is time to give it a wash!
Bonus: Not washing your hair so often is not only good for your hair – it makes your hair colour last a lot longer – and of course you use less product! #winning!
2. Only use lukewarm or cold water on your hair.
Your hair is like your skin, if you have a scalding hot shower, it will damage your hair. Keep it to cool water. In fact, giving your hair a final rinse in cold water really helps your hair to be shiny!
Treat your hair like it is spun glass – be very gentle to get the length!
3. Dry shampoo is the bom-diggity!
Oh yeah, baby. I love this stuff. You can even get coloured dry shampoo – so if you have dark hair – get the dark brown version – it doesn't make your hair appear grey. Dry shampoo mops up all the excess oil on your scalp – and you can go longer without washing! Keep one in your bag, one at home and one at work. Once you start using it, you will never be without it.
Dry shampoo also gives your hair a bit of body, just give it a spray at the roots, then flip your hair upside down, shake, and like magic, you will have bounce and body!
Our Pick:
Moroccanoil Dry Shampoo Dark Tones – it both makes my hair look clean and hides those stubborn grey's (and the little patches of the head where hair has thinned a little). Plus is smells lovely and doesn't make your hair 'dull' like some dry shampoo's can do!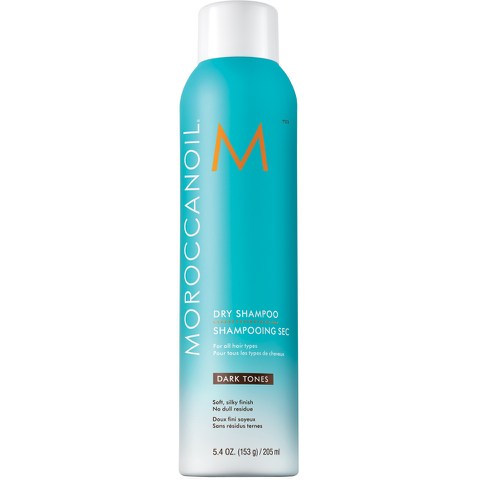 4. Stop using shampoo altogether!
Yes, shampoo is the devil! It dries out your hair so much, especially if you are using it more than twice a week. Instead, use conditioner to 'wash' your hair. Apply a good amount of conditioner to your scalp, and gently massage it through your hair (without tangling it – gently gently!). Rinse – and your hair will be clean as a whistle – and soft! It may take a week or two for your hair to 'get used' to not using shampoo, and might appear a little flat, but it is worth pushing your way through those two or so weeks.
If you have untamed curls or frizz, use a heavier style conditioner.
Our Pick:
Davines Love Smoothing Conditioner. Yes, it is a bit more expensive – but it comes in a HUGE bottle that lasts you forever! It is creamy and rich and smells amazing!
5. Don't use towels to dry your hair.
Towels are great for drying your body, but please please please don't use them to dry your hair! It is easy for your hair to get caught up in the fibres of the towel and break – especially as wet hair is the most vulnerable. Instead, invest in some of those microfibre hair towels – they are gentle and remove a lot of the water from your hair without damaging it. Another alternative is to use a soft cotton t-shirt to wrap up your wet hair.
Next Page: More Tips to Get Your Hair Extra Long and Extra Healthy