We love the convenience and deliciousness of Chefgood meals, they taste homemade and are filling – straight from the fridge. But now Chefgood has levelled up – they have introduced their 'Guest Chef Series'.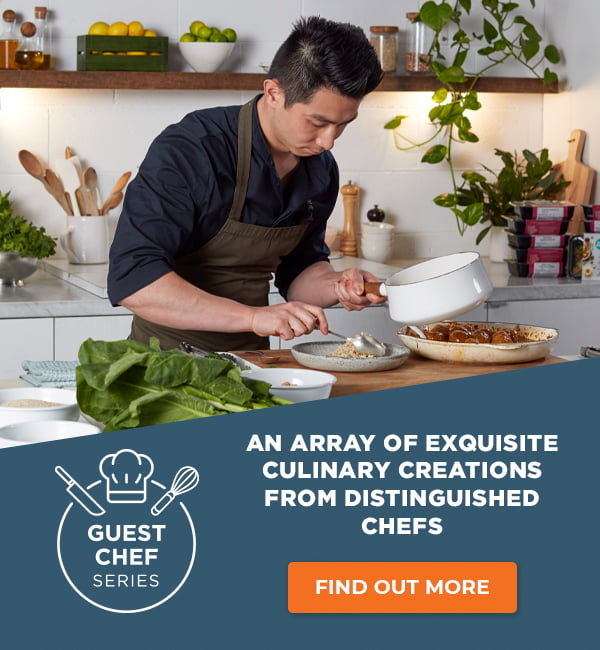 What is the Chefgood Guest Chef Series?
Chefgood's latest offering is the Guest Chef Series. They invite world-renowned chef's to design and hand-craft the meals that you can now order and enjoy. So you can enjoy gourmet foods at home in front of the tv with your feet up and a glass of wine! Chef designed food, at home – what could be better than that!
Their latest Guest Chef is Reynold Poernomo from the Koi Dessert Bar in Sydney. 27-year-old Australian Chef Reynold was a contestant on Masterchef 2020. The 'Dessert King' has a reputation for his 'high-concept, technically masterful and artfully executed desserts'.
Now Reynold Peornomo can cook for you at home with Chefgood!
What Meals Are Included in the Guest Chef Series?
Chef Poernomo's recipes for Chefgood all cater to vegans, vegetarians, meat-eaters, and he also has options with natural ingredients with no added gluten or dairy. Here are a few of the recipes on Chefgood for this week that are included in the Guest Chef Series:
Chicken & Shiitake Meatballs in Red Curry
This recipe by Reynold is a little piece of his childhood. An Indonesian inspired dish, delicious chicken and shiitake meatballs cooked in a spicy red curry sauce and served with Asian Greens! Yum! View Recipe >
Roasted Eggplants & Mushroom, Red Curry
The vegan alternative of the Chicken & Shiitake Meatballs in Red Curry (above) sees the chicken replaced by delicious roasted eggplant. Yumm!
Other recipes in the Guest Chef Series include:
Croque Monsieur:
This recipe was designed by Guest Chef Pierrick Boyer. With delicious Swiss Cheese, a delicious velvety bechamel sauce this is a sandwich on steroids! View Recipe >
Vegan Chocolate and Current Cookie
Another recipe by French Chef Pierrick Boyer. A delicious vegan cookie with a hint of dark chocolate and currants. Melt in the mouth goodness! View Recipe >
Why Chefgood is a Great Option for Busy Mum's:
Chefgood is Australia's top-rated meal delivery service. The meals come fully prepared and fresh for your convenience. Best of all, if you are following a calorie-controlled diet, are avoiding gluten or dairy, eat vegan or just want a healthy and convenient meal, they have a delicious option for you.
Chefgood has a team of professional chefs, nutritionists and other experts on board to ensure your meals are nutrient-dense and taste good too using fresh seasonal and local produce. They make it easy to make healthier choices – plus it means you don't have to cook at night!
I love their Slim & Trim meals, they are ideal for sustained weight loss and are portion-controlled at 350 calories, so I have all the energy and nutrients needed without having to measure ingredients.
Chefgood Produce a New Menu Every Week
The problem with some other meal delivery services is that they have the same menu week after week and that can get very boring. Chefgood aren't like that. They have a brand new menu with exciting meals to try every week. And with their new Guest Chef Series, I'm looking forward to restaurant-quality meals!
Chefgood Coupons
Thinking about trying out Chefgood, then grab yourself a coupon below and redeem a special discount offer of your first orders.
$50 OFF
$50 OFF ($30 OFF your 1st order + $20 off your 2nd)
SAHM Exclusive: $50 OFF ($30 off your first order, $20 off your 2nd). Click "show code"...
Show More
SAHM Exclusive: $50 OFF ($30 off your first order, $20 off your 2nd). Click "show code" then input code in by clicking the "Add Promo or Gift Voucher Code" in Order Summary below credit card details during checkout to apply.
Show Less