What does the Sunshine State have to offer?
You guessed it plenty of sunshine, surf and smiles all around.
Families across Australia often flock to Queensland for their yearly getaway and it's easy to see why. Okay so now Rona has hit – but Queensland is open for Queenslanders, so it's time for us to enjoy our beautiful state. From theme parks to tropical surroundings, you can expect the perfect Queensland getaway! Here are my top picks of great events, places and things to do in the Sunshine State! Here are the 50+ Best Things To Do in Queensland!
1. Visit the Qantas Founders Museum
Location: Longreach
First stop is in the "Spirit of Australia"- Qantas Founders Museum. Located in 177 km Winton, Queensland – the original town of Qantas – is a home to Boeing 747-200 and many other Qantas airline jets. Among the other things it displays is their first ever airline jet, a Boeing 707-138B. Experience the fun and excitement as you discover the history of our national airline through a Jet Tour, 747 Wing Walk, Flight Simulator Experience and more. The four to five hours tour is all worth it!
2. Brisbane Powerhouse Museum
Location: New Farm, Brisbane
Located near Brisbane river, what used to be a pre-war industrial power station has now been re-opened as a historic art centre. It's a multi-purpose centre for arts and culture performances from theatre, music, comedy, festivals and more.
Visit the Brisbane Powerhouse Museum here for more information.
3. South Bank Parklands
Location: South Bank, Brisbane
A sprawling recreation, cultural and educational centre is a popular attraction in Sunshine Coast. The walkways, gardens and the ambience is perfectly family friendly, you could spend a day exploring this area.
"The parklands are home to many restaurants and cafés as well as landmarks such as the Queensland Conservatorium, the Wheel of Brisbane, the Nepal Peace Pagoda, Streets Beach (a free man-made swimming area), and the Grand Arbour. Approximately 11,000,000 people visit the South Bank Parklands each year."
For more information, see the Visit Brisbane website.
4. Boggo Road Gaol
Location: Brisbane
It's a place for Australia's most notorious inmates. Named after the boggy quagmire of a road that led to it, Boggo Road was formerly known as the 'Brisbane Prison'. For many years, this has become Australia's main prison but today, it's been opened for the public through a guided historical tour. Notorious criminals who spent time at Boggo Road include:
The Whiskey a Go Go Bombers
Patrick Kenniff – Australia's last bushranger
Ernest Austin, the last man to be executed in Queensland.
You can even do a two hour ghost and gallows tour at the jail!!!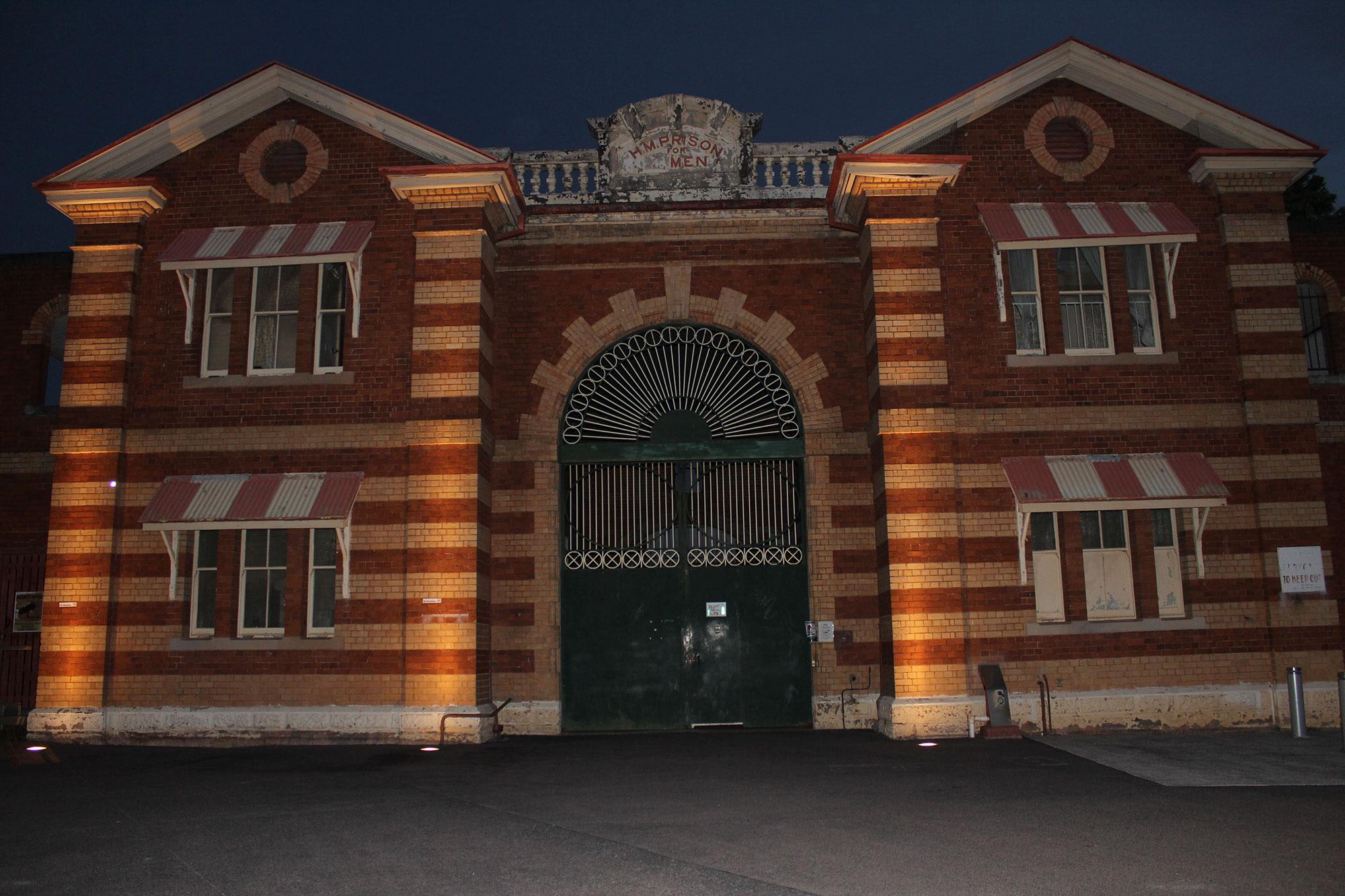 5. Warner Brothers Movie World
Location: Gold Coast
Warner Bros. Movie World is a village roadshow theme park that has movie-themed rides and attractions. Hold on tight and get the ride of your life with their thrilling and breathtaking rides, magic and entertainment. Don't miss the action. Suitable for all ages.
Grab tickets for a 3-Day Warner Brothers Movie World, Sea World and Wet N Wild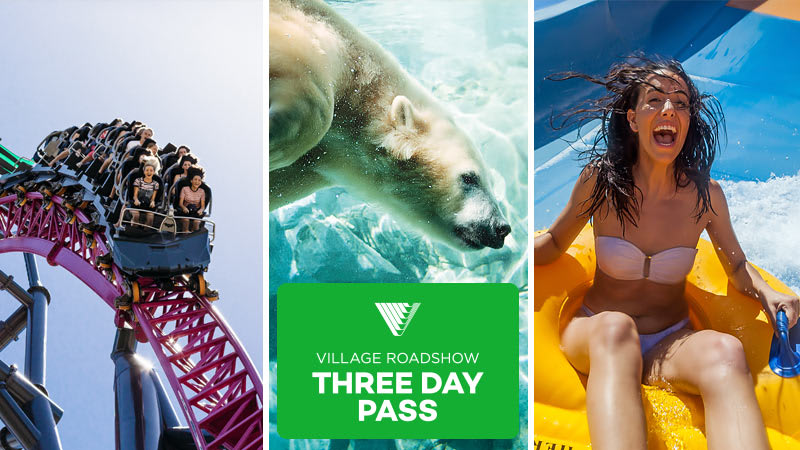 6. Currumbin Wildlife Sanctuary
Location: Gold Coast
Be ready to meet Australia's cuddly koalas and speedy kangaroos and their cute joes. It's one of Gold Coast's most popular destinations.
"Voted one of the Gold Coast's most popular tourist destinations, Currumbin Wildlife Sanctuary is the crown jewel of the National Trust of Australia (Queensland) [NTAQ] properties. As one of Queensland's earliest nature-based tourist destinations, the Sanctuary is a physical embodiment of everything the NTAQ represents: dedication to conserving our nation's indigenous, natural and historic heritage and culture. With Blinky Bill now present for daily shows, the amazing viewing experiences available at the Wildlife Hospital and hundreds of native Australian animals on display in natural bushland and rainforest settings, Currumbin Wildlife Sanctuary is the ultimate holiday adventure for the entire family."
Grab tickets and information here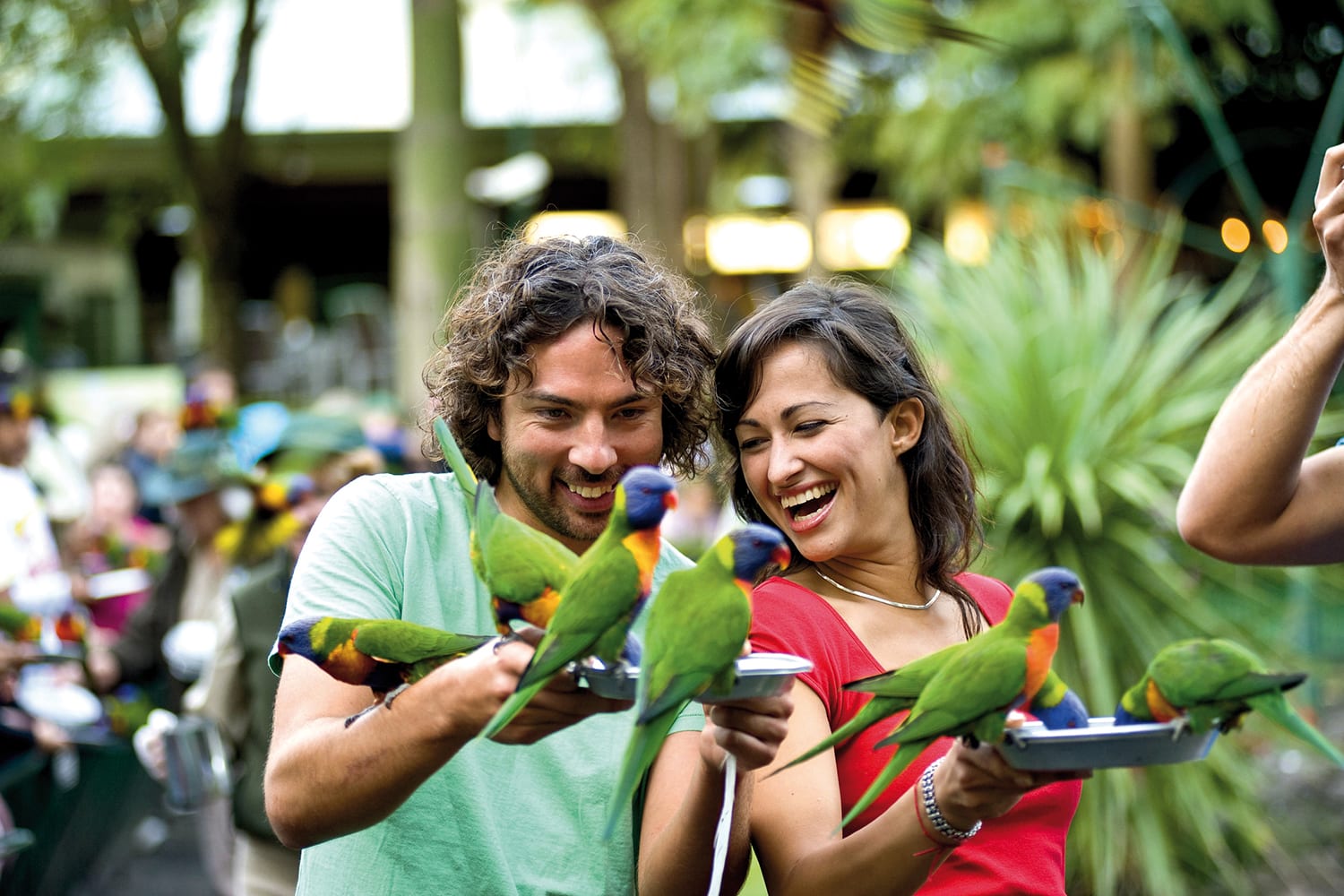 7. Ripley's Believe It or Not Museum
Location: Surfers Paradise
Be amazed at the life-like figures here and "Experience the Fun" with interactive exhibits and unbelievable artefacts. Great for inquisitive kids who love trivia and the world.
8. SkyPoint Observation Deck
Location: Gold Coast
For the adventurous, this is the perfect spot for you — an open-air adventure atop one of Queensland's most recognised land marks the iconic Q1 Resort Building. Lasting 90 minutes and rising 270m into the air, this is Australia's highest external building climb and provides 360 degree views of the Gold Coast and beyond.
9. Go Whale Watching at Hervey Bay
Location: Hervey Bay
Hervey Bay is the whale watching capital of the world. There are seven different vessels to choose from and prices start at $95 per adult. Hervey Bay is where the whales stop to relax and play on their long journey.
Hervey Bay Whale Watching Deal:
Go on a full day whale watching tour on a 58-foot catamaran and get up close to the whales off Hervey Bay.
Group of two for just $280.00
Find out date availability here.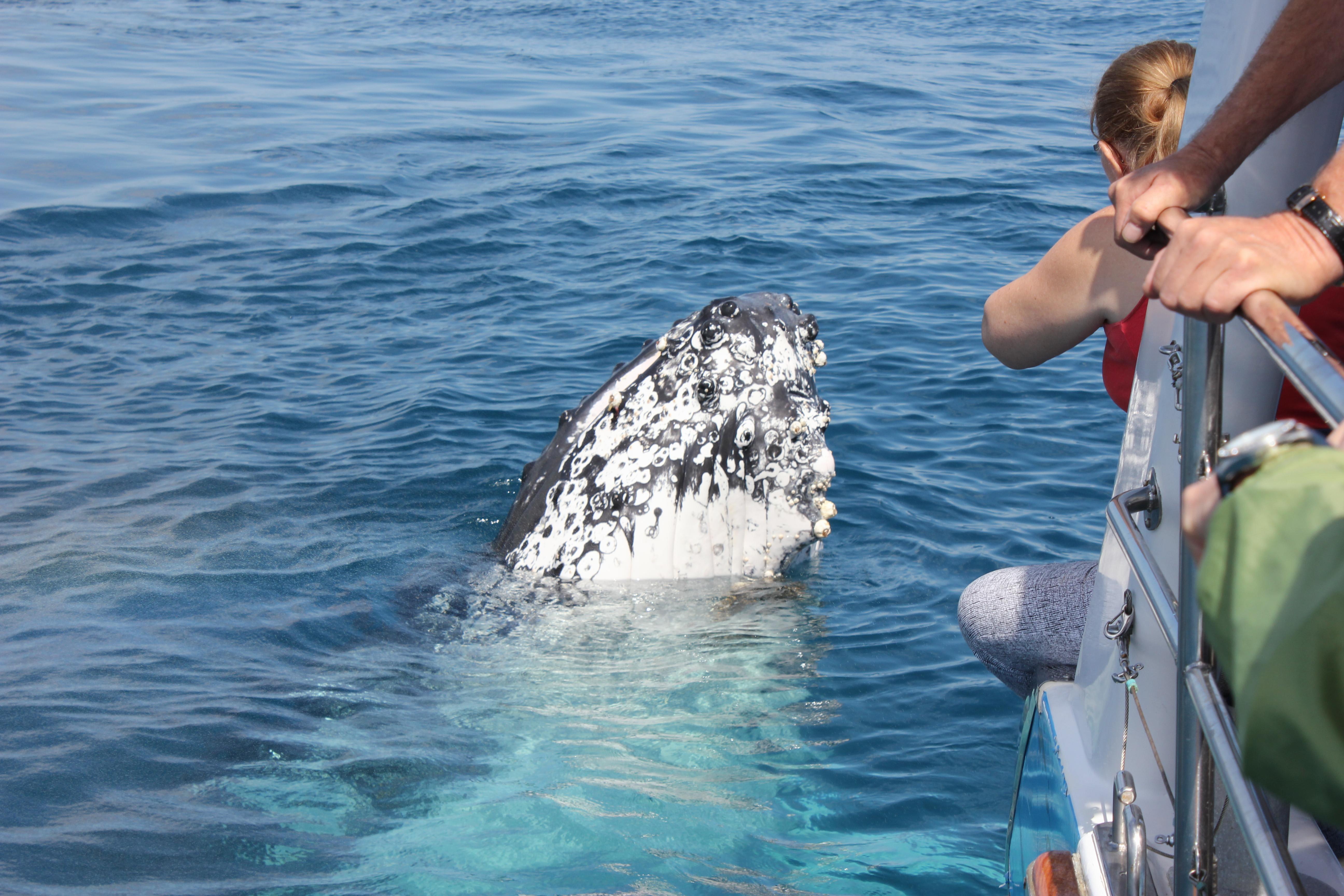 10. Take a trip to Fraser Island
Location: Fraser Island
Formerly known as Great Sandy Island, this world heritage island has amazing sand dunes that have been accumulated for approximately 750,000 years on volcanic bedrock. It also has rainforests, eucalyptus woodland, mangrove forests, wallum and peat swamps and cool coastal heaths. You can take your vehicle over via a ferry which leaves from Rainbow Beach.
11. See the Maheno Wreck
Location: Fraser Island
The Maheno is the most popular among the Fraser Island wrecks. It was bound for a Japanese wrecking yard when it was driven ashore just north of Happy Valley after a cyclone that happened in 1935. It used to be a well-known trans-Tasman liner. Now, the hull, which is slowly deteriorating, has become a great part of Australian history and is a popular attraction for those visiting Fraser Island.
12. Visit Lake McKenzie
Location: Fraser Island
Located in the Great Sandy National Park, this perched lake can attract visitors who enjoy camping and going on picnics. Be amazed by its white silica sand and pure lake water.
Find out more at the Visit Fraser Coast website.
13. See Whitehaven Beach
Location: The Whitsundays
Awarded Queensland's Cleanest Beach in Keep Australia Beautiful's 2008 Clean Beach Challenge State Awards, Whitehaven Beach is a 7-km stretch along Whitsunday Island and is known for its pristine white sand and breathtaking scenery. Its sand also amazingly does not retain heat, so it's comfortable walking barefoot even on a hot day.
14. The Great Barrier Reef
Enlisted as a World Heritage site, the Great Barrier Reef is the world's largest coral reef, which stretches for over 2,000 kilometres along the Queensland coastline. You can snorkel, scuba dive or take a scenic flight over the reef or sail the Whitsundays, trek the Daintree Rainforest, enjoy the tropical islands of Hayman and Lizard or island-hop or stay in some coastal getaways such as Cairns, Hervey Bay, Missions Beach or Port Douglas.
15. Australia Zoo
Location: Beerwah (Sunshine Coast)
Get to see and meet various animal species and experience the ultimate wildlife adventure only here at the Australia Zoo, and enjoy and learn as well along the way.
16. The Big Pineapple
Location: Woombye (Sunshine Coast)
Known as a Queensland Tourism Icon, you can enjoy the amazing view on the observation deck of the Big Pineapple, take a train ride and explore the process of pineapple farming from start to factory. You can climb the pineapple for free!
17. The Eumundi Markets
Location: Eumundi (Sunshine Coast)
If you want to see original art pieces or something unusual but special, visit Australia's premier artisan market, Eumundi Markets. Here, you'll find just about everything — from furniture, handmade toys, homewares, skincare, even food. Make sure you buy the most amazing soap in the world at Oska & Willow, or eat some fresh hot profitegies.
18. Gympie Music Muster
Location: Amamoor (near Gympie)
Music lovers with a cause converge together in this country music festival. A fundraising initiative of the Apex Club of Gympie, this is a four-day festival attracting musicians from across Australia and internationally, in which profits are being distributed among different community groups and charity partners, both locally and nationally. Isn't it just great to help others while enjoying music?
Held in August. Although it may be cancelled this year due to rona.
19. Maryborough Military & Colonial Museum
Location: Maryborough
Learn the history and bravery of Australian soldiers in the Maryborough Military & Colonial Museum with over 7,000 items of military and colonial memorabilia, including two of the most historically significant medal groups to Australian soldiers for the Vietnam War from 1964 to 1973. You can even enjoy tunes from WWI right up to present day hits. See a REAL Victoria Cross!
20. The Mary Poppins Walk
Location: Maryborough
See Mary Poppins' statue outside the heritage-listed bank building where the author P.L. Travers was born in 1899. You can even dress up and experience the magic in the trail of the world's most famous nanny.
Find more information about the Mary Poppins Walk here.
21. The Workshops Rail Museum
Location: Ipswich
Have an interactive experience at Australia's oldest railway workshops still in operation today, just as it has been more than 140 years ago. See over 15 larger-than-life exhibits, including the Vice-Regal carriage and Australia's oldest working steam locomotive, some hands-on exhibits, multi-media encounters and amazing stories on the impact that rail has had on our lives.
Find out more at the website here.
22. Mini Moke around Magnetic Island
Location: Magnetic Island (off Townsville)
Take the mini moke and explore the Magnetic Island and its brilliant blue sea. From Townsville, go the 8-km stretch to the island and enjoy the scenic winding roads and discover over 20 bays and beaches, even spot koalas in the wild and walk through the ruins of the Forts complex operated during World War II.
23. Billabong Wildlife Sanctuary
Location: Nome (south of Townsville)
Want to get a hold of a koala? At Billabong Wildlife Sanctuary, it's possible! Plus get to see over 100 species of Australian mammals and reptiles in this 11-hectare wildlife sanctuary in Nome, 17 kilometres south of Townsville, North Queensland, Australia.
Find out more information here.
24. The Haunted Cemetery at Ravenswood
Location: Ravenswood, Queensland
Once a booming place, being the first major mining town in North Queensland after the discovery of gold back in 1868, Ravenswood has now become a ghost town after its mine shafts sunk into a water table and gold can no longer be extracted. Today, this heritage-listed Ravenswood now stands as a beautiful and ghostly remnant of its former glory. A two-hour walking tour includes visits to the historic Imperial & Railway Hotels, courthouse, and church.
25. The Birdsville Races
Location: Birdsville
For horse racing lovers, Birdsville holds horse races each year in September, where funds are raised for the Royal Flying Doctor Service of Australia. In addition, Birdsville has a range of attractions which include the Big Red sand dune, Waddi Trees, the old historical cemetery, Blue Poles Art Gallery and Royal Hotel Ruins.
26. The Woodford Folk Festival
Location: Woodford
Artists unite in this annual folk festival which is held for more than six days and six nights from Dec 27th through to January 1st as over 2000 performers and 438 events are programmed featuring local, national and international guests. Among the activities include concerts, dances, street theatre, writers' panels, film festival, comedy sessions, acoustic jams, social dialogue and debate, folk medicine, an entire children's festival, an environmental programme featuring talks, debates and films, art and craft workshops, circus performances and workshops, late night cabarets, parades and special events including a breathtaking fire event. All these happening in 35 performance venues.
27. Toowoomba Carnival of Flowers
Location: Toowoomba
Come alive in this cultural party featuring floral parade, food, wine, entertainment and all things spring! Take part in their iconic Grand Central Floral Parade, Ergon Energy Flower, Food and Wine Festival, Heritage Bank Live Concert Series, Kids Day Out and more.
Find out more information here.
28. The Brisbane Ekka
Location: Brisbane
Explore Queensland's culture through this annual event which features a sideshow alley, showbag pavilion, various food and beverage outlets, award ceremonies, exhibits, educational displays, including nightly fireworks displays. It usually starts on a Friday in August and continues for 10 days to close on a Sunday.
The Ekka is held in August.
Find out more information here.
29. Spirit of the Outback
Location: From Brisbane to Longreach
Travel by train from Brisbane to Longreach and see historic outback towns along the way under summer skies and rich golden soil. This 1325 kilometre journey is the perfect start to a great outback adventure.
30. Kuranda Scenic Railway
Location: Kuranda (North Queensland)
This tourist railway passes through the scenic tropical gardens of Kuranda rail station. The line also cuts through the breathtaking Barron Gorge National Park, including stops for a look at the amazing Barron Falls, including Stoney Creek Falls. The station is also near a zoo, where you get to hold a koala, feed kangaroos. You can also enjoy markets, art galleries and ethnic Aboriginal crafts at the station.
Find out more information here.
31. The Majestic Theatre at Pomona
Location: Pomona (Sunshine Coast)
This heritage-listed theatre is the oldest authentic silent movie theatre in the world, and the longest continuously operating movie theatre in Australia. This is one of the few pre-World War II picture theatres remaining in Queensland that was not demolished or adapted to other uses.
Find out more information here.
32. Goomeri Pumpkin Festival
Location: Goomeri
Have a great fun-filled family day out at the Goomeri Pumpkin Festival where you can get to be a pumpkin roller for the Great Australian Pumpkin Roll or other pumpkin competitions. Join the hundreds of pumpkin rollers sending their pumpkins racing down Policeman's Hill which has become a tourist attraction as people come to see where these pumpkins roll.
Check their website for dates.
Find out more information here.
33. See the 74 Whitsundays Islands
Sail the 74 island wonders in Whitsundays located in the heart of the Great Barrier Reef. Enjoy the stunning natural landscapes of coast and islands, the incredible diversity of the sea and islands from the bow of a sailboat. You can also get a quick snorkel or scuba dive and splash away in the clear shallow waters of world famous Whitehaven Beach, or have an adventure amongst the hillside national park trails on foot or mountain bike.
Visit Tourism Whitsundays for more information.
34. The Ginger Factory at Yandina
Location: Yandina, Sunshine Coast
Visit this working ginger factory which has become a tourist attraction for its fun rides and tours of the factory through their 100-year-old Ginger train as you relax in their open-air carriage and enjoy their beautiful gardens. Other activities include a live bee show where you can taste their sensational varieties of honey.
35. Skyrail Rainforest Cableway
Location: Smithfield, Queensland
Relax at the breathtaking view of the Cairns Rainforest with the Skyrail Rainforest Cableway as it takes you on an amazing experience over Australia's World Heritage-listed Tropical Rainforest canopy and deep into the forest. Inside the comfortable six-person gondola cabins, the Skyrail journey will allow you to see the wonders of an ancient tropical rainforest where you'll see, hear, smell and become part of the tropical rainforest environment.
36. Airlie Beach Lagoon
Location: Airlie Beach
Swim in the Airlie Beach Lagoon which has become popular with backpackers. It was built since the Airlie Beach is inhabited by box jellyfish. Enjoy the fresh, self-chlorinated water near the beach. The Great Barrier Reef is also easily accessible from Airlie Beach, with different types of tours available.
Find out more information here.
37. XXXX Brewery in Milton
Location: Milton, Brisbane
Take a tour at the XXXX Brewery in Milton to experience the inner workings of the 136-year history of a Queensland icon, where you'll learn about the raw ingredients and brewing processes and of course, a tour wouldn't be perfect without a taste of this iconic beer as you relax in their bar and enjoy their famous beers, brewery-fresh!
38. Bundaberg Rum Bond Store
Location: Bundaberg
Explore the home of Bundy Rum with a tour to its futuristic technology and interactive visual displays that bring more than 125 years of crafting rum. Soak up the atmosphere of the Bundy Bar, sampling sweet rum at the source or go to the retails store and buy some goods to take home.
39. Chinchilla Melon Festival
Location: Chinchilla
Have fun at the Chinchilla Melon Festival as you enjoy events such as melon skiing, melon iron man, melon bungee, melon bullseye, pip spitting and melon tossing. Take part in other fun-filled activities such street parade, a free concert, luncheons, a laser show, and buy souvenirs in its markets and arts and crafts.
40. Feed Wild Dolphins at Tin Can Bay
Location: Tin Can Bay
Hand feed wild dolphins at Tin Can Bay, which is a popular holiday destination as wild Indo-Pacific dolphins usually appear next to the Norman Point boat ramp.
Find out more information here.
41. Go River Rafting at Tully
Location: Tully (North Queensland)
For thrill-seekers, you can go white water rafting on the clear waters of Tully River. The river flows through Lake Koombooloomba and goes down through the Tully Gorge within the Tully Gorge National Park which is a part of the UNESCO World Heritage-listed Wet Tropics.
Find out more information here.
42. Cooking Lessons at The Spirit House
Location: Yandina, Sunshine Coast
If you want all things Asian, visit the Spirit House at Yandina which is nestled around a tranquil pond and calm waterfalls and enjoy the relaxing sounds of nature. You can even do a Thai cooking class and learn the chef's secrets here.
43. Coffee on Hastings Street, Noosa
Location: Noosa
Have a coffee and ice cream in Hastings Street in Noosa, which is Noosa's main hub and is just a few steps from the beach and the National Park.
Find more information about Noosa here.
44. Cuckoo Clock Shop at Montville
Location: Montville, Sunshine Coast
Want to see or have your own cuckoo clock? Visit the Cuckoo Clock Shop at Montville and delight in the hundreds of exclusive designs such as the majestic Grandfather Clock, the distinct Mantle, Wall or Dutch Clock…name it, they have it.
45. Abbey Medieval Festival
Location: Caboolture
Experience what it was like during the Medieval times as you cheer on competitors for glory and honour at the joust, or watch combatants go all out on the field of valour or prove themselves in the Turkish Oil Wrestling pit. You can also visit the marketplace or the colorful medieval tents and taste the finest medieval cuisines.
46. Sea World Resort
Location: Main Beach, Gold Coast
See a Polar Bear at Gold Coast's Sea World, which is a marine mammal park, oceanarium and theme park where you can find fun-filled rides, animal exhibits and more.
47. Viewing Platform at Q1
Location: Gold Coast
Here, you'll get to see the amazing sites in Queensland. Q1, an abbreviation of Queensland Number One, is a skyscraper and Queensland's tallest building located in Surfers Paradise in Gold Coast. See a 360 degree view of Brisbane to the north, the Gold Coast Hinterland to the west, Byron Bay, New South Wales to the south and the Pacific Ocean to the east through SkyPoint, formerly known as QDeck at levels 77 and 78, towering 230 metres above the Surfers Paradise beach.
48. Australian Stockman's Hall of Fame
Location: Longreach
For the ultimate outback experience, visit the Australian Stockman's Hall of Fame and Outback Heritage Centre in Longreach. Get ready to be amazed at the museum, stunningly constructed from timber, stone and corrugated iron. Through its unique design, the Hall of Fame stands comfortably amongst its breathtaking rural landscape. Learn about Australia's greatest and bravest explorers, stock workers, pastoralist, and Aborigines through the centre's five-themed galleries.
49. Underground Hospital at Mount Isa
Location: Mount Isa
Go underground in Mount Isa's former underground hospital. This World War II-era building is an air-raid shelter which could function as a hospital was a precautionary measure taken after Darwin was bombed in 1942. Today, this has become the only underground health facility in Queensland which was built during World War II.
50. Great Keppel Island
Location: Great Keppel Island (15km off the coast of Yeppoon)
Play castaway on the largest of the eighteen islands in the Keppel Group. It has 17 white sandy beaches where you can explore the astonishing coral reefs on The Great Barrier Reef.
Location: Kangaroo Point, Brisbane
Conquer your fears and enjoy the majestic view of the Brisbane River as you trek this heritage-listed and longest steel cantilever bridge in Australia that carries vehicular, bicycle and pedestrian traffic.
See available dates and pricing information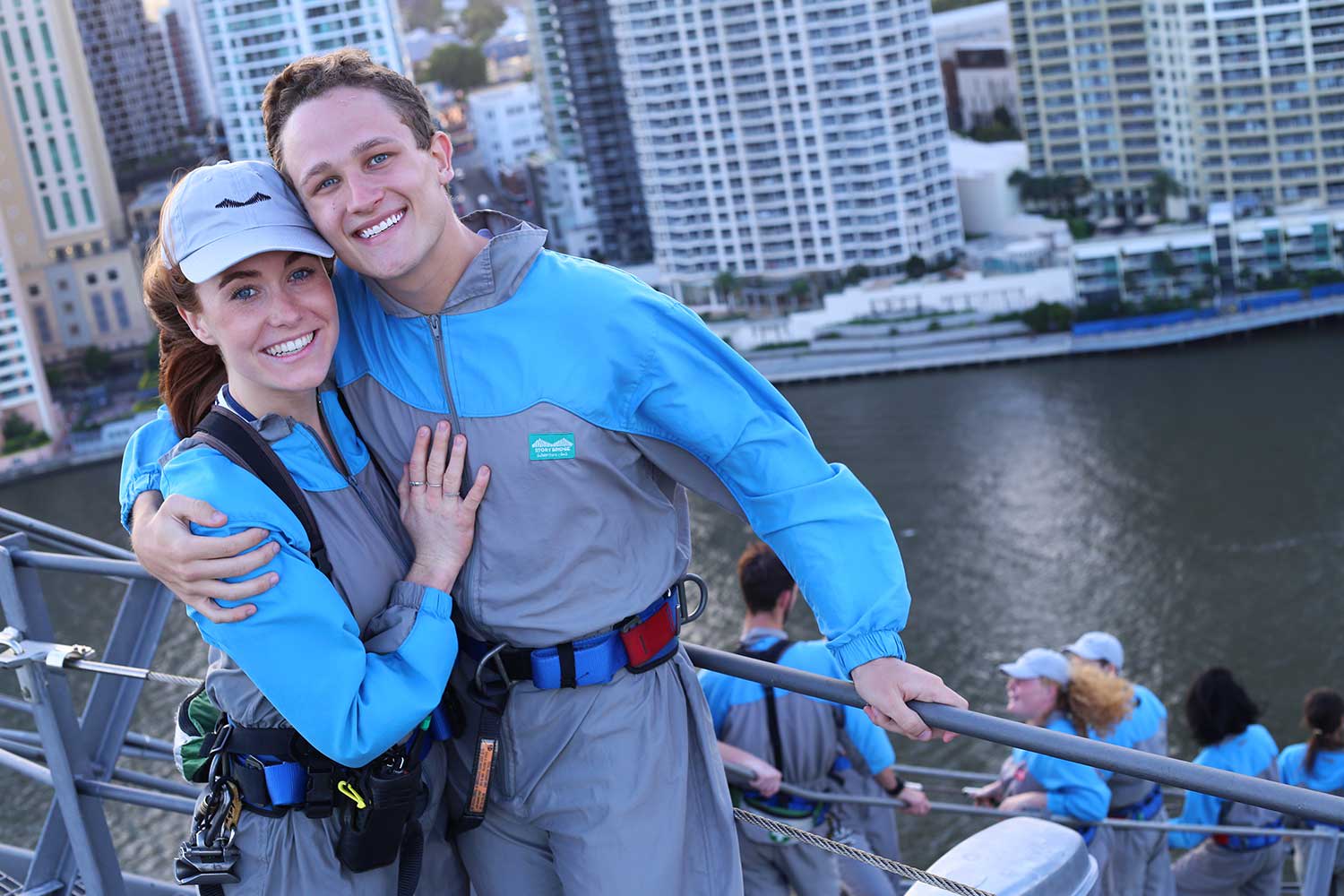 Which among these attractions have you visited or want to visit?