Not keen on Camping? Go Glamping instead!
For those of us who aren't really keen on camping, there is the more attractive version – glamping. And it's fancy! In fact, some of these Glamping Spots are far more luxurious (and expensive) than a 5 Star Hotel! Here we have the 15 Best Glamping Spots in Australia. We range from inexpensive to swanky, from the outback to camping on top of a building in the middle of the CBD and everything in between. f
These are the most diverse, the most unique and the most popular glamping spots here in Australia.
More Reading:
Glamping isn't just staying in a fancy tent. There are loads of unique and different forms of glamping including:
Luxury Tree Houses
Yurts
Cabins
Tipi's
Domes
Plastic Bubbles
Pods
Caves
Barns
Cabooses (a train)
Huts and more!
In no particular order, here are the 15 best Glamping Spots in Australia:
Location: Sydney, NSW
Prices start at $269/night for a tent sleeping four people
Perfect for Families
3-Star Accommodation
Sleep to the sounds of the lions roaring whilst taking in the breathtaking views of the Sydney Harbour Bridge and Opera House, Roar & Snore is the ultimate place to stay with kids. A must-do whilst you are there is the night walk of the zoo. See the animals come alive at night with a guided tour by zoo staff. The tents have comfortable beds and VIP access to Taronga Zoo. The only downside is that there are shared bathrooms.
There is also a Roar & Snore at The Western Plains Zoo in Dubbo (that has its own ensuite). I've stayed there personally – it is bloody awesome!
Location: Boat ride from Airlie Beach to the Great Barrier Reef, QLD
Prices start from $589/two people (two days, one night)
2.5-Star Accommodation
Family Friendly (minimum age is 3 years)
Sleep under the stars on the Great Barrier Reef with this unusual two day, one-night glamping experience. Aboard a cruise ship from Airlie Beach and anchor right on the Great Barrier Reef where you can snorkel, enjoy the outdoor swimming pool on the boat and grab a free breakfast in the morning. Sleep in comfortable swags on the deck of the cruise ship with free access to the underwater observatory. All snorkelling gear is provided.
Although the actually 'sleeping' part doesn't sound particularly glamourous – there aren't many places you can sleep under the stars with the Great Barrier Reef merely steps from your bed.
Location: Sydney NSW
Prices start from $45 per night (basic package that sleeps four) to $360 per night
3-Star Property
Family Friendly
Located in a prime position on the Sydney Harbour, Cockatoo Island operated as a convict settlement in the early 1900's. Today the island is part of the UNESCO World Heritage List and the island offers five different camping packages suiting all budgets and styles of glamping. There are two-man and four-man tents available, the campground has toilets and hot showers including accessible facilities.
Cockatoo Island also has fancier stays available if camping ain't your thang!
Location: Jervis Bay, NSW
Prices start from $490/night (the Original Tent) to $605/night for the King Deluxe Tent
Suitable for Families from 6 years of age.
5-Star Accommodation
This is glamping at its very finest. The tents have polished hardwood flooring, King or Twin Beds, quality linen, a private open-air ensuite with a hot shower, a bathtub to soak all your worries away and a wrap-around deck with outdoor furniture.
Pricing includes a full three-course dinner, a full breakfast, use of recreational facilities such as canoes and SUP boards. There is a minimum of a two-night stay.
Location: Lamington National Park, QLD
Prices start from $935/night for a mid-week stay
Best for couples (not suitable for children)
5-Star Accommodation
Nightfall Camp is located in an untouched part of Queensland. It has huge 62m2 hand-built artisan tents with old-brushed timber floors, a rain head shower and swanky linen to sleep in. Each tent has twin bathtubs, a rotating fireplace and amazing inclusions such as all meals, drinks (including alcohol), a welcome platter on arrival and a bottle of Australian sparkling wine and a midday checkout on the final day.
Nightfall Camp has a minimum of a two-night stay and to ensure the privacy of all guests, the camp has a maximum of only 8 guests at any one time.
Location: Obi Obi QLD (20 minutes away from Montville and Maleny)
Prices start from $360/night
Best for couples (not suitable for children)
5-Star Accommodation
Kanimbia is the ultimate in luxury glamping, you could say that Kanimbia is better than a five-star hotel. The beautiful South African Safari Tents include a claw foot bath, a fireplace, luxury linen and a cosy deck with an amazing bush view and abundant wildlife right at your door. Set on 50 acres of lush green parklands, the property has a seasonal creek and is littered with magnificent fig trees.
There are two tent options, the Luxury Safari Tent from $360/night, and the Deluxe Safari Tent at $380/night.
Location: Uluru, NT
Prices start from $1700 per person per night (twin-share) – $3400 per night (twin share).
Best for couples but they accept children from 10 years of age.
4-Star Accommodation
Located only 20km from the iconic Uluru, Longitude 131 has 16 beautifully decorated glamping tents with pillowtop beds, designer toiletries and expresso makers in the room. The tents have floor to ceiling windows and a high canopied roof. All stays are fully inclusive with gourmet breakfast, lunch and dinner provided with inspiring menu's that are changed daily. There is an open bar with French Champagne and premium wines.
Longitude 131 has two different tents, the Dune Pavillion which has two king beds and sleeps up to four people, and the Luxury Tent which has one king bed and sleeps two. There is a minimum of a three-night stay.
Outrageously expensive – but I've met a few people who have had the chance to stay at this beautiful glamping spot and they all rave about it!
Location: Tanja, NSW
Prices start from $560 for two nights – $640 for two nights
Family Friendly
2.5-Star Rating
Tanja Lagoon Camp is located on the edge of a beautiful wild coastal lagoon. It offers safari tent accommodation right on the Sapphire Coast of New South Wales. There are four luxurious Safari tents for glamping, all overlooking the lagoon. Each tent rests on a timber deck and has its own bathroom and kitchen facilities. The camp has a barbecue area, a library, disabled access rooms and Wifi.
Stays are a minimum of two nights, with a minimum of 3-5 nights if you are staying over the Christmas or Easter school holiday breaks.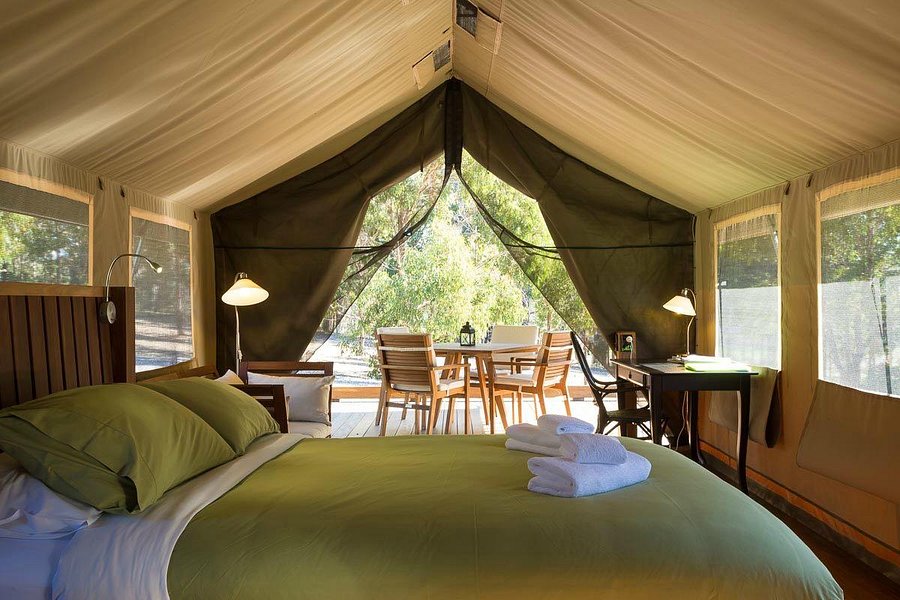 Location: Margaret River, Western Australia
Pricing could not be ascertained from their website
Best for couples (not child friendly YET)
4-Star Accommodation
Unlike most of the other glamping locations we have mentioned in this article, this isn't a tent – it is a dome! Each of the domes can accommodate two people and they are each a huge 65m2, open plan layout with a magnificent view over the valley, a private barbecue and an outdoor bath located on the deck. Each of the domes has reverse cycle air conditioning. Each dome has a king-sized four-poster bed, a kitchen, a private luxury bathroom with a rainfall shower and swanky linen.
There is a minimum of a two-night stay. Other facilities include a hot tub and there are snorkeling opportunities nearby.
Location: Karinjini, WA
Pricing starts from $368/night
Family Friendly
3-Star Accommodation
Karinjini Eco Retreat is located in the Pilbara region of Western Australia and offers an ecologically friendly and environmentally aware glamping experience. Each tent has a front and rear deck with beautifully soft beds and a recycled timber floor. The tents each have an ensuite bathroom and the friendly staff provide their guests with a torch and thermos flask.
The Eco Retreat has an on-site restaurant and bar and there are barbecue facilities available.
Location: Cape Range National Park, WA
Pricing starts from $849 per person per night, minimum two-night stay
Family Friendly
3-Star Accommodation
Sal Salis is an eco-friendly glamping experience located in the dunes of the Cape Range National Park near Exmouth. Your glamping tents are just steps away from the ocean where you can snorkel on the beautiful Ningaloo Reef. The camp has 15 eco-luxe wilderness tents that look over the Ningaloo Reef on the Indian Ocean. Each tent has an ensuite bathroom. The camp has chef's who will prepare you a delicious contemporary meal consisting of local ingredients.
There are many activities you can enjoy whilst staying at Sal Salis including snorkelling, sea kayaking, wildlife viewing, gorge walks and stargazing.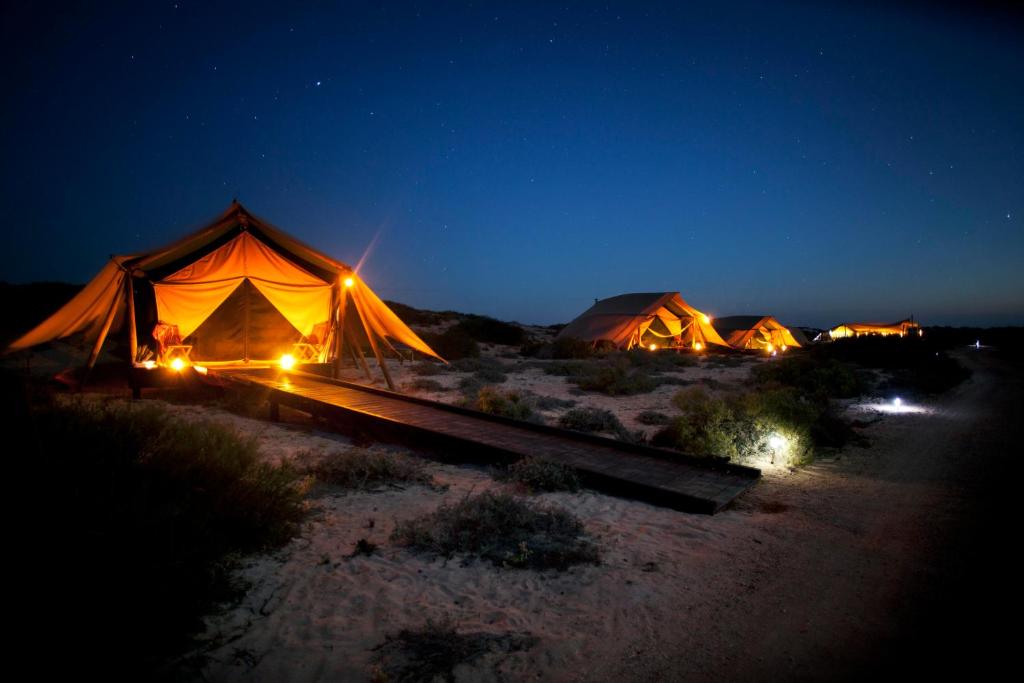 12. Bubbletent Australia
Location: Capertree Valley, NSW
Pricing starts from $545/night (minimum of two nights stay) – $890/night
Couples Only
4 Star Accommodation
Glamping, but not in a tent – instead – sleep under a Bubble! Overlooking the breathtaking Capertree Valley (the second largest canyon in the world) – sleep under the stars, but away from the mozzies in these unique bubbles.
All you need to bring for your stay is your own food. Everything else is provided for you. There are three different 'Bubbles' to stay in. 'Leo', 'Virgo' and 'Cancer' – all are hidden from each other so you have total privacy in your bubble. The Virgo Bubble has a wood-fired hot tub so you can soak away your worries under the stars.
Bubbletent is super popular – and with only three 'rooms' – it is often full so you need to book well in advance!
Location: North Stradbroke Island, QLD
Pricing starts from $169/night
Family Friendly
2-Star Accommodation
Located on the pristine island of North Stradbroke Island, the Minjerribah Eco Camping has two different glamping locations on the island. Adder Rock which is on Point Lookout, and Amity Point which overlooks Moreton Bay and offers beautiful sunsets.
You can choose to take your own tent and stay at these parks (which are only $59/night) or can upgrade to the cabins.
Remember you need to book your ferry over from Brisbane to get to the island.
14. Huon Bush Retreat
Location: Huon valley, TAS
Pricing: from $50 – $250/night
Family Friendly
3-Star Accommodation
Stay in a unique glamping accommodation – a deluxe tepee! The teepee has a solid timber floor and carpeting, nice linen and a cosy wood fire heater. There is also a covered deck out the back. There is no bathroom in the teepee but amenities are only one minute's walk away.
Location: Biarra, QLD
Pricing: Starts at $785.71/night
Family-Friendly and Pet Friendly
3-Star Accommodation
Sleeping a huge 18 people – this luxury train stay is the ultimate in Family Friendly Glamping. The train is fully restored and is located on a 50-acre property close to Esk. The accommodation even has its very own Irish Pub! There are private amenities, a barn with pool tables and table tennis tables, camping if the family don't want to all stay in one place and a campfire area.
This would be the ultimate extended family vacation or big milestone birthday celebration location.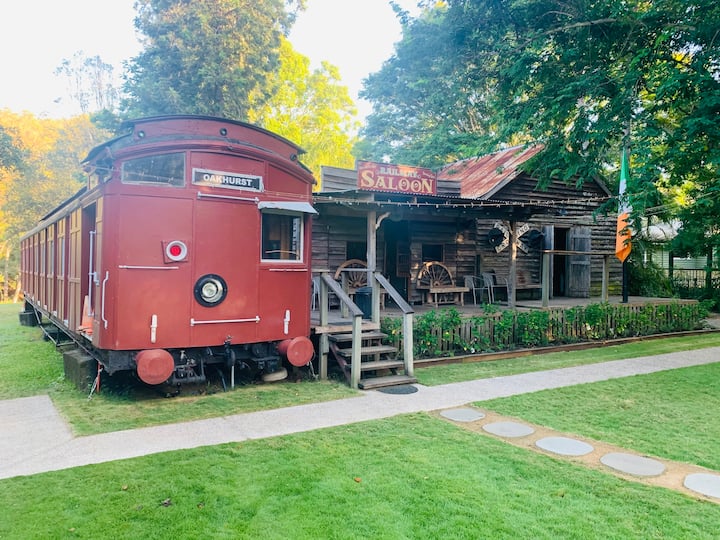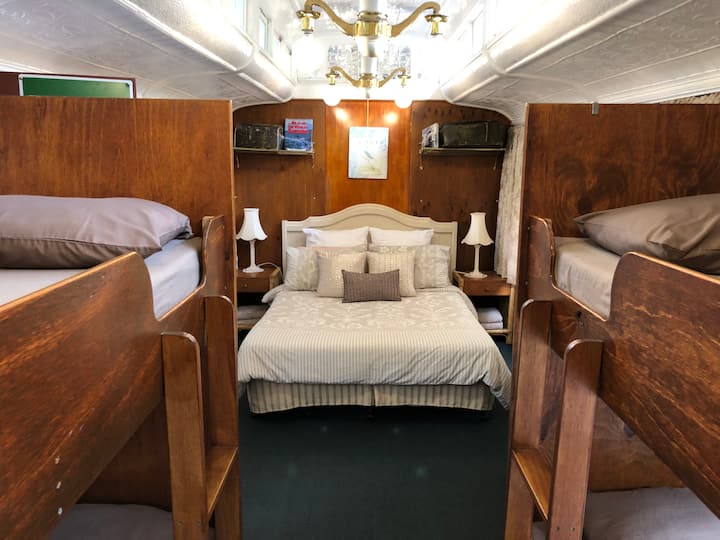 These are our picks for the 15 best, and most unique glamping experiences in Australia. Have you ever been glamping before? I think these might just change my mind on it!
Read More: