School mornings suck balls. They really really do. And I thought that as my kids got older they would get more organised – pfft!
Frustrating. Frustrating. Frustrating. AND we aren't even allowed to DRINK in the mornings before the school run!

So in my infinite way to 'do as I say, not as I do', I've found ways OTHER women get through their school mornings, because I don't want to be a hypocrite..I'm a mess!
1. Get the Kids to Put Their Lunch Boxes in the Kitchen The Night Before
Because getting up to smooshed banana is just gross, and that smell lingers for hours. So as soon as their delightful little toes touch the inside of your home, bark at them
'PUT YOUR LUNCH BOX IN THE DAMN KITCHEN'.
Of course, you can leave the 'Damn' out if you so desire, I'll leave that up to you.
Make your children dispose of any rubbish that they bring home from school and (if they are seriously well behaved) – have them pop their lunch box in the dishwasher. When the lunch box or boxes are nice and clean, either lay it on the bench ready for the morning.
Also, ensure they clear out any rubbish in their school bag that may become offensive overnight.
2. Pre-Make Lunches the Night Before
Load up the lunch boxes with as much 'stuff' as possible. With things that don't wilt or melt overnight. Think things like muesli bars, apples or bananas. If they are already in there, it saves you those few precious minutes that you can be getting some serious shut-eye.
If you don't want to do that – I highly recommend freezing sandwiches! We have a nifty tip so they turn out all lovely and fresh and not manky! There are also a variety of healthy snacks that you can make in advance and freeze – so you can just throw it all in there in the morning making school lunches only take seconds instead of what feels like forever!
A good money-saving tip for lunch boxes is to buy the really large 1kg tubs of yoghurt and put about 1/2 cup into a small plastic container rather than buying the individual packs. Works out a lot cheaper. Do this the night before and leave it in the fridge so you can just grab it out in the morning!
3. Lay Out Any School Uniforms or Daycare Outfits
The couch is a great place to do this. Surely they can't miss a uniform THERE! Although nothing surprises me as a mother these days, shirt, shorts or skorts, hat, socks, and place their shoes on the floor underneath their uniforms. Give them no excuse whatsoever to come and wake you up early!
Another reason to do this is to ensure you have a clean uniform ready to go – nothing worse than being late for the school run and realising they are all still in the washing machine!
Note: If you have boys, check under the couch for the week's supply of undies that they have kicked under there.
But don't just lay out the kids clothing either – regardless whether you work or not – lay out your own set of clothing for the morning – including bra and undies. Think of it as your 'uniform' that you need to put on to get ready for the day!
4. Get Them to Make Their Own Breakfast
It really makes me cross that little Johnny can recite every state in the country, but still can't get his own bowl out and put cereal in it, but I'm trying. Cereal is a great breakfast on weekdays before school. Sure on the odd occasion, if I wake up early, I might do porridge, but it will be done in the microwave because I ain't go no time for dat!!! Put the cereal where they can reach it and expect a little milk spillage.
Hot breakfasts are the domain of the weekends.
5. Put Anything You Need to Do On the School Run At the Front Door
Got bills to pay, drycleaning to take in, lending a dress to someone – have all that crap right at the front door. Right in front of it so you physically have to move it to open the door. This will ensure you don't forget it! Especially good on library day for the kids!
This includes school bags too – because even though they use them every day – mine still manage to lose it – every single day. Make them re-pack the bag ready to go!
6. Invest in a Magnetic Fridge Calendar
I always forget that my youngest has swimming on Monday's. But I don't forget anymore because I have this right on my fridge – where I need to get the milk for my morning coffee! A fridge is a great place for a calendar! Especially during really busy months like November and December when we all have so much stuff on!
Put items on there such as:
Swimming Days
Library Days
Sports
Bin Days (and which bin it is that has to go out)
Any appointments
School Holidays or Student Free Days
I bought mine from Etsy.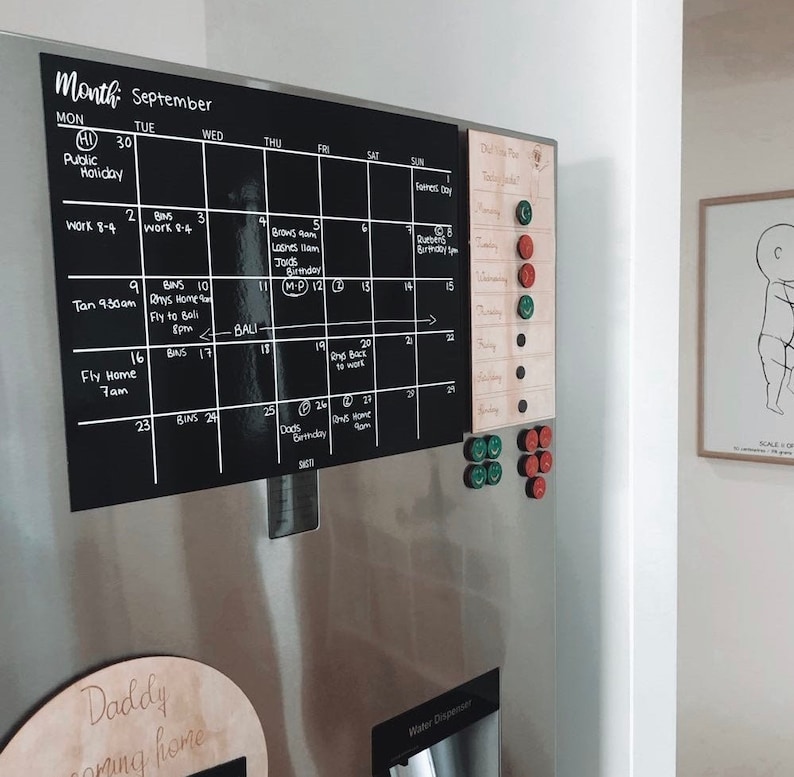 7. Leave Baths or Showers for Night Time
Because bathing kids in the morning is very difficult and can eat into coffee time. They aren't going to get dirty by sleeping in their bed all night. If you have a child with long hair – ensure you take the time at night to plait their hair – this saves you from having to rip a brush through it in the morning!
8. Enjoy an Extra 30 Minutes in Bed
Have your morning coffee in bed – it feels decadent as a parent and it is pretty damn close to a holiday!
Yes, do all this, and you can enjoy that 30 minutes. Teach little Johnny how to make cups of tea for you in bed -even better.
Enjoy, ladies!
xx Jody