The Ultimate Barbecue Buying Guide – Best BBQs for Outdoor Entertaining
The Barbecue sure does get a good workout in the Summer months in Australia. There is nothing better on those long hot nights, when the kids are playing noiselly outside, and hubby cooks dinner on the Barbecue while you sit back and enjoy a glass or two of Prosecco.

Gone are the days where the barbecue just cooked steak and snags, now the barbecue is used for fancier foods with seafood and prawns high up on the menu list in the Australian household.

You can make some serious delicious recipes on the barbie and there are even a huge range of barbecue cookbooks now available, and amazing accessories available making the barbecue somewhat 'gourmet'.

If you haven't yet got a barbecue at your place, here is the ultimate barbecue buying guide!
Finding the Right Barbecue for You
The first step to a yummy barbecue meal is finding the right barbecue for you and your family. Like, what the hell is a burner? Well, we've broken it down for you with some recommendations as there are so many different styles of barbecue out there. Each barbecue can be great depending on the situation, so here is a break down:
What size Barbecue best suits your family?
Probably the most asked question to any Barbecue Sales-person is what size barbecue will suit your family. If you are a family or around 5 – 6, then a 4 – 5 burner barbecue will give you plenty of room to cook everything at once. It isn't just about the size of the grill you need to consider, but the size of the Barbecue as well.
When looking at Barbecues, have a look at the number of burners. The more burners you have on your Barbecue, the more gas you will use but also generally the larger and varied (plate or grill) the cooking surface.
1 – 3 burners are great for cooking for 1 – 10 people
3 – 4 burners are great fr cooking for 11 – 14 people
4+ burners are great for cooking for 15+ people
Selecting a Barbecue Type
After selecting a size, the next thing this is to think about how you are going to use your new barbecue. Generally, barbecues are broken down into:
Portable Barbecues (ones you can take with you)
Built-in Barbecues (ones built into your backyard)
Free Standing Barbecues (barbecues you can move around)
Let's look at each:
Portable Barbecues:
If you are a regular camper or love spending your days at parks or the beach, a portable barbecue can be really handy. They are easy to just pack in the car, and off you go! With the right-sized portable barbecue, you could feed up to 6 people, so it's great for small families.
This barbecue is brilliant – and I know because I own one of them! It is light – easy to move, easy to clean and stores well. Perfect if you want to throw a barbecue in the back of the car to go make a meal at a park or at the beach. Best of all – this barbecue is supremely affordable for the quality!
Price: $288.00
Built-In Barbecues:
If you are renovating, or want to create a great outdoor entertaining/kitchen area, then maybe consider buying a built-in Barbecue. These type of Barbecues are great if you want to use it as part of an outdoor kitchen on a regular basis. Built-in Barbecues are powered via a gas line that is connected by a professional or sometimes a transportable bottle (which you can get refills at your local service station). Keeping in mind depending on the space you may also need council approval as sometimes it can count as an extension.
Some Built-in Barbecues come with cabinets (like the example below) or you can simply buy the Barbecue part and make your own cabinets and housing. However, if you want it all matching in a nice convenient and aesthetically pleasing manner then the cabinets are a worthwhile investment.
Very chic and minimalist – the Beefeater Discovery with its rust-resistant porcelain coating looks Schmick and will handle the outside weather.
Price: $1899.00
---
Freestanding Barbecues:
Freestanding barbecues are larger than portable ones but not as fixed as a built-in. Most have wheels so you can still move them around your deck to wherever you need it. Freestanding barbecues are great for families that are looking for a budget-friendly barbecue that are still large enough to cater for family and friends. Some freestanding barbecues can cater for up to 15 people at once, perfect for backyard parties.
Again I have chosen The Weber Family Q because it's what I have at my back door! During Summer we only cook on our Weber Family Q. It's perfect for steak, roasts, anything! The perfect all-round barbecue!
Price: $670.00
---
---
Gas, Electric or Charcoal Barbecue?
Electric Barbecue:
An electric barbecue is light, compact, and usually very budget-friendly. They are designed to be portable, easy to use and will heat up and cool down quite quickly. You can also cook with an electric barbecue undercover. Electric barbecues are powered with a mains power. They are nice and simple but they have limited grilling space. These barbecues would be great for a couple looking to grill on the odd occasion for themselves. Generally, because you aren't using gas, the barbecue flavour isn't the same from an electric barbecue. However when you need an alternative to gas, electric is the really only option.
Best for: The 'I rarely barbecue' type of people

The Weber Pulse 2000 Electric BBQ in Black from The Good Guys
Gas Barbecue:
The most common type of barbecue definitely has to be a gas barbecue. Gas barbecues are easy to set up and maintain. Gas bottles are easily available (and refillable) from hardware stores or your local service station. The biggest reason for the popularity of gas is the flavour. Charcoal barbecues and open fire cooking can provide good flavours but you won't get the convenience and ease that a gas barbecue has.
Best for: Most people!
Charcoal Barbecues and Smokers:
Charcoal Barbecues and Smokers are very much old school but are really coming back into fashion at the moment. You only have to check out your local hardware store or supermarket to see the amazing range of barbecue rubs, smoking chips and marinades that are now available and they all sound delicious! The use of charcoal creates some very tasty, smoked grilled meat. So if flavour is on your mind and you have the patience, consider a charcoal barbecue. They do take a while to heat up, and you have to keep an eye on them to make sure the heat is consistent. Once you get the hang of a charcoal barbecue, you may have your neighbours peering over the fence to see where that amazing smell is coming from.
Charcoal barbecues and smokers cook low and slow – so if you are into ribs and pulled pork – these is the type of barbecue for you!
The typical charcoal barbecue is a Kettle-style barbecue such as the Sunbeam Kettle King BBQ.
Best for: The gourmet and experienced barbecuer!
Must-Have Barbecue Accessories:
Once you've purchased your barbecue, there are a ton of different accessories available to amp up your cooking and to keep your barbecue in good condition to lengthen its life. There is plenty to add to the list, but these are some almost must-have accessories to make your life a little easier when barbecuing.
Get a Good Barbecue Cover:
A barbecue cover is a must-have if your barbecue is going to sit outside on your deck or patio. It will make your barbecue last a lot longer, and stop it turning into a rust bucket that no ones wants you to use. This is in my mind the single best investment you can make post-purchase, it protects but also hides away the barbecue when not in use.
Price: $29.95
Invest in Side Tables
If you plan on cooking up a few feasts, side tables come in handy for prepping food and serving it as well. It gives you a hand space to put down your awesome BBQ tools when you're not showing off your mad banger turning skills!
Additional Hot plate
Some built-in barbecues and the larger freestanding barbecues often come with grills but if you are wanting to cook something like eggs on your barbecue you might need a hot plate. Hot plates are super handy, allowing you to swap out the grill with a hot plate depending on what you're planning to cook.
Price: $59.95
Cookware and Utensils
There are stacks of different utensils and cookware available for your barbecue. Including different frying pans, roasting dishes and trays. In regard to tongs and spatulas, consider the heat that comes off a barbecue, your regular inside kitchen thongs probably won't live long. So invest in some decent quality barbecue utensils. Plus they make for fantastic gift ideas for the person who loves to barbecue!
Other cookware and utensils include: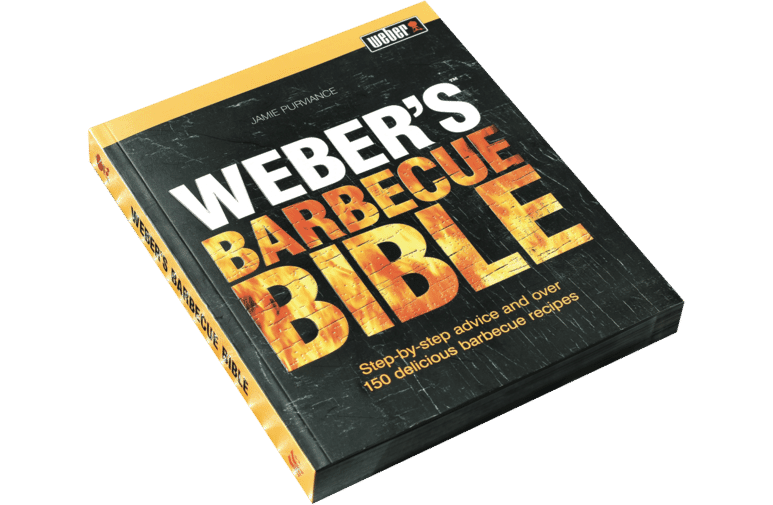 The Weber Barbecue Bible has over 150 delicious barbecue recipes
Buying a barbecue can be very overthought, so we hope this guide has kept it simple. Personally, we can't recommend the Weber range enough – we have two and they are worth every cent.
---