Feeling the need to get your family away for a little down time?
If your idea of a family holiday is a five star resort with an amazing view, a spa bath and drinks by the pool, then you are in luck! We have a list of the best Luxury Family Resorts that will suit the whole family – including you, the parents!
Luxury Family Resorts are the best of both worlds, with lots of activities and fun stuff for the kids, and quality linen and fancy cocktails for the parents.
More Reading:
So What Makes a Family Resort a Luxury Family Resort?
A luxury resort is one that makes you feel special. The pools are beautiful, they have a world-class spa, amazing food options and plenty of fun activities. A luxury family resort goes one better, it makes the kids feel special and catered for as well. Some family-friendly resorts have Kids Club which gives the parents a break from the kids and keeps the kids entertained for hours and hours.
So our 'Must Have' list for family resorts include:
Multiple pools – one pool specifically just for the kids
Something just for Mum (Spa etc)
Something just for Dad (Golf Course maybe?)
Beautiful and roomy accommodation
Swanky bed linen
A Kids Club (even if it is just during the holidays)
Nearby access to an amazing family friendly attraction
Amazing restaurants within walking distance
How Did We Choose the Best Luxury Family Resorts?
In choosing the best luxury family resorts we looked at activities, the quality of the accommodation, what the resort had to offer for the family, whether or not they had a kids club and then that 'Extra Special Something'. All resorts have a different 'Special Something' – it could be a snorkelling pool or an ice skating rink or even close access to amazing facilities like spas and golf courses for the parents. But the one thing in common is that they had to be luxurious to all members of the family!
Here is our pick of the 15 Best Luxury Family Resorts in Australia 2021. The best of the best. All are five star. All are fancy and all of them will make for a luxurious family holiday. We have tried to find a luxury family resort from each State!
Location: Falls Creek is in northeastern Victoria
Pricing starts from $360/night – $878/night during peak season
Family Friendly
5-Star Accommodation
If your family loves to ski or just wants to see snow for the first time, and you want to enjoy a luxurious family-friendly apartment with lots of things to do, QT Falls Creek is for you. Fully self-contained units that have a magnificent view over the Victorian Ski Fields (in fact QT Falls Creek is located right at the base of the ski run). The apartments all have access to a hot tub and sauna with some units having a spa on the balcony, and you can enjoy pampering at the in-hotel spa.
Perfect for the active family who love to enjoy what the ski fields have to offer.
What is the 'Something Special' for the QT Falls Creek?
The fact that the snowfields are literally steps from the door of the hotel, and having a hot tub on your hotel room balcony.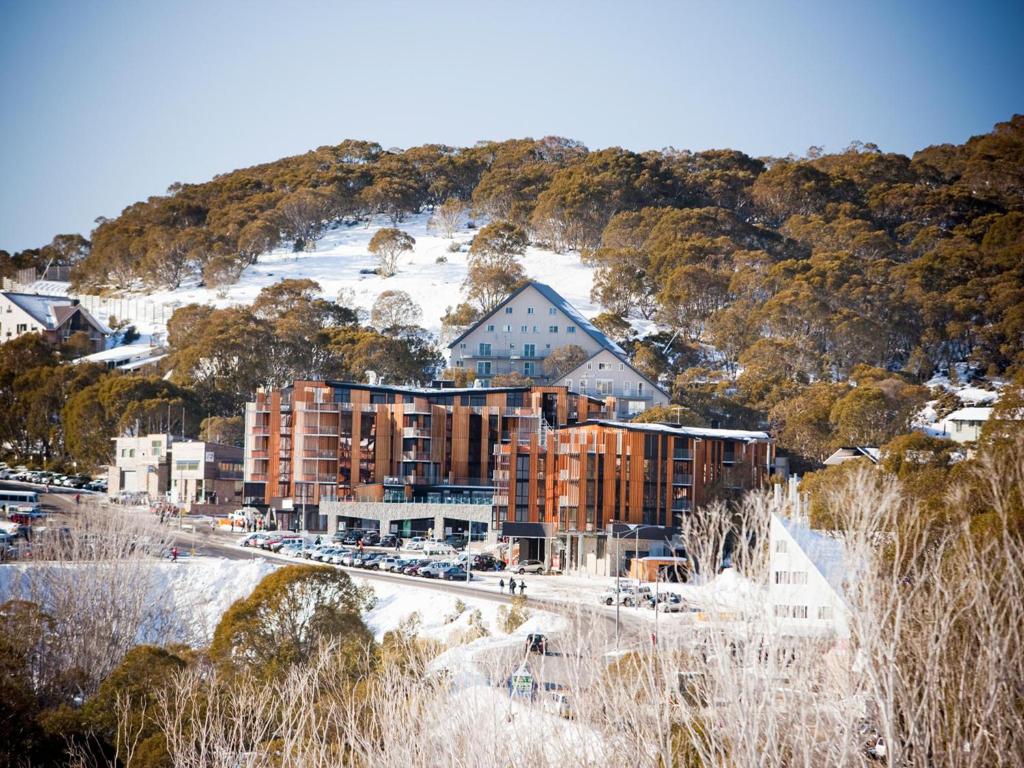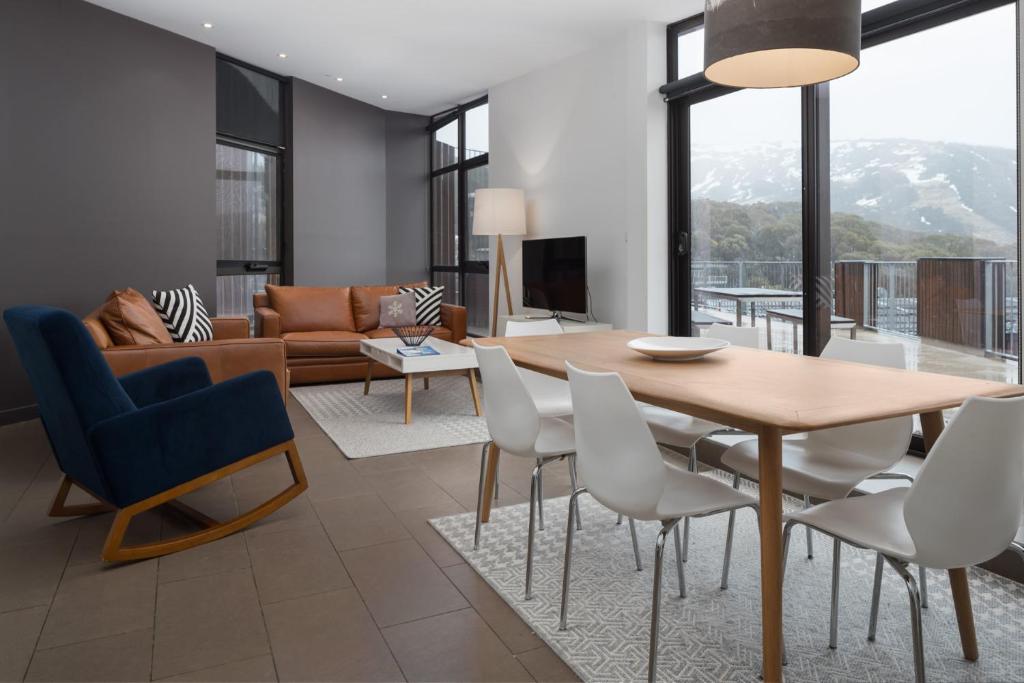 Location: The Gold Coast, QLD
Pricing starts from $557/night
Family Friendly
5-Star Hotel
The Gold Coast has thousands of hotels, many of them five star. But none compare to the Sheraton Grand Mirage Resort if you have a family and want luxury at the same time. The pools are right next to the ocean and they will keep the kids busy for hours. The pool also has a swim-up bar – perfect for Mum and Dad! Each room has swanky bedding, spectacular views, marble bathrooms and an oversized bath.
There are many accommodation options available, from hotel rooms through to two-bedroom villas. All that the Gold Coast has to offer is just footsteps from your hotel – so once you are there, you won't even need a vehicle to get around.
Swanky, sophisticated and beautiful. It is my pick for the best luxury family-friendly hotel!
What is the 'Something Special' for the Sheraton Grand Mirage Resort?
The amazing pools and the swanky bathtub. The location is also incredible!
Location: Noosa Heads, on the Sunshine Coast Hinterland QLD
Pricing: from $396/night
Family Friendly
5-Star Accommodation
Located just 3 minutes drive from the iconic Hastings Street, the award-winning RACV Noosa Resort is a family friendly luxury playground located on the beautiful Sunshine Coast amongst bushland. RACV Noosa Resort offers different accommodation options from a traditional suite through to a three-bedroom private villa with a rooftop spa and plunge pool.
RACV Noosa Resort has a kids club so parents can enjoy some kid-free time out!
Parents can enjoy the luxurious day spa with six treatment rooms and the outdoor heated spa. Kids can enjoy the heated lagoon swimming pool with two waterslides and a splash park or enjoy the heated toddler's pool. The resort has a fitness centre and flood lit tennis courts.
Food options range from 5-star fancy through to wood fired pizza – so family friendly all the way.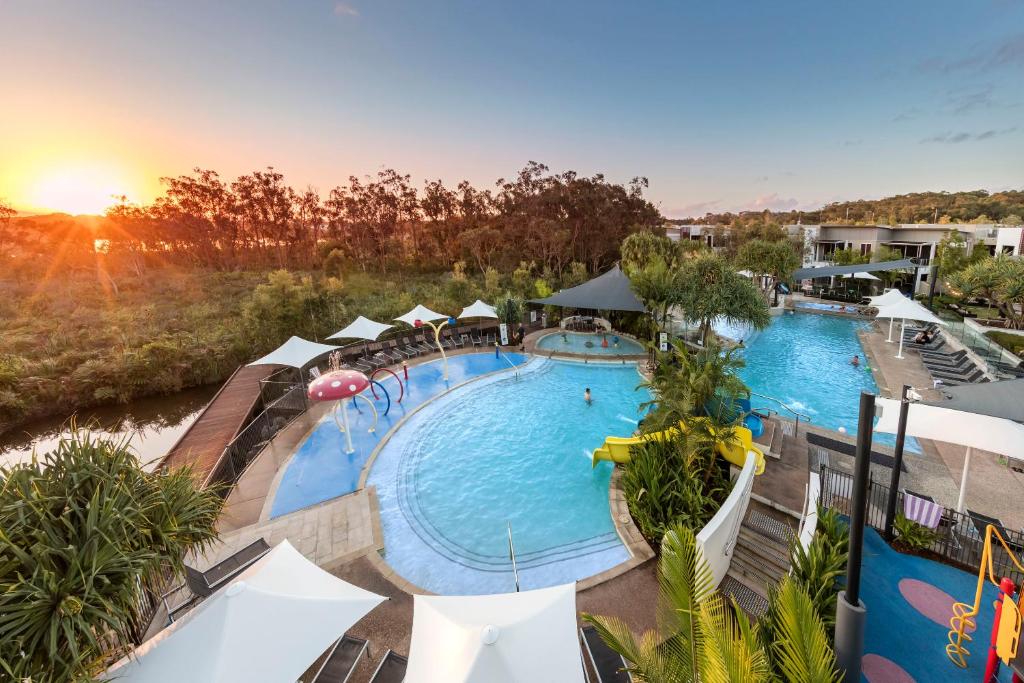 Location: Gold Coast, QLD
Pricing starts from $449/night – $1179/night
Family Friendly
5-Star Accommodation
The JW Marriott Gold Coast Resort & Spa has a private saltwater lagoon pool that has a sandy beach and an artificial reef – the kids can snorkel to their heart's content right on the grounds of the hotel. The hotel has a panoramic view of the Gold Coast Hinterland and river views. There is a spa and a fitness centre and 5-star restaurants such as the Misono Japanese Steakhouse.
Located just 30 minutes drive from the theme parks (Movie World, Sea World and Dream World), it is centrally located to enjoy all the The Gold Coast has to offer.
Special Something: I want to go here just for the snorkeling pool!
Location: Gold Coast, QLD
Pricing: From $221/night
Family Friendly
5-Star Resort
This luxury family resort has a 1 acre salt water lagoon pool – so you know the kids will just LOVE it! Located close to three championship golf courses, a world-class marina and close to the Theme Parks on the Gold Coast, it is perfectly located, yet still private enough to enjoy a relaxing stay.
There is a whiskey bar, a casual eatery suitable for the whole family and a polished restaurant.
Accommodation ranges from hotel rooms through to premium suites. You have the choice of a marina view, a garden view or a lagoon view and all rooms have modern indoor and outdoor furnishings.
The InterContinental Sanctuary Cove Resort has the 'Planet Trekkers Kids Club' that is full of fun and exciting activities for the kids. They have torch safari's, golf buggy tours and indoor games. They also provide a full nutritious menu for the kids!
Location: Burswood, Perth (Western Australia)
Pricing:
Family Friendly
5 Star Resort
Way back in my day, this used to be the Burswood Casino and it was swanky back then! Centrally located just over the river from the city and overlooking the beautiful Swan River, Crown Metropol Perth has a beautiful resort style pool, an array of five star restaurants, a fully equipped fitness centre and spacious accommodation for the family.
Accommodation options include traditional hotel rooms, spa rooms and New York Style apartments that would be perfect for a family with 180-degree views of the Perth City Skyline, a private barbecue area and room to move.
For the kids there is Kids Club that is run during the school holidays and the amazing pool. And for the parents, Crown Metropol Perth has Perth's only casino!
What is the 'Something Special' for the Crown Metropol Perth?
Certainly the outdoor pools and resort area. As you can see in the image below – it is HUGE and has a massive range of lounge areas and pools.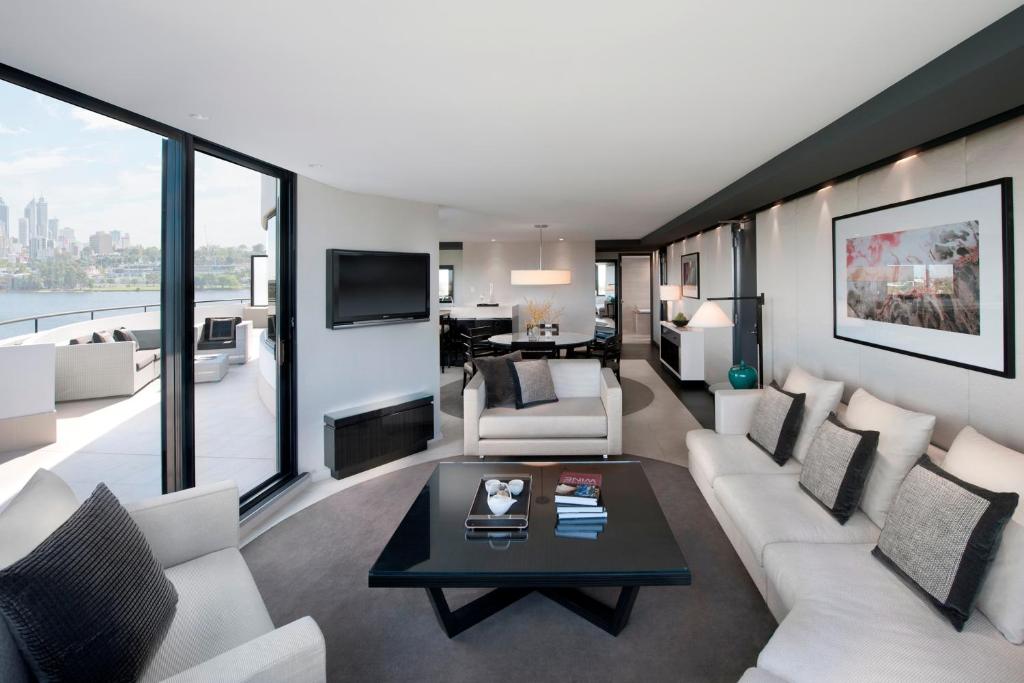 Location: Hamilton Island, Tropical North Queensland
Pricing: From $390/night
Family Friendly
4 Star Resort
First of all – this hotel has the most amazing view. Hamilton Island is just gorgeous – and the best thing is that if you are flying interstate or from Brisbane, you can fly right into the island! The hotel has free transfers from the Hamilton Island airport to the hotel – but seriously it is so close you could walk there!
The resort features a 33m heated swimming pool and all guests of the hotel have access to a fitness centre, sauna and tennis courts. Although the hotel doesn't have a kids club – Hamilton Island has one – called the Clownfish Kids Club, it caters for all ages (from 6 months to 12 years) and is run by a professional and experienced team of Childcarers.
The Reef View Hotel has an on-site restaurant – the Pool Terrace Restaurant (pictured) which has Italian food, Pizza, Seafood, Australian and International Foods.
Special Something: Hamilton Island is absolutely breathtakingly beautiful!
Location: Port Douglas, QLD
Pricing from $315/night
Family Friendly Luxury Resort
5-Star
The Peppers Beach Club Port Douglas is just a short walk away from Port Douglas and is a fantastic base if you want to explore the Daintree Rainforest or the Great Barrier Reef.
The accommodation is swanky – there are one, two and three bedroom suits or even splash out and stay in the luxurious penthouse. Some of the rooms on the ground floor have their own private plunge pools or a private swim-up pool decks (decadent!).
The only downfall about this swanky hotel is that it doesn't have a kids club!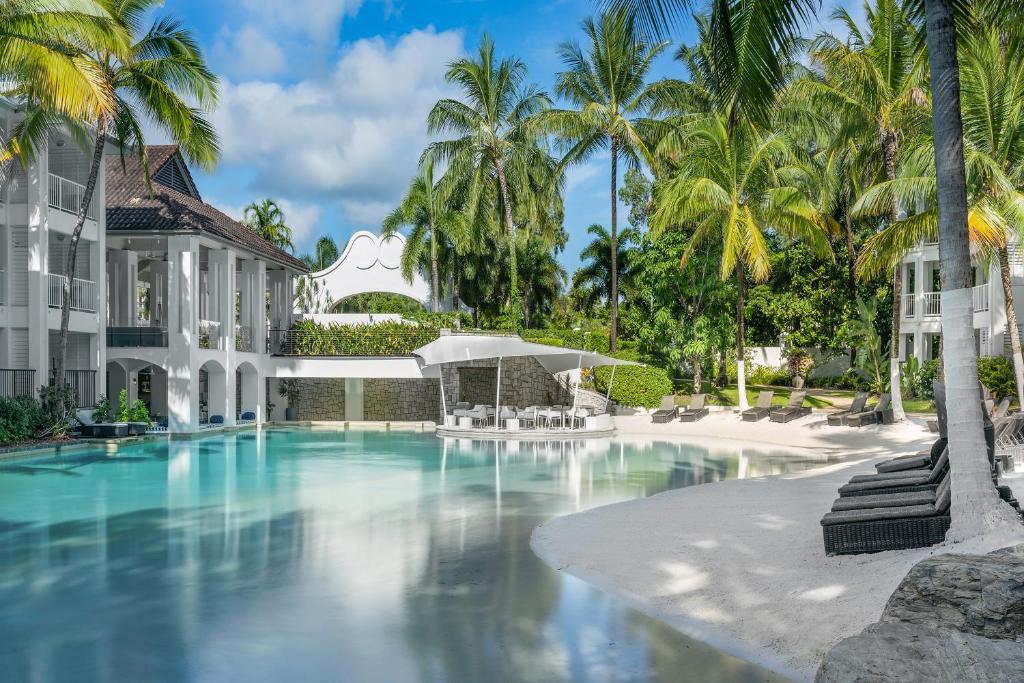 Location: Port Douglas, Tropical North Queensland
Pricing from $405/night
Family Friendly
5-Star
This luxurious family resort has one of the largest lagoon pools in the Southern Hemisphere! There are accommodation options at the Pullman Palm Cove Sea Temple Resort & Spa where the kids can swim right from their villa terrace.
During the School Holidays, the resort runs a kids club so parents can go out for dinner in nearby Port Douglas at one of the many five star restaurants. The parents are looked after too, there is the Vie Day Spa where you can be pampered all day, or have a game of golf at the championship golf course just adjacent to the resort.
There are even villa's available with their own private plunge pool!
Special Something: The Pool!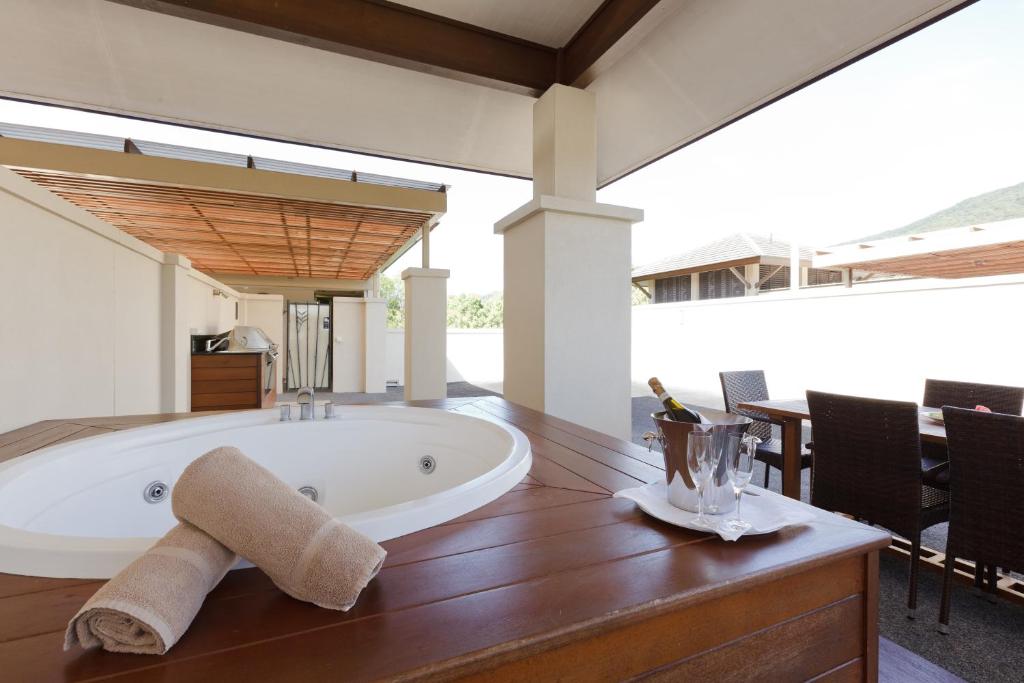 Location: Palm Island, QLD
Pricing from only $130/night
Family Friendly
5-Star
Why go to Hawaii or Bora Bora when you can get the perfect luxury island resort experience right here in Australia. Located north of Townsville, Orpheus Island Lodge offers a secluded tropical paradise set on the waters of the Great Barrier Reef.
The accommodation consists of beachfront rooms with a view over the Coral Sea. All have swanky white bed linen, a 32 inch LED flat screen TV and are bright and family-friendly.
There is a beautiful infinity pool for the kids, a spa and yoga classes for Mum, water sports for Dad and even a library.
There isn't a kids club here but there are babysitting and childcare services available on demand.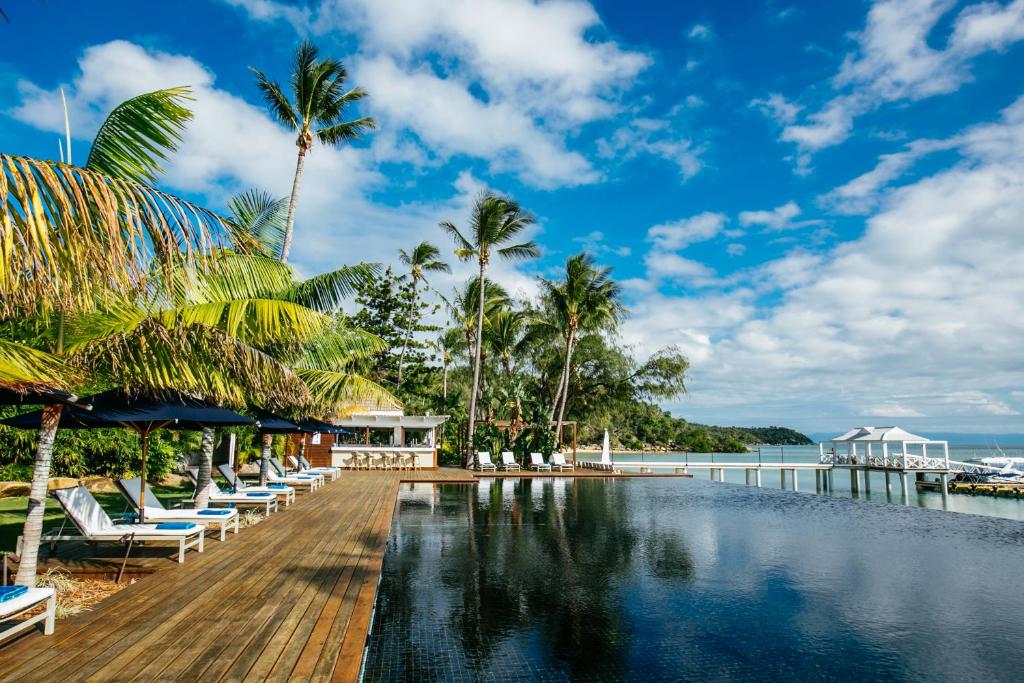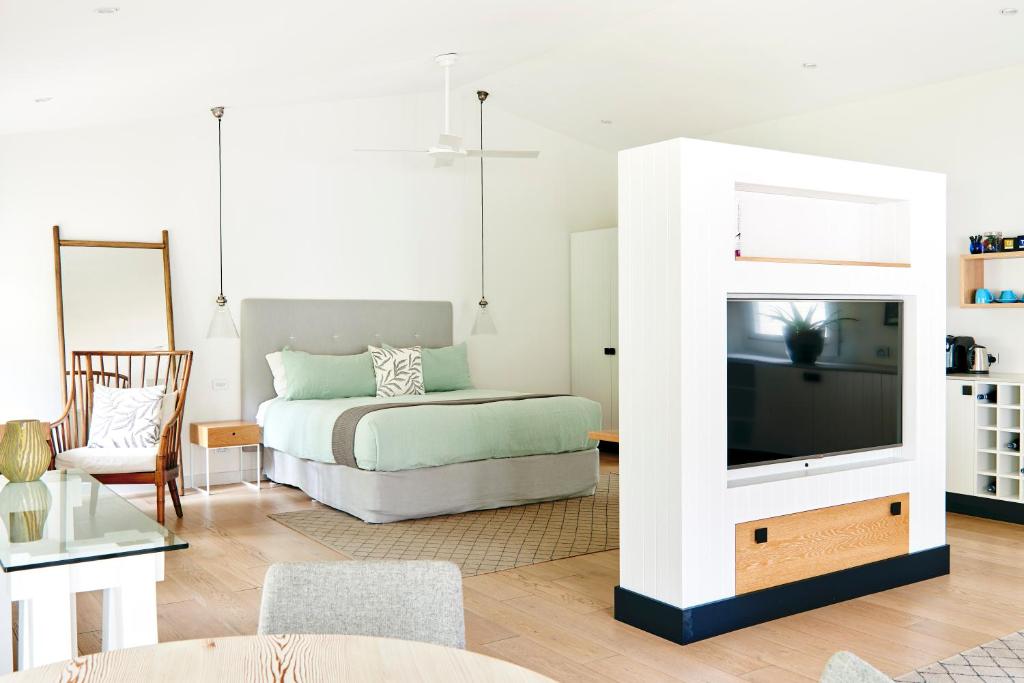 These are our top 10 picks when it comes to family-friendly luxury resorts in Australia! I can't wait until Covid is gone to visit some of these beautiful resorts.