We see them all over our screens and in the press.
The famous people of the world, be it actors, musicians, models, elite sports people and more — glamorous, sophisticated — they have it all (well money and fame anyway!) Who wouldn't want to be them?
What if you could be 'just like them' – well not completely, but the closest thing you could get without getting really, really, weird.
Imagine growing up with these people, watching their rise to fame, supporting them, but maybe secretly wishing you could have it all. Well as a little-known twin to some of the world's most famous people, it's got to be hard.
Here are 15 famous people who have a twin.
1. Ashton and Michael Kutcher
Michael had to do just that. Diagnosed with Cerebral Palsy from a young age, Michael's life wasn't as 'easy' as his twin brothers. He was the kid with the "Coke Bottle Glasses and the hearing aid". Michael was often bullied by other kids at school, which often his brother stepped in to protect him. Michael's brother is Ashton.
Yes – that's right – Ashton Kutcher. Michael and Ashton are fraternal twins.
2. Rami and Sami Malek
Yes Rami Malek, star of Bohemian Rhapsody and Twilight has an identical twin! Sami Malek is four minutes younger than his brother Rami, and the two even went together to the 2019 Golden Globe Awards. Unlike his brother, Sami Malek is a teacher and isn't interested in the acting profession.
The two appeared on the Jimmy Kimmel Live show where they told tales about swapping places at school to fool the teachers! Naughty boys!
3. Scarlett and Hunter Johansson
Another famous twin is the Hollywood starlet Scarlett Johansson. Sharing her mother's womb with Scarlett was her twin brother Hunter. Being the younger of the two (by a whopping three minutes!), Hunter has enjoyed his own time in the spotlight being named as one of People Magazines 'Hot Bachelors' in 2008.
4. Dylan and Cole Sprouse
If you are a fan of Riverdale, you would already know about Cole Sprouse, but did you know he rocks the black hair just for the part? But the twins first part in the acting world was as five year old Julian in the Adam Sandler Movie, Big Daddy. Then they had their very own show on The Disney Channel in 2005 called 'The Suite Life of Zack and Cody'.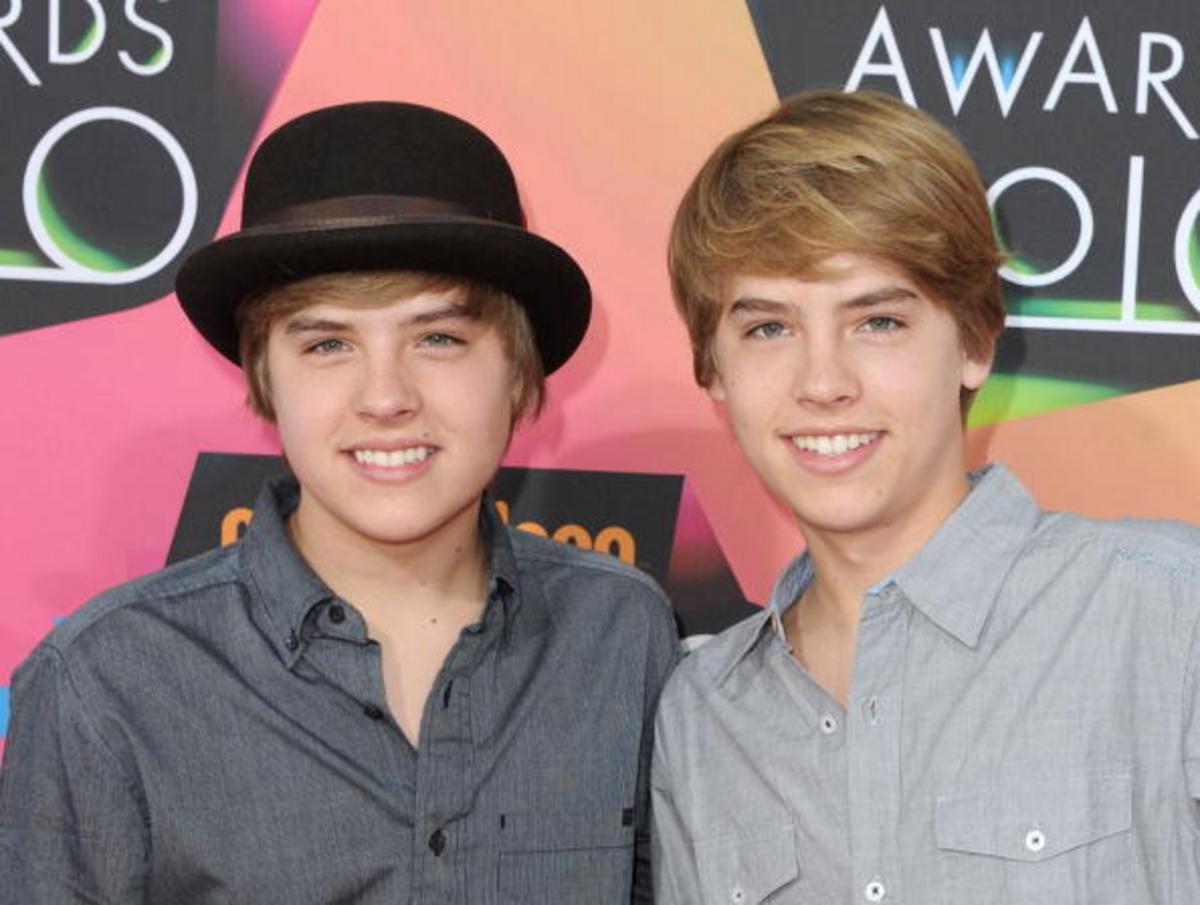 5. Olly and Ben Murs
Olly 'Delicious' Murs, winner of the X Factor in the United Kingdom and now World Wide Superstar – has an identical twin Ben. Unfortunately for Ben, Olly missed Ben's wedding because he was competing in The X Factor at the time, let's just hope that Ben forgave him.
4. Aaron and Angela Carter
Aside from recently coming out of the closet and battling out eating disorders, substance abuse and a DUI case, Aaron Carter proves that he is still relevant. Did you know that Nick Carter's equally cute little brother has a twin sister? Yep, Aaron even was the one to walk twin sister Angela to the aisle during the latter's wedding. Talk about sibling goals.
5. Kiefer and Rachel Sutherland
The Sutherland twins are well known all over the world. What? You've not heard? Oh yeah – Kiefer Sutherland has a twin sister – Rachel! These twins look remarkably alike – and have both forged careers in the entertainment industry. Whilst Kiefer who is well known for his portrayal as Jack Bauer in the '24' series, Rachel as been working as a production manager, post production supervisor for series, mini-series and TV movies.
6. Vin Diesel and Paul Vincent
Paul Vincent – sound familiar? What if I said – Vin Diesel, surely you've heard of him! Paul Vincent is the fraternal twin brother of Vin Diesel. How come they don't have the same last name then? Well Vin Diesel's real name is Mark Sinclair Vincent. He changed his name to Vin Diesel when working as a bouncer and they were not allowed to use their true identity (kind of like a superhero really haha). Paul Vincent is also in the entertainment industry working as a Film Editor – oh and how do you tell them apart?? Paul has hair – shockingly frizzy hair!
7. Giovanni and Marissa Ribisi
Another showbiz centred family who boast a set of twins is the Ribisi family. Giovanni Ribisi is a well known actor and producer, whilst his twin sister Marissa Ribisi is an actress. Giovanni has appeared in several films including Avatar and Ted 2 as well as TV appearances in Friends, My Name is Earl and The X-Files. Marissa, Giovanni's fraternal twin has performed in the films The Brady Bunch Movie and also the television show Friends the same as her twin brother. It's a family thing apparently.
8. Alanis and Wade Morissette
It's like ra-a-aaaaiiin on your wedding day…. Well it's not really but it is interesting none the less. The alternative rock chick of the 90's Alanis Morisette shares her musical talent with her fraternal twin brother Wade Morisette, although Wade is more focused on Indie Pop Rock combined with chants, and is a yoga instructor, therapist and author. I wonder if this was to balance the angst in his sister's music? Hmmm…
9. Linda and Leslie Hamilton
Linda Hamilton, best known for her role as Sarah Connor in the Terminator films has an identical twin sister Leslie Hamilton Gearron. Leslie is a nurse but has dabbled in acting as Linda's double in the Terminator 2: Judgement Day. Although it was only 3 scenes and a distance from camera view –it would still be a pretty cool thing to do for any sisters, especially twins! The old trick of swapping identities = level professional. Good work ladies!
10. Jon and Dan Hedder
Yes you are seeing double here. Jon Hedder, famous for his role as Napoleon Dynamite has an identical twin brother Dan. When speaking on The Late Show with David Letterman back in 2009, Jon liked to joke that the two used to pretend to be the other at school, causing much trouble. The two are now partners in a Production Company.

11. Benji and Joel Madden
Benji and Joel Madden – there's a set of twins most of us are familiar with. These talented musical identical twins have made themselves a household name over the years through their bands such as Good Charlotte and more recently, the simply named collaboration – The Madden Brothers. You can now find these tattooed lads as mentors/ judges on the popular television talent show 'The Voice'.
12. John and Edward Grims AKA Jedward
Remember Jedward, also known as John and Edward Grims. The identical twins are an Irish singing and television presenters. The super annoying identical twins with the insane hair that 'shot to fame' if you could call it that as contestants on The X Factor in 2009. Haven't seem them in awhile now, let's hope it stays that way….
13. Mary-Kate and Ashley Olsen
I loved the TV sitcom 'Full House' back in the day. Granted, a big part of that love was for John Stamos – hubba hubba! I was surprised as were a lot of viewers were, to find out that the infant in the show was not played by one but two children. These young actors were the now infamous Mary-Kate and Ashley Olsen. Although strikingly similar in appearance these twins are in fact fraternal twins and not identical twins. Mary-Kate and Ashley Olsen continued acting through their childhood and teen years. As the sisters matured they expressed their greater interest in fashion choices. Mary-Kate became a fashion icon for pioneering her signature 'homeless look' of oversized sunglasses, sweaters and flowing skirts. The Olsen twins have recently been named Womens Wear Designer of the Year by the Council of Fashion Designers of America for their brand 'Row' which was named after Saville Row in London. These talented ladies have joined the ranks of the wealthiest women in the entertainment industry.
14. Samantha and Charlotte Ronson
Aside from being Mark Ronson's siblings, Samantha and Charlotte have had their fair share of the spot light. Samantha is a DJ and a singer songwriter, while Charlotte is a fashion designer. Also, if you have been in the grapevine, Samantha used to be beau's with Lindsay Lohan.
15. Gisele and Patricia Bundchen
Is it even fair that Gisele Bundchen is so naturally radiant and beautiful? No – it's not really is it?! Well guess what – Gisele has a twin! Her equally stunning fraternal twin – Patricia, took on a modelling course with Gisele when they were younger, but it was Gisele who would remain in the industry. Patricia is now Gisele's spokeswoman and manager. Keeping it in the family like a boss.
Would you like to have a famous twin?