Choosing an aboveground pool rather than a concrete or fibreglass pool is an inexpensive way to let your kids enjoy a pool without the extravagant price tag or the 'permanent nature'.
An advantage of an aboveground pool is that once the kids move out or aren't much interested in swimming anymore, the aboveground pool can be easily dismantled and won't be required to be filled in. So when it comes to 'bang for your buck' aboveground pools are a great alternative.
Plus we list the stockists that will not only deliver your aboveground pool to your door but also those that offer Afterpay, Humm and Zip Pay – to make it easier to afford your pool in time for Christmas.
More Reading:
The Advantages of Choosing an Aboveground Pool
There are many advantages of choosing an aboveground swimming pool – they include:
Affordability
Fast Installation (most can be erected in just a few hours)
Easy to Maintain
They can be removed easily
Disadvantages of Aboveground Pools
Not always as aesthetically pleasing to look at than traditional pools
Will not last as long as a traditional swimming pool
You will still be required to fence your aboveground pool just like a traditional pool
How Much Does an Aboveground Pool Cost?
The average aboveground pool with a filter will cost you less than $1000.00.
Bestway Hydrium Oval Aboveground Pool
Price: $1899.00 (usually $3999) Afterpay and Zip Pay Available
Water Capacity: 19,929 litres
Stockist: Catch
When it comes to heavy-duty extra large aboveground pools, this one is the King. Built with triple strength side walls and designed with steel to provide wall support. The frame is rust-resistance and is made to withstand the harsh Australian elements.
Dimensions are 6.1m x 3.6m x 1.2m – big enough for six people to swim at the same time comfortably. The pool comes with a sand filter pump, a pool ladder and only takes 3 hours to set up!
The perfect Christmas present for the kids!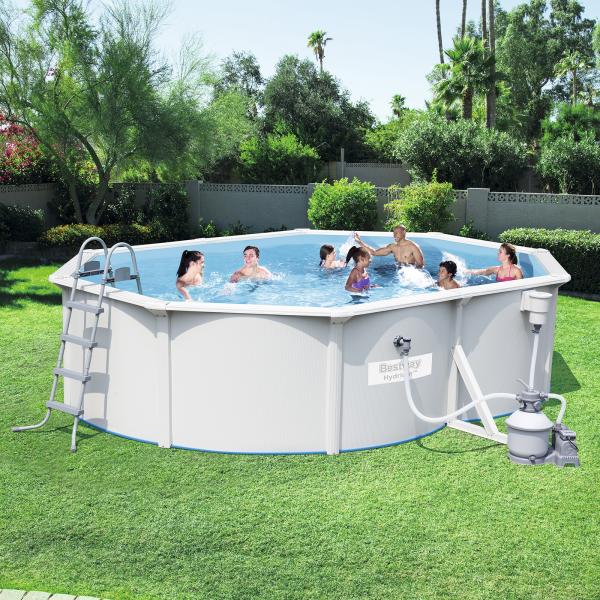 As we find more well-priced aboveground pools, we will add them to the list! Merry Christmas everyone!
More Information on Aboveground Pools: