Megan is a Mum living with her two children in rental premises on the Sunshine Coast in Queensland.
Megan is a single Mum who shares the home with her mum Sue, her daughter Taylah (18) and her son Bailee who is 11.  She also has a 10-year-old pussy cat called Lynx, and two budgies, Charlie and Angel.
More Reading:
She has been living at her current rental house for two years and paying $375 per week in rent, but now the home is on the market. Many homeowners are taking advantage of the huge rise in house prices to cash in on their investment. She has been advised to vacate the property by the 14th of June – the homeowners gave her two months notice to find alternative accommodation.
The problem is, the Sunshine Coast is amid a major housing crisis. There just aren't enough houses in the area to meet the demand.  It isn't just the Sunshine Coast – house prices have skyrocketed everywhere and the availability of low-cost housing or just housing, in general, is nearly non-existent. And it's not like Megan and her family can just take 'any available home'.
Like many thousands of others, Megan's mother has health problems that limit her mobility, so stairs are out of the question. It's not that she is picky, she isn't – but practicality wise, Megan still needs to be able to work her two jobs and care for her mother who is quite frail, and a house without stairs is a must-have.
The homes that rarely do come up for rent in the area are around $600 – $700 per week. This is out of reach for most families, let alone a single Mum working two jobs, caring for her mother and two children.
Megan is now facing the fact that come next month, she is going to be homeless.
Homelessness Doesn't Always Mean Living on the Street
Megan has a plan if she can't find a new home – but it means splitting up her family. The worst-case scenario is that her daughter has to move to Gladstone to stay with her father. It means that her son, who is on the Autism Spectrum, won't be able to attend the same school with friends he has made as they will have to relocate somewhere else. It means that Megan, her mother and son may have to sleep on friends couches in another area until something does come up.
Other families like Megan are moving into caravan parks or even pitching tents in the backyard of relatives. Others are moving back in with their parents rather than end up on the street.
Those looking for rental properties aren't just sitting on their hands, they are constantly on the phone to property managers and rental agencies looking for available properties.
Unfortunately, when up to 100 people are applying for a single property, and people are offering above and beyond the asking rent to secure a property, it makes it hard for a 'normal family' to secure an affordable rental.
Desperation is driving the rental prices up even further.
Who is At Risk of Homelessness?
The most common misconception of homelessness is a scruffy looking old man sleeping on a park bench. But it is women and children who are the most vulnerable to homelessness. And there is an ever-increasing number of older women who find themselves without a home. In fact, women over 55 have seen an increase of 30% in homelessness over the last 5 years.
The highest risk groups in society include:
Aboriginal and Torres Straight Islander People
Children and Youth
Older women aged 55 and over
Domestic Violence sufferers
Why are There No Rental Properties?
There are many and complex reasons for the current rental crisis. There are fewer investors purchasing homes to rent, so there are a limited number of houses available. With a limit on the number of rentals available, this drives the weekly rental cost up. Many property owners are also taking advantage of the Airbnb market too – where they can make their normal 'weekly rent' in a single night.
Covid has seen a huge shift in 'people migration' with renters moving out of the competitive Sydney and Melbourne market – and most of them are heading for Queensland.
You don't have to look far on Facebook to see that renters are both angry and desperate:
"Australia needs a housing correction desperately. Rentals have followed the house price bubble, and are now more than double what they should be. I for one cannot wait for the bubble to burst and see all these greedy owners and investors get what's been coming for years at the expense of everyone else. When did $500 a week become normal? Its pure greed and utterly unsustainable." – James
"Currently homeless in Townsville due to Covid-19 and loss of jobs etc… Lost our rental, they jacked up the price and we couldn't afford it. Currently living with my SO (plus our cat, 4 guinea pigs and my cockatiel) in a little crap caravan in a swamp,… It's really, really awful. Sick all the time, the smell is vomit-inducing and both our mental health is well… Going. But, at least we have a roof over our head, until a big storm or cyclone  I guess." via Reddit
"Yeah rental markets insane at the moment, it's gone up 25% since covid… I have no idea how someone on average wages and single income could afford a normal house these days" Via Reddit
The latest data shows that Brisbane has a rental vacancy rate of 1.5%, while other areas around the country are at less than 1%. There just isn't enough housing to go around.
What About Rental Agencies?
What About Rental Agencies? Kylie Best from Welcome Home Rentals in Gympie has been in the business of managing properties for over a decade. Kylie has some fantastic advice for potential renters.
"It's more important than ever to treat applying for a rental property like applying for a job. If you're applying for a job, your resume needs to be spot on with great references, you need to present yourself well and put your best foot forward. Often employers will look for previous experience, stability, honesty, good communication etc – rental applications are no different.
The terrible shame about the housing shortage is that it has widened the great divide between property investors and tenants.
Most property investors are not the wealthy and greedy fat cats that they are made out to be. They have often secured their investment by making sacrifices and taking a huge financial gamble and they want to be careful that they select the right tenant for their property.
The majority of property investors all want the same thing – a return on their investment and for their asset to be looked after and cared for by their tenant.
First impressions count and so do rental references so take some time to brainstorm what makes you a better choice than anybody else. You might like to get a bit creative and think outside the box. For example, if the home you're applying for has gardens and you're a green thumb, include some photos of your own plants and lawns. You can absolutely provide your own photographs of the home that you're currently living in to help support your application.
Alternatively, if you know you're not a keen gardener or you don't have the equipment to maintain lawns, you might like to enquire with a contractor about how much it will cost and include this plan in your cover letter.
The best applicants with the best references and the best ties to the community will rise to the top of the list with the majority of agencies. Owners want some sort of assurance that rent payments will be on time and that their home will be kept clean and not damaged. They also don't want continual turnover as this costs money in vacancy periods and letting fees – so if you know you'll be wanting to rent the property for 3 years until the kids finish school, let the owner know that – it might be the thing that sets you apart from others."
Kylie's tips to get a rental property include:
Complete applications in advance and make sure that every detail is filled out and correctly – those that are missing information often miss out. Email addresses and correct phone numbers for your references are especially important

Submit 100 points of ID and proof of income along with your application – we have so many applications coming in that we often don't get a chance to chase up missing information.

Write a cover letter. We really love these and at the risk of sounding like a broken record, it's just like applying for a job. Cover letters give some warmth and insight into who you are and it's a great opportunity to highlight what makes your application stronger than the dozens of others that the owner is looking at.

Pet resumes are welcome. A bit like a cover letter for you, being able to see a photo of your pet, what age they are, what nature they are can put an owner's mind at ease.

Be nice – we know it's stressful and we are not enjoying the rental crisis any more than you are, we promise. Like lots of agents, we are met with abuse quite a bit lately due to the shortage of properties. We are doing our best to help everybody. Try and understand that if you're not getting approved, you are not alone – for every property there are in excess of 100 applicants and only 1 of those gets the property.

Get creative – maybe you might even like to do a video resume. There are no rules or limitations on making your application stand out.
How Can the Rental Crisis Be Solved?
Good people with good references will be able to find rental properties. Eventually. They need to keep on top of new rentals coming on the market, get their applications into all the rental agencies and 'sell themselves'. The rentals may not be in the area they want, or at the price they want. Those with less than perfect rental histories are going to struggle – and that is the nature of the market.
I think people need to be able to rent within their financial ability – and if that means moving to more affordable areas that are further out than they originally desired, then so be it. I also think that renters need to have a squeaky clean record when it comes to renting, and if they don't, then that is something they need to work on. It is a 'Landlord's market'.
Landlords want their properties looked after. Renters want an affordable place to stay. Property Managers want happy landlords and happy renters.
As more houses are built and the demand for rental properties abates, the balance will switch the other way. We just have to tread water until that happens!
Consider Other Alternative Forms of Housing
It isn't for everyone, and there is an up-front cost that many cannot afford, but there are also alternative forms of affordable housing such as:
Building a tiny house and living on friends or families property.
Shipping Container Homes can look fantastic.
Encourage parents to build Granny Flats.
Some people are ditching permanent housing altogether and opting for a Camper Van mobile home.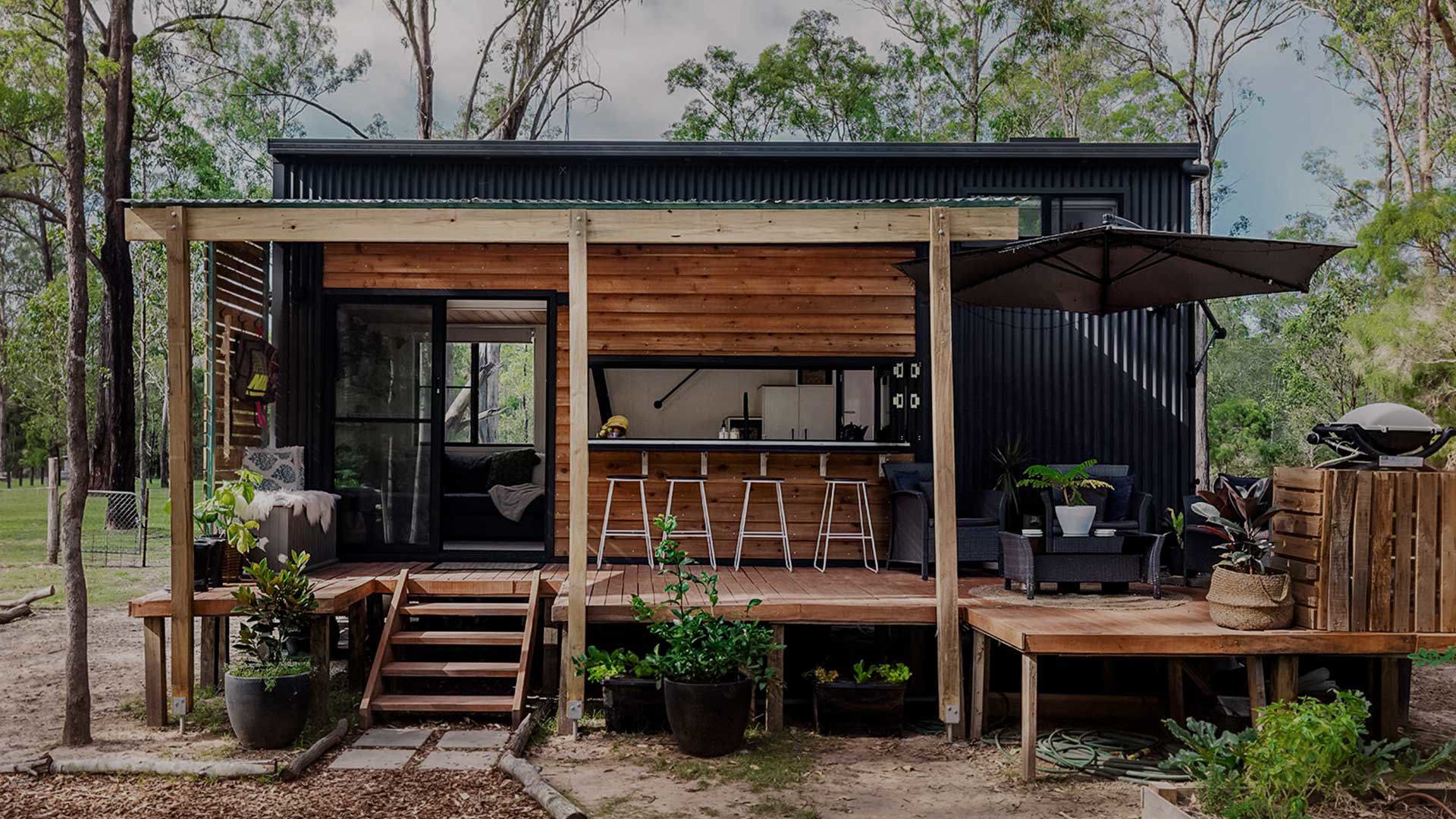 That doesn't help people like Megan who need a property right away.