Sausage rolls are a delicious and easy snack that can be enjoyed by people of all ages. They are made with yummy sausage meat, wrapped in puff pastry and then baked until golden brown. Sausage rolls can be plain, or you can add some cheese or herbs to the mix for extra flavour. They make the perfect snack for parties or other gatherings, as they are easy to eat and can be served hot or cold.
I grew up eating Sausages in Pastry, and I make them for my family now, too.
Sausages in Pastry are too good to ignore. Sometimes, I add a bit of cheese or sliced potato or sweet potato for something different, but they always taste great, are a frugal choice and don't last long!
This recipe is definitely a must-try! This is perfect finger food at kids' parties! This is super easy and kids and adults will love the results!
The sausages are particularly good cold in the fridge the next day for school lunches or just a snack to grab on the run.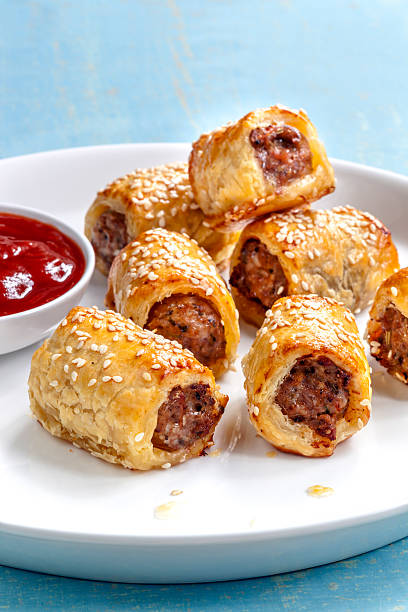 Sausages in pastry are the perfect snack for any occasion. Whether you're hosting a party or just want something yummy to eat, these rolled-up bundles of deliciousness are sure to hit the spot. And the best part is that they're so easy to make! Just add your favourite cheese or herbs to the sausage meat, roll it up, and bake. In no time at all, you'll have a yummy treat that everyone will love. So next time you're looking for a quick and easy snack, reach for sausages in pastry!
So, who doesn't love sausages in pastry? They're the perfect combination of a crunchy bite of bread and hot, juicy sausage. And the best part is that they're usually ready in under an hour.
Whether you're serving them as an appetiser or a main course, sausages in pastry are always a hit. So if you're looking for an easy and delicious recipe, give this one a try. You won't be disappointed!
Method
Preheat oven to 180 degrees.

Cut both sheets of puff pastry into equal quarters.

Wrap a sausage in each of the quarters diagonally.

Place on a sheet of baking paper and bake in the oven for approximately 30 minutes or until golden.
Recipe Hints and Tips:
Sausages in Pastry are best served fresh.
Try these variations below. Or, come up with some of your own!
Add a teaspoon of Dijon mustard.
Barbecue sauce and cheese.
A slice of ham or bacon.
Use cheerios or chipolatas for a kid's birthday party.