Menopause isn't a walk in the park, the symptoms can be rough. The hot flushes, joint pain, sleeplessness, sweaty nights and even increased anxiety can make day to day life difficult at times. There are menopause supplements now available designed to help ease symptoms and make life a little more pleasant.
Do Menopause Supplements Really Help?
Supplements can only help the physical effects of menopause, ie help with sleeplessness, hot flushes, night sweats.
So you need to look at supplements as treating the actual symptoms are you are experiencing.
At the very least, a good quality multi-vitamin made for menopausal women can assist your body in getting the right balance of iron and address any dietary deficiencies which will make you feel better.
Remember that menopause supplements take about 4 weeks before you will start to see improvements, so it may be beneficial to begin taking a menopause supplement when you know that it isn't too far away.
It can be tricky to work out which supplement will be best for you, therefore consulting a healthcare professional is recommended, but below are some general recommendations of supplements that may help with menopause symptoms.
Recommended reading: Menopause and Complementary Therapies (Better Health VIC (Australian) Government)
Do I Try a Natural Supplement or Get HRT?
HRT or 'Hormone Replacement Therapy' is a Doctor-prescribed medicine that contains the hormones a woman usually naturally declines during menopause, thereby easing the symptoms of menopause. Although there are multiple proved benefits of HRT, it isn't for everyone and you should always go with your Doctor's recommendations.
Hormone Supplements are an alternative to HRT – and again – not for everyone. Many women try natural menopause supplements when menopause starts affecting them or 'perimenopause' to see if they can put off taking HRT for as long as possible.
Like any medication, there are side effects. HRT is no exception. Women over the age of 50 who have taken HRT for more than five years are at a greater risk of breast cancer and cardiovascular disease.
Common Symptoms Experienced by the Onset of Menopause
Let's just quickly go over some of the symptoms that you may experience from the onset of menopause:
Night Sweats
Sleeplessness (insomnia)
Vaginal Dryness
Thinning Hair
Hormonal Hair Loss or Hair Thinning
Lack of libido
Nausea
Hot Flushes
Headaches
Increased Anxiety
Headaches
Depression
Weight Gain
Bloating
We recommend that if you are experiencing any of the above, you get a thorough checkup by your GP to rule out any other potential causes.
---
List of the Best Menopause Supplements
The Hormone Helper by Mister Jones is an Australian-made product designed to support women through all phases of menopause. This supplement is a blend of vitamins, minerals, and traditional herbal medicines, ensuring your body and mind are well-supported during perimenopause and beyond.
Hormone Helper is not just about mind and body support; it also targets the day-to-day discomforts of menopause. Crafted by expert naturopaths, this supplement combines modern scientific research with ancient wisdom. It contains a potent mix of ingredients like Vitamin B6, Vitamin D3, Vitamin K2, Calcium, Shatavari, Garden Sage, Magnolia Vine, Chaste Berry, and Ashwagandha. These ingredients work synergistically to offer relief from symptoms like hot flashes, night sweats, and more.
Whether you're navigating the early stages of perimenopause or are deep into post-menopause, Hormone Helper is here to make the journey smoother. With its promise of mind-body support and symptom relief, it truly earns its spot in our list of the best menopause supplements.
Price: $59.95 (90 Tablets)
Femular and Femular Forter is a supplement designed to help relieve and manage symptoms of menopause. With continual use, it can be show relief as early as 1 month, whereas you can see continuous improvements over 9 months if you stick to taking it. This menopause supplement is made with an extract of Black Cohosh, this exact extract has been through a number of clinical studies and is known to be effective in relieving menopause symptoms.
---
Price: $52.99
This natural menopause supplement is jam-packed with traditionally used ingredients that help with hot flashes and night sweats! It's a blend of black cohosh, chaste tree, dong Quai, wild yam, garden sage and a few more! Each of these ingredients is designed to help relieve joint pain, fight fatigue and ease anxiety. With that many ingredients designed to help, it would be a great everyday menopause supplement to take! Read More >
---
Price: $48.99
Promensil is a strong menopause supplement that contains Red Clover isoflavones. This ingredient can aid in relieving symptoms like night sweats, dry skin and ease anxiety. It's a great supplement to take as you approach menopause as well, not just when you are experiencing symptoms. It is recommended to continuously take this supplement for 3 – 8 weeks to see the best results.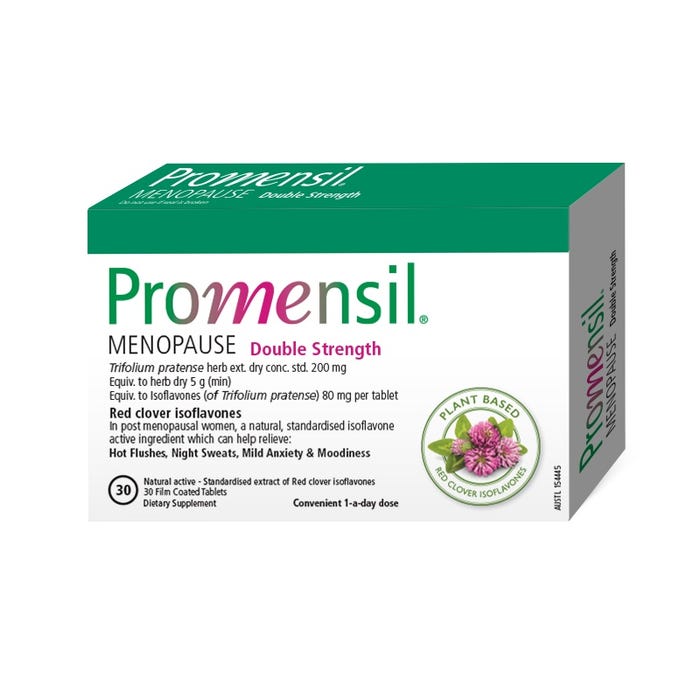 ---
Price: $38.99 (60 tablets)
The Swisse Ultiboost Menopause Balance has five ingredients that complement each other and work effectively in helping ease menopause symptoms. This supplement includes black cohosh, soybean, sage, calcium and vitamin d3. Sage can help with sweating and trouble sleeping, Black choose can help ease anxiety and help you get a better nights sleep, the calcium is great for bone health, and the vitamin d3 helps your body absorb the calcium. So it's a really nice combination of ingredients to help you feel better in no time. Read More >
---
Price: $39.99
This menopause supplement is a bit different from the other ones available on the market at the moment to help with menopause, but it's full of good ingredients! It's an evening primrose oil supplement with omega-3 included. These two combined help balance out hormones and promote healthy skin. The Omega-3 is from a highly concentrated fish oil and the ingredients for the evening primrose oil are naturally sourced. Read More >
---
Price: $26.99 (100 tablets)
Remifemin Menopause Relief is a supplement that is used all around the world. It's one of Germanys most popular natural products. It's a great supplement to use as menopause approaches, during and after swell. The most active ingredient in this supplement is black cohosh. The recommended dosage for the best results is one table taken morning and evening. Read More >
---
Herbs of Gold Menopause Relief is a blend of herbs, including Sage, designed to reduce the symptoms of menopause. The formula offers the following benefits:
Relieves menopause symptoms
Provides hot flush relief
Contains a traditional herbal formula
Formulated with traditional herbs Sage, Ziziphus, Shatavari, and Vitex
Sage reduces menopause symptoms, including hot flushes, and is traditionally used in Western herbal medicine to decrease excessive perspiration
Shatavari is traditionally used in Ayurvedic medicine as a rejuvenative tonic for females and to relieve hot flushes associated with menopause. It acts as a phytoestrogen that competes with estrogen for estrogen receptors in the body
Ziziphus is traditionally used in Chinese medicine to reduce spontaneous sweating, calm the spirit, and relieve sleeplessness

---
Price: $21.99 (60 tablets)
Another jam-packed supplement, that really uses a unique combination of ingredients designed to help relieve sleep problems, hot flushes, fatigue and irritability. The ingredients include Rehmannia, chaste tree, Angelica, Chinese yam and I could really keep listing. For the price, this supplement is great value for money with how many ingredients are included, especially when the ingredients complement each other so well to be more effective.
---
Menopause symptoms can be so debilitating at times but we hope these Menopause Supplements give you relief. All the best!
More Reading: