More and More of us are transitioning to a more eco-friendly lifestyle at home
And that includes the cleaning products that we use day to day. Transitioning from tradition cleaners to eco friendly cleaning products is easy with our simple guide! Whether you want to make your own cleaning products at home, or you want to buy products that are earth-friendly – we show you the best brands available in Australia right now.

Ingredients to Avoid When Choosing Eco-Friendly Cleaning Products:
It's a scary fact that many if not most household cleaners contain dangerous and toxic ingredients. It is usually these very toxic ingredients that make the products work so well. The problem with these ingredients that some people can be very sensitive to those ingredients. Exposure to these harsh chemicals can cause headaches, asthma, skin burns if you come into contact with them without protection. Plus we really don't know the very long term effects being exposed to these chemicals can cause.
Ammonia
Ammonia is a popular ingredient in cleaning products because it 'evaporates' leaving no streaks. For this reason, Ammonia is commonly used in products such as glass cleaner or furniture polish. However, ammonia can cause lung problems and breathing issues as it is inhaled and irritates the lining of the lungs. People in the cleaning industry who use ammonia on a regular basis can often develop chronic bronchitis or asthma.
What to look for instead:
A great substitute for Ammonia is vodka – and you can drink it if you want!
2-Butoxyethanol
This unpronounceable toxic chemical is used in many industrial and commercial cleaners. Surprisingly though – it is an organic compound. It is used as a solvent in many cleaning products as an active ingredient. But even though it is organic, the active chemicals contained in 2-Butoxyethanol are toxic and can be absorbed both through the skin and lungs causing irritation, cough, possible blood disorders, depression, dizziness, headaches, vomiting, blurred vision and kidney damage.
The most common products that contain 2-Butoxyethanol include:
Paints
White Board Markers
Window Cleaner
Degreasers
Liquid Soaps
Dry Cleaning Solutions
Varnishes
Inks
Chlorine
Chlorine is literally everywhere – and if you are connected to a local water scheme – you will be drinking it and bathing in it every day. Chlorine is an irritant that can cause breathing problems including asthma.
How to reduce your exposure to chlorine:
Put a filter on your water supply
Phthalates (fragrances)
Any cleaning product you buy that smells really good, think of products like air fresheners, fabric softeners etc contain Phthalates. These Phthalates can be inhaled and absorbed into the body. A study done by the Harvard School of Public Health in 2003 showed that men with higher phthalate compounds in their bloodstream had a lower sperm count.
What to look for instead:
Look for products that are 'Fragrance-Free' or instead are all-natural or organic or scented with essential oils.
Triclosan
Any product you purchase from the supermarket marked 'Antibacterial' most likely contains 'Triclosan'. This ingredient does what it says it does – kills bacteria. However because of its aggressive nature, like antibiotics, the over-use of these products can produce 'super-bugs' that can withstand these chemicals.
What to look for instead:
Just avoid all products that are 'Antibacterial'. If of course, you are using hand sanitizer you can look for an alcohol-based solution rather than a Triclosan based sanitizer.
So now that we know what ingredients to avoid – let's look at what we should be looking for!
What to Look For in Eco-Friendly Cleaners:
Our top tips for the true eco-friendly product include:
Eco-friendly cleaners should be available in biodegradable containers or refills which reduces the amount of plastic and waste.
As many natural ingredients that you recognise as possible.
No dyes
Cruelty-Free
Vegan
Not every one of the products we recommend here tick every box – but many do – and many come close!
We have hundreds of recipes where you can make your own cleaning products at home – check out our list:
Now let's look at eco-friendly products we can buy here in Australia:
Eco-Friendly Glass Cleaners:
Probably the best glass cleaner around is a really easy homemade version, and it is totally eco-friendly!.
All you need is:
1/2 cup white vinegar
2 cups warm water
Sheets of old newspaper
Put the warm water and white vinegar into a spray bottle, spray the glass, then scrunch up the newspaper to rub over the glass. Cleans just beautifully!
Best Natural All-Purpose Cleaners:
It is super easy to make homemade all-purpose cleaners that are eco-friendly at home. Here is a simple recipe to try out:
Eucalyptus Oil All-Purpose Cleaner
This one is great for kitchen and bathroom benches and leaves a deliciously clean eucalyptus smell.
15 drops eucalyptus essential oil
1/2 cup white vinegar
2 cups of water
Place all the ingredients into a spray bottle, tips upside down a few times to combine – and use right away!
Counter Culture All Purpose Organic Cleaner
500ml Spray Bottle
RRP: $9.95
Australian Made
Vegan
Available in two scents, lavender and lemongrass, this all-purpose cleaner is organic and probiotic – containing 13 different strains of live, good bacteria.
Stockists:
Koala Eco Natural Multi-Purpose Kitchen Cleaner
Size: 500ml or 1 litre refill
RRP: $11.95
Australian Allergy Certified
Vegan Certified
Australian Made
This product is new to the market. Scented with lemon myrtle and mandarin, it not only smells fantastic, but it is fantastic to clean all aspects of the home including benchtops, fridge, dishwasher, food storage and preparation areas. It is biodegradable, eco-friendly and has a plant-based formula.
Stockist: Nourished Life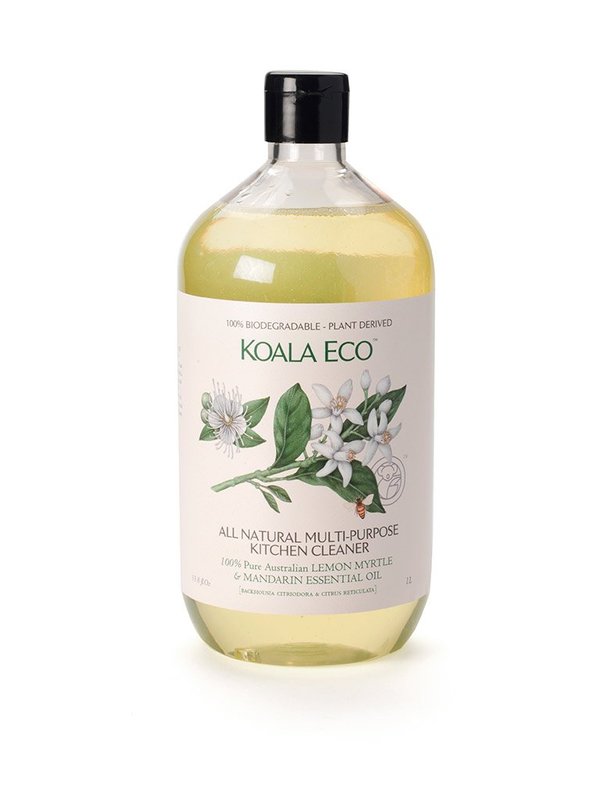 Eco-Friendly Dishwashing Liquids:
Lil'Bit Dishwashing Liquid
Size: 500ml
Made in Australia
Containing none of the above toxic elements, this dishwashing liquid is scented with essential oils. This liquid doesn't really 'foam up' – but that isn't such a bad thing, many dishwashing products contain ingredients that increase the suds so we perceive that it works 'better'.
Stockist: Biome Eco Store
Eco-Friendly Dishwasher Tablets
This is a tricky one as the dishwasher needs soaps that don't sud – and that usually means those nasty chemicals! We do however have a recipe for homemade dishwasher tablets that you can try:
You will need:
1 silicon ice cube tray
2 cups washing soda
2 cups borax
1/2 cup coarse salt
1/2 cup white vinegar
20 drops of essential oils
Mix together the washing soda, borax and salt, ensuring there are no lumps. Add the white vinegar and the essential oils and mix with a spoon until combined.
Press the mixture evenly into the silicon ice cube tray. Leave in a shady dry place overnight for the tablets to dry. Then pop out of the tray and seal in an airtight container.
Eco-Friendly Laundry Detergents and Laundry Liquids:
Soapberries or Soapnuts
Soapberries (or Soapnuts) are dried berries that when rubbed together with a little water, sud up and wash clothing just beautifully at less than 5c per wash. They can be re-used up to four times and you can also use them to make shampoo, spray cleaner or even in the dishwasher when you run out of tablets.
You can buy them from the following stockists:
Ecostore
Laundry Powder Size: 1kg
RRP: $14.95
Comes in Fragrance-Free and Geranium & Orange
Suitable for both top loaders and front loaders
Vegan
Ecostore prides itself on products that are kind to sensitive skin, eco-friendly and simple. Their laundry powder is made from both plant-based and mineral-based ingredients and has been independently tested against the leading supermarket brands to ensure excellent results for your laundry.
Stockist: Nourished Life
Green Potions No.13 Laundry Powder
Size: 1kg
RRP: $19.95
Made in Australia
Green Potions is a small Queensland business who makes eco-friendly cleaning products that are totally natural. All their products are packaged in reusable containers and the product itself is made from saponified coconut and olive oils. This is one of the true zero waste laundry powders available.
Stockist: Biome Eco Stores
Toilet Bowl Cleaners:
Ecostore Toilet Cleaner – Eucalyptus
Size: 500ml
RRP: $8.95
Vegan (PETA Certified)
Cruelty Free
Ecostore makes a huge range of fantastic eco-friendly products – and this is one of the best. Made with 5% citric acid, it has been independently tested to ensure it works! Made with plant-based ingredients, it is suitable for all ranges of surfaces including porcelain and ceramic and is suitable for compostable toilets.
Stockist: Nourished Life
Adobe Natural Toilet Cleaner Gel
Size: 750ml
RRP: $8.95
Australian Made
Vegan
Simple ingredients that work – the Adobe Natural Toilet Cleaner Gel comes in two scents, Rosemary & Mint and Tea Tree. Contains no palm oil, artificial fragrances or petrochemicals.
Stockist: Nourished Life
Eco-Friendly Floor Cleaners:
If you have timber floors, tiles or vinyl the best way to clean them is actually just boiling water and a mop – or a steam mop if you have one work on the same principle. The heat dislodges any grime and dirt and the mop or pad wipes up the remnants. You can pick up a good steam mop like this Bissell Select Steam Mop for under $150. They are particularly good for bathrooms.
Koala Eco All Natural Floor Cleaner
Size: 500ml and 1 litre refill
Price: $11.95
Vegan Certified
Australian Made
Koala Eco has some beautiful products that are all biodegradable, eco-friendly and plant-based. With a delicious scent of mandarin and peppermint, the essential oils are also pest deterrents too!
Cinderella Floor Cleaner
Size: 500ml
RRP: $10.00
Vegan
Australian Made
With this delicious smelling floor cleaner, your floors will be clean enough to eat from. Free from GMO's, sulphates, bleach, ammonia and all harsh chemicals. Is pineapple and coconut scented.
Stockist: Nourished Life
Bondi Wash Floor Cleaner
Size: 500ml
RRP: $16.00
Vegan
Australian Made
The Bondi Wash Floor Cleaner comes in two delicious scents, Tasmanian Pepper & Lavender, and Sydney Peppermint & Rosemary. A very gentle but effective floor wash made from Australian Bush Oils.
Stockist: Nourished Life
Eco-Friendly Furniture Polishes:
Tinderbox Natural Wood Polish
Size: 370 grams
RRP: $19.95
Made in Australia
Made in a small rural town in Western Australia, Tinderbox Natural Wood Polish strengthens timber against scratches and wear, promoting the longevity of your timber furniture. Contains delicious ingredients such as linseed oil, beeswax, gum turpentine, organic carnauba wax and essential oils.
Stockist: Biome Eco Stores
Beeswax Bar
Size: 30 grams
RRP: $5.95
Made in Australia
Beeswax has been used as a natural way to enhance timber to bring out the shine for hundreds of years. Now a family-owned business from Brisbane called Apiaries 8 is making these beeswax bars that are filtered three times for a pure, clean wax.
Stockist: Biome Eco Stores
As you can see, there are some amazing eco-friendly cleaning products now on the market.
We will continue adding wonderful products to our list as we find them!