Upcycling secon hand furniture is not only good for the environment, it is a great mini business to start that will cost you less than $100 in cash – mostly spent on purchasing paint and a small pieces to upcycle. Today we show you a small business idea to upcycle second-hand furniture to sell at a profit!
Overview of an Upcycled Second Hand Furniture Business:
Look at purchasing a few pieces of furniture from Ebay or local Buy, Swap and Sell Facebook Pages. Then you sand them down and paint them beautiful colours and add a sealing coat over the top. Then take marvellous photographs of your pieces (styled) and double or even triple the price you purchased the piece for. Sit back and watch the money come in!
Even better if you are handy with a sewing machine and can re-upholder old chair seats etc. Furniture is always fairly high-demand and by making it look great, you could easily double or triple your money!
Where to Buy Second Hand Furniture:
There are actually loads of great places to look for solid pieces of second hand furniture. We suggest the following
Ebay
Gumtree
Local Facebook Buy Swap and Sell Pages
Trading Post
Advertise in local newspapers
Thrift Stores
Garage Sales
Placing an advertisement for second-hand timber furniture is also a good idea!
Best Types of Upcycled Furniture to Buy
Some pieces of furniture will sell better than others. We suggest the following pieces if you can find them:
Timber Drawers
Timber Side Tables
Lamp Tables
Timber Dressers
Best (And Cheapest) Way to Upcycle the Furniture:
Two words: Chalk Paint. Chalk Paint is fantastic as you don't really need to sand the furniture before adding a coat. And chalk paint really makes the furniture pop!
The cheapest places to get Chalk Paint are:
Catch of the Day have quite a few brands of chalk paint available and it was cheaper than anywhere else I could find it!
Grab hand made chalk paint from My Vintage Room By Anita on Etsy.
Annie Sloan is perhaps the most well-known brand of chalk paint. The problem is that it can be tricky to buy it in Australia (and it is quite expensive)
Canterbury Blue is the brand I have used personally – it is a beautiful paint that is easy to use and gives a fantastic result.
Where to Sell Your Furniture:
You can look at selling your furniture at local markets, Etsy, Ebay, Gumtree, advertise in your local newsletters or even approach furniture stores in your area to see if they will sell your products on commission!

Ways to Upsell on Your Second Hand Furniture Business
In addition to the furniture, you could do custom pieces for clients. You could also sell cushions and home decor to match your beautiful furniture line.
If you are passionate about becoming your own boss, just take the step and do it! Many of these business ideas are perfect to start on the side, and you can work your way up as you get busier and busier!
Where Can I Learn More?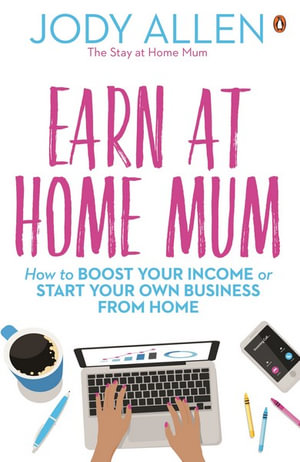 We have just released our book on how to get started with your own business from home!
Grab your copy of Earn at Home Mum here –>
Join our Community!
We have a secret Facebook Group called 'Earn at Home Mum' where we share more of our Small Business Secrets. It's FREE to join! Come over and say hello and find a mentor in your area!