Note: This is not a paid review. All purchases of Optifast Protein Plus Shakes were from my own money and Optifast had no say or knowledge of this review.
If you have read about any of my other Weight Loss Shake Reviews, you probably know already that I'm a bit of a fan of the Optifast branded weight loss shakes. There are a few reasons for this. They are the only weight loss shakes that are endorsed by the medical industry and are the 'Shake of Choice' for those who are undergoing a Gastric Band procedure. They are also bloody delicious.
More Reading:
Why I Like Optifast the Brand
I like the fact that Optifast is a full meal replacement shake – because I'm a 'slack eater'. I'm not overweight – however, I don't always eat as well as I should. And I'm one of these people that does put on weight very easily so I always have to watch what I eat. That's why I like that if I have an Optifast weight loss shake for breakfast or lunch – I know I'm getting all those vitamins and minerals that I should get from a salad or vegetables – in my shake.
Plus I can't drink them if they taste awful – and some weight loss shakes can taste gritty or they aren't filling.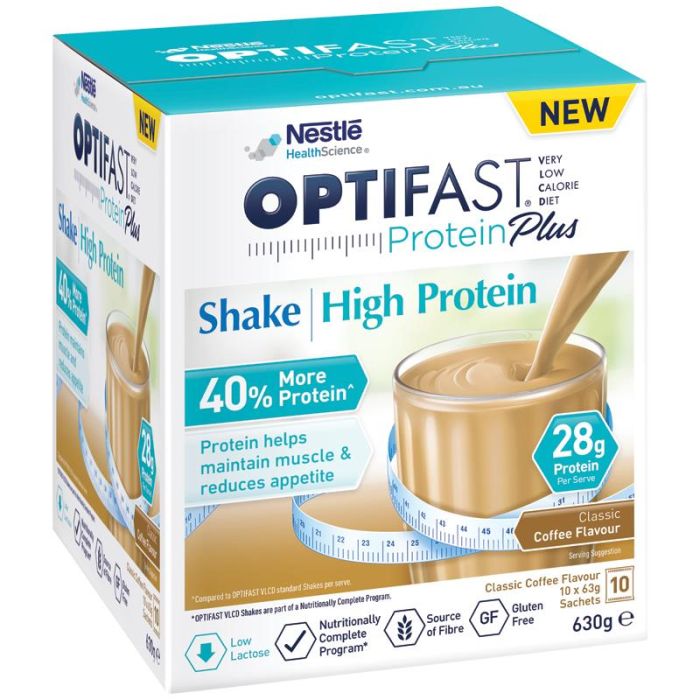 The Details of Optifast Protein Plus
Each of the Optifast Protein Plus Shakes contains the following:
28 grams of protein per serve
Each serving has 5.6 grams of fat
20 grams of Carbs
2.2 grams of Sugar (very low sugar!)
They are low in lactose (0.63 grams per serve)
Low in sugar
Low GI
Gluten Free
Good Source of Fibre
What's the Difference Between the Normal Optifast Shakes and the Optifast Protein Plus Shakes?
I read a heap of other reviews for the new Optifast Protein Plus shakes and many people said that they tasted awful. Now I was a huge fan of the original coffee flavoured shake – and when I initially bought the Coffee High Protein Shakes I noticed that it wasn't anywhere near as sweet as the original. But it only took me two days to get used to the new flavour – then I loved it.
But then there was a run on the new High Protein Shakes and I couldn't get them online so I had to revert back to the original flavour – and you know – they were so sickly sweet I didn't finish them. So I've gone back to the Protein Plus Shakes and I'm so happy I did.
The Optifast High Protein Shakes have 40% more protein than the original flavours – and they are certainly a lot more filling than the original Optifast Shakes. I substitute breakfast and lunch and I hardly ever go looking for snacks in between.
Cost of Optifast Protein Plus Shakes
At a glance – it looks like they are the same price – but wait. The original Optifast Shakes has 12 shakes per pack – the Optifast High Protein Shakes only have 10. So yes, they are more expensive.
But I got mine online and found if you can get them on special – and spend over $100 and get free shipping (which is only a few packs) – then you actually can justify the higher cost. I'm yet to find these at my local chemist cheap – so it is definitely better to buy them at the cheapest place you can online.
What Flavours Do the Optifast Protein Plus Shakes Come in?
The High Protein Shakes don't have as many flavours as the original. But they include:
Coffee (my personal favourite)
Vanilla
Chocolate
Hopefully, as they gain traction in the market and become more popular, more of the original flavours will be turned into Protein Plus.
Where to Buy Optifast Protein Plus Cheapest Online?
Prices do vary all the time – but I've found the following stockists are the cheapest!