Best Laundry Detergents for Sensitive Skin
My 10 year old son has such sensitive skin that even swimming in a pool gives him a rash (apparently chlorine rash is common – and it is actually a type of chemical burn!).  Ever since he was a tiny little tyke, he has had hyper-sensitive skin, and he quite often gets eczema behind his knees and on the inside of his elbows.
One area that I've had to be extremely strict with is the laundry detergent.  We have never been able to use the full-powered commercial grade detergents, he just can't stand it.  His clothing will make him itch which makes his skin raw and so the cycle of eczema begins again.  Many laundry detergents contain perfumes, enzymes, optical brighteners, colourings and other ingredients that just don't agree with his skin.
Plus he is sensitive to strong smelling essential oils too – which is a shame because they do make the washing smell so darn good!
So here is a list of the tried and true sensitive washing detergents that have worked for me – both today and in the past.  I do like to 'change it up' seeing I do so much washing and I love trying the different brands to see which will work well for us. As well as being sensitive – the detergent has to actually clean the clothes well… and you know how dirty kids clothing can get!
If you have a child with sensitive skin – please drop me a line and let me know what laundry detergent you use so I can get it added to the list!
Bosistos Sensitive Laundry Powder
I've been a huge fan of Bosistos Eucalyptus Laundry Detergent for years and years now – the traditional detergent smells very strongly of eucalyptus oil – and I just love the fresh and clean smell.  I was very pleased when they released their sensitive range as I couldn't use the traditional style on my son's clothing because it did irritate due to the essential oils.  But this version still smells great and doesn't cause a reaction.
Stockists:
Earth Choice Laundry Liquid
The Earth Choice products are all so well priced, even for those of us on a strict budget.  Their products are simple with no added enzymes, phosphates or bleaches.  It smells lovely too!  The only downfall about this laundry detergent is that it doesn't clean heavily soiled clothing very well – so for light washes – it is perfect.  Anything else will need some extra strength.  It is all plant-based, cruelty free and made with recycled plastic.  And is perfect for septic systems and sewage treatment plants (for us Country folk!).
Stockists: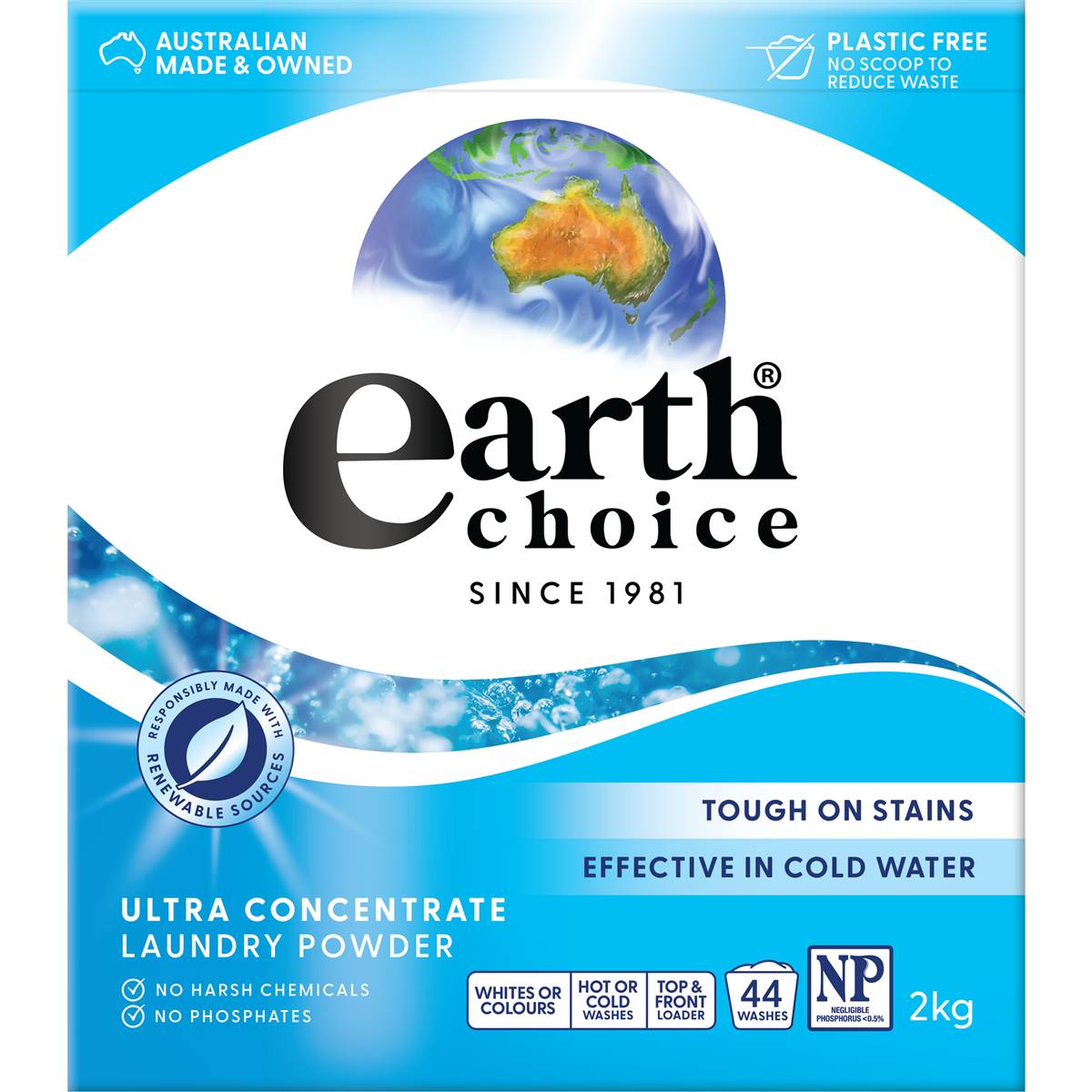 Use Soapnuts
If you have been following Stay at Home Mum for a few years, you will know all about my passion for Soapnuts.  They are the dried out remains of a berry that 'soap up' when mixed with water.  They are totally natural, very gentle and so cheap – it works out to cost less than 5c per wash.  But they are probably the MOST gentle 'detergent' out there when it comes to sensitive skin.  Plus you can use them to make shampoo, dishwasher cleaner and a homemade spray and wipe spray.
The only 'Con' in using Soapnuts is that they aren't 'Strong' – so really heavy stains won't come out just using Soapnuts – however if you just have lightly worn clothing that need washing – Soapnuts are perfect!
Stockists:
This is actually one I haven't yet tried, but I've read reviews online and many Mums have recommended this brand.  It is 100% plant-based and does address tough stains and stubborn odours.  It is grey water safe and suitable for both top loaders and front loaders.
Vegan and palm oil free – it is also made in Australia!
Stockists:
Little Innoscents Eco Laundry Liquid
Incorporating Australian Eucalyptus, Natural Cherry & Coconut extracts into this laundry liquid means it can clean effectively, especially for those with sensitive skins. The unique blend of ingredients in this deliciously scented liquid is even suitable for newborn baby clothes and bedding.
Made in Australia.
Stockists:

This is another highly-rated sensitive laundry detergent that has great reviews online.  This is specially formulated for everyone with sensitive skin and uses plant and mineral based ingredients.  Suitable for front loaders or top loaders, it is grey water safe and designed for allergies.
Stockists:
This is a great alternative for traditional laundry detergent and although it is quite expensive, I'm sure if you hunted around health food shops you could probably find something like this at a cheaper price.  These soap flakes are made from 'Saponified Coconut Oil'.  You can only use it to do hand washes, but it is non-toxic, vegan and palm oil free.
Stockists:
Green Potions is a small Queensland company that make natural products for people with sensitive skin.  All products are organic, totally natural and even NASA requested a sample of their products (super impressive!). This is also packaged in a re-used mason jar to create less rubbish.
Stockists:
So there are more and more options for people, especially kids with super sensitive skin.  Of course not everything above will work for everyone (I had to trial loads of products to find the right ones for our family) – but it is good to see that there are more products to choose from.

As I try and test more laundry detergents for sensitive skin – I will add them here!