Stephanie Scott was well known, loved, and respected in the town of Leeton, where she was a teacher at the local high school.
This is the heartbreaking story of Stephanie Scott. Taken away too soon, by a monster who shouldn't have been on the street.
Australia came to know Stephanie's name on April 7, 2015, when she was kidnapped, beaten, and raped before being stabbed and later burned by Vincent Stanford, a cleaner who worked at the high school in the small NSW Riverina community.
What made this horrific crime even harder for people to comprehend was that Miss Scott, who was only 26 years old, was due to marry her high school sweetheart, Aaron Leeson-Woolley, just six days after she went missing.
More Reading:
Innocence Lost Forever…
In a town with a population of just over 11,000, the worst offence Leeton had seen previously was the vandalism of property. Having one of their own, a young woman who contributed to society with a bright future ahead and a million-dollar smile taken from them in such a brutal manner has undoubtedly changed the psyche of the town.
Details of the crime have been revealed during Mr. Stanford's trial and sentencing hearings, the latter of which was held on November 14. The court heard Stanford, 25, had stalked several women in Leeton prior to Miss Scott's murder and he had seen her at the high school preparing lessons in her staff room on Easter Sunday while he was cleaning. He then drives home to the house he shared with his mother Anneke Noort and collected what he called a "rape kit" before returning to Leeton High School.
The pair bumped into each other and Miss Scott wished him a Happy Easter, but as she tried to open the metal gate at the school's entrance, Stanford grabbed her and pulled her into a storeroom, threw her on the ground and locked the door. Stanford told police he sexually assaulted her, punched her unconscious and then stabbed her in the neck with a knife "to make sure she was dead".
The Cover-Up of Murder
When Stephanie Scott did not return home on Easter Sunday, Miss Scott's family began a desperate and agonising search for her, knowing she would not leave her fiancé just days out from their wedding due to cold feet. While they worked with police and began an extensive search, Stanford drove Miss Scott's red Mazda 3 to his house with her body in the boot and parked it behind a shed in his backyard overnight.
In the early hours of Easter Monday, the court heard he drove her car to Cocoparra National Park, about 70 kilometres northeast of Leeton, near Griffith, where he removed her body and placed branches over her and set her remains alight. Shockingly, he took pictures of her burnt remains, and when Officer-in-charge Detective Sergeant Timothy Clark later questioned Stanford about the photos they found, Stanford told him he had downloaded the pictures "from a horror movie".
Stanford drove Stephanie's Mazda back towards his home before dumping it in a field at Wamoon, eight kilometres from Leeton. Four days later, he was arrested and charged with murder, aggravated sexual assault and inflicting actual bodily harm.
Stanford had attracted the attention of police because when they questioned him on his whereabouts on Easter Sunday, he had told them he had been grocery shopping. When the police officer rang the store where Stanford had said he had been, he was told it had been closed that day. The day of his confession was the day Miss Scott was supposed to be married at the vine-covered archway of Eugowra's Eat Your Greens function centre.
A True Psychopath Of Unrivaled Evil Revealed…
The court heard that Stanford told police how he felt an overwhelming desire to kill Miss Scott as soon as he laid eyes on her. Stanford told psychologist Anna Robilliard, he "hardly remembered" killing Miss Scott, but did not feel guilty about it at all.
"No, this was something I had to do. I couldn't stop myself," he said.
He told Dr. Robilliard that he didn't enjoy killing, but regarded it as necessary to reduce the tension caused by the need to kill. Stanford considered himself someone who hated being touched, had practised self-mutilation and enjoyed the isolation that his job in cleaning provided him. He told Dr. Robilliard he could not learn to tolerate people and had experienced thoughts of killing people since he was seven or eight years old.
"This is just the way I'm arranged. I think I've done remarkably well to live with people 25 years. I don't think there are any treatments for my inability to deal with other people," he is quoted as saying in the psychological report.
Vincent Stanford is Locked Away
Justice Robert Hulme told the court on November 14th that Stanford seldom thinks about his crime and showed no hint of remorse for his disturbing acts. Justice Hulme said evidence such as Stanford's violent sex-related internet searches and his possession of knives and handcuffs convinced him that Stanford would "represent a serious danger to the safety of the community".
He sentenced Stanford to 15 years in jail for aggravated sexual assault, followed by a life sentence for murder. He will likely never be released from prison. Stanford's twin brother, Marcus Stanford, was released on September 9th from a New South Wales jail after serving his 15-month jail term for being an accessory to the crime when he pawned Miss Scott's engagement and graduation rings.
During the sentencing hearing, it was revealed Stanford can shower early and have his breakfast in isolation separated from the other inmates and he passes the hours humming the theme tune of the classic television show MacGyver.
A Town Shattered Forever
Leeton Mayor Paul Maytom told news.com.au the murder would be hard to forget……
"I think as time goes by, you tend to try and not think about the event, the horrific nature of what happened. People simply can't believe something of that nature happened here, it is just unheard of it. The whole circumstances around it … Just to think her life ended as it did when it was just starting."
Mr Maytom said as unbelievable as it was, the community had to cope with the notoriety.
Trying To Move On
But Miss Scott's family are doing their best to remember their daughter, sister, and fiancé as the generous, kind and bubbly woman she was. Stephanie Scott's mother, Merrilyn Scott, gave a statement at Stanford's sentencing hearing, calling him a "low-life", "pathetic" and "despicable".
She told him they were going to remember their daughter and forget all about him.
"We will endeavour to stop thinking about this person that has done this to our family. So much pain has been caused, so much damage has been done. Enough has been taken from us, and let this be an end to it. It is time to celebrate our daughter's life, to dwell on the good things, to remember her humanity and her love of life."
The family celebrated what would have been Miss Scott's 27th and 28th birthdays with a cup of tea and mint slice biscuit.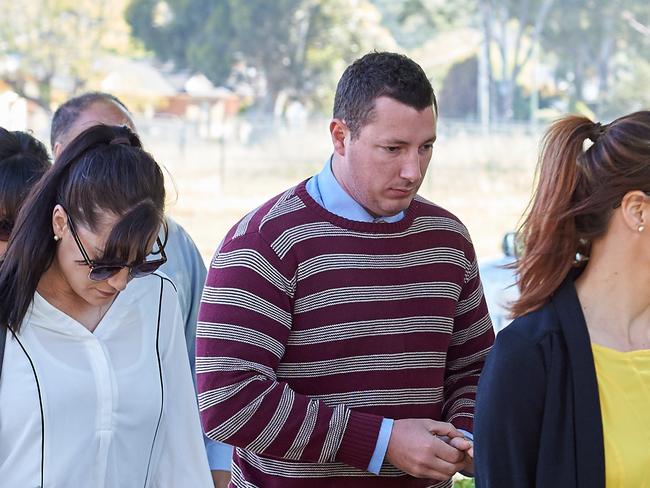 It is a tradition that many across the country have emulated to show their support for Mr. Leeson-Woolley, the man who never got to marry his beautiful bride, and the family left with such a huge hole in their hearts.
What Has Happened Since Stephanie Scott's Murder
Journalist Monique Patterson released a book 'United in Grief' in February 2020. Monique was the editor of 'The Irrigator' in Leeton at the time of Stephanie's murder. The book has been written with sensitivity and is not just about Stephanie and her life, but the effect on the town on Leeton. Monique covered most of Vincent Stanford's trial. She also believes that had he not been caught, he would have killed again.
Aaron Finds Love Again Five Years On
Stephanie's fiance, Aaron Leeson-Woolley has found love again and last year celebrated his engagement to a fellow Leeton local Samantha Cirillo. We wish him all the happiness in the world.
Civil Action Against NSW Education Department
Stephanie Scott's family and fiance have taken civil action against the NSW Education Department calling for more stringent screening of staff working at their schools. Although the matter is now settled and the actual settlement remains confidential, we hope that this will lead to changes to ensure what happened to Stephanie Scott never happens to anyone. Ever again.
More Reading:
Want to read more? Check out our other True Crime Articles
---