For busy and uber tired mums, going to the gym could be the last thing on their minds.
Some mums find it hard to take care of themselves when they're taking care of the more important people in their lives — family. But sometimes, despite all the hard work, mums must also find time to take care of themselves. And one of which is finding time to exercise. With all the things needed to be done at home, it would seem nearly impossible to go to the gym for some overall workout. Thank God for the internet, there are websites offering fitness exercises that can easily be done at home.

I've got here the 15 Best Online Fitness Programs for Busy Mums. Enjoy!
Jenny Craig is all about the support of women (and men) in their weight loss journey.  As we all know, losing weight is sooo hard… so when you have a support person that keeps you accountable, you are more likely to form good eating and exercise habits that will hopefully last a lifetime.
Every member is assigned a personal consultant who works one-on-one with you to design a menu plan, finding the right activities you love to get you moving and will help you achieve your health goals based on your lifestyle.
Pricing Details for Jenny Craig:
They have a few different membership levels.
The free version is a limited time only special and is six weeks of free membership (plus the cost of food).  This includes a personal consultant that will help you keep on track.
$99 for a six month membership (plus the cost of food)
No costs are listed on the website.
CSIRO produced the best-selling book 'The CSIRO Total Wellbeing Diet' a few years ago, and now they have released their online program which is designed to make it easier for mums to lose weight. It combined their science-based healthy eating plan with easy online tools to keep your weight loss on track.
They also have a special edition to help people with prediabetes and type 2 diabetes manage and prevent complications by losing weight and following a healthy diet and exercise.
Each week, the CSIRO sends you:
A Protein Balance Meal Plan with meals suitable for the whole family.
A weight loss guide that is personalised to your diet type.
Printable shopping lists.
Connect to Woolworths Online for easy grocery shopping.
Practical exercises to do at home
Reminders and tracking tools online to keep you in check.
Scientifically formulated weight loss guides.
Access to a caring community that keeps you motivated.
Offer:  Get a full refund of your initial $149 Membership Fee when you successfully complete the 12-week program when you fulfill certain criteria.  Find more information here.
Watching your weight while there's no off limits to the type of food you will eat is just awesome! This is what the New WW Your Way+TM program offers. Plus you don't have to track, just choose from more than 200 zero Points® foods, although they have over 4,500 healthy and delicious recipes in the program. They have well-balanced meal plans, recipe builders and eating out guides to help you sustain your weight loss journey. They also have more than 50 workout and fitness challenges that will surely get you going. Plus some inspirational stories to motivate you to reach your goals.
Pricing:
Their current offer is $10 for your first 30 days on selected 3 month plans.  The minimum total cost is $85.00. Grab that deal here!
Current Promotions:
Joy McClymont is a rural Queenslander that runs an online fitness program aimed at anyone – anywhere!  I got to meet Joy in person at one of the Agforce Meetings and she is so LOVELY – you will instantly fall in love with her natural and easy way. She runs her global empire from her family's remote western Queensland sheep and cattle station and has a fun, informative style that is very natural and un-threatening.
Joy has a series of fitness programs available online anywhere!  Tell her I sent you!
Pricing:
30 Days Subscription is $47.00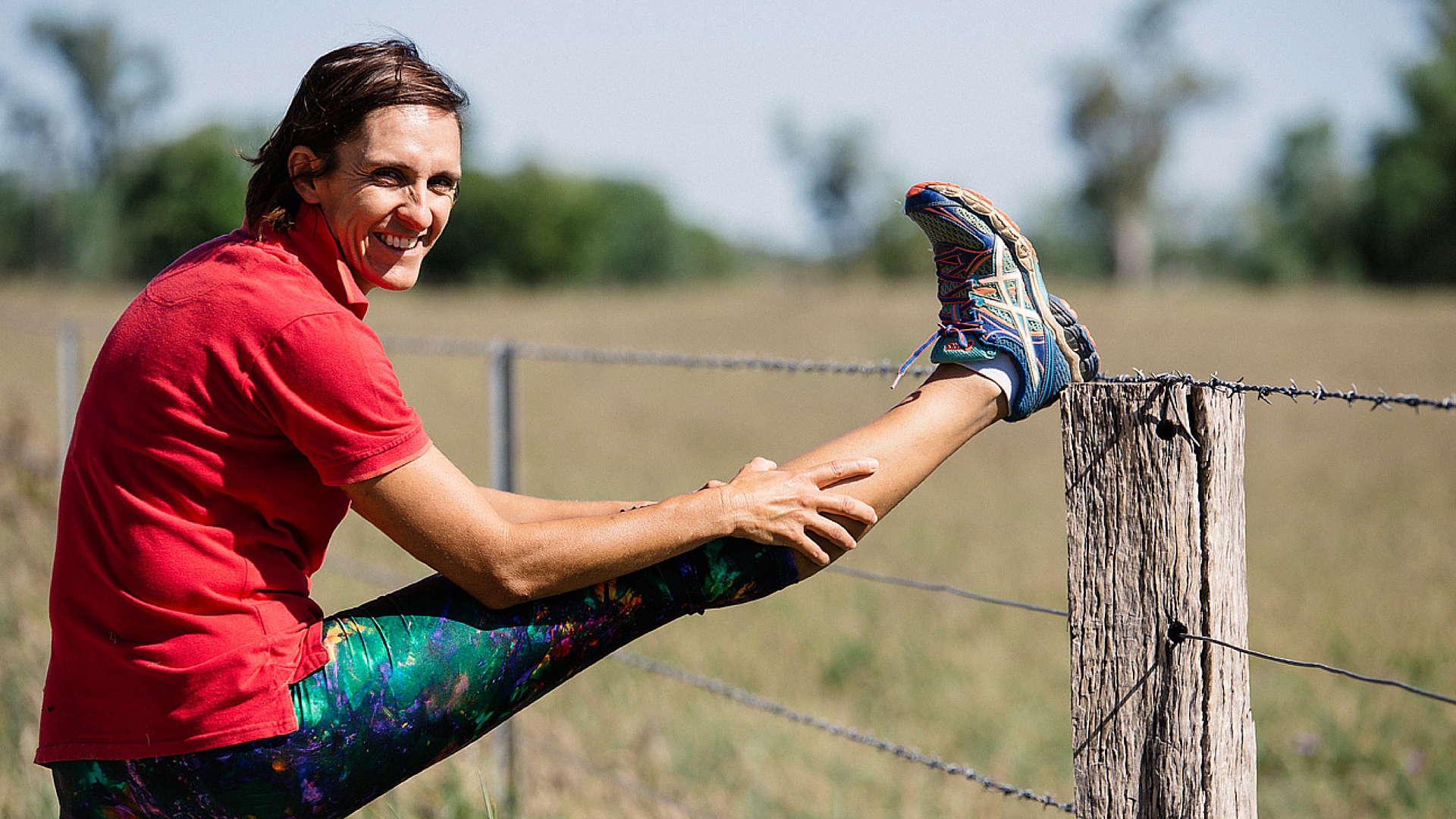 The 5:4 Plan is pre-prepared food that is made depending on what outcome you wish to achieve. This isn't so much as a fitness program but more like a specialized diet plan, but I thought it was worth mentioning as their food looks really nice.
They have different meals such as:
You can order all of the meals you want online, then it is prepared and delivered to your door.  They also have online challenges if you sign up for four weeks or eight weeks which gives you incentives and discounts. I think this would be good for single people or people who rely on their body for a living or are vegan as it can be difficult to cook specifically for that reason.
I've known Rhian Allen (no relation) for years as we started our businesses online around the same time.  She has really done well and The Healthy Mummy is now a juggernaut.  The Healthy Mummy has loads of ways for Mum's to get healthy and fit (even when pregnant or if they are breastfeeding). They offer Apps, recipes, smoothies, cookbooks and online challenges.
They currently have a 28 Day Weight Loss Challenge to join too.
Pricing:
The Healthy Mummy App is $45 per month or $229 every two years.
The Smoothies are $56.95 each
They also offer Starter Boxes ($276.75)
The Superfast Diet is all about intermittent fasting.  One of the main reasons fasting works so well is because you still get to live a 'normal' life. Your lifestyle can still include dining out, enjoying a glass of wine, having your cake, (and yes- eating it too); safe in the knowledge that intermittent fasting is taking care of you.
Scientific studies continuously demonstrate the many health benefits of intermittent fasting. These include decreased diabetes risk, reductions in 'bad' LDL cholesterol by 10-20% and protection of the brain from neurodegenerative disease like Alzheimer's and Parkinson's among many others.
Plus, recent trials have shown that 10% of study participants lose 15 kg and above, 15% lose 10 kg and above, and 40% lose 5 kg and above with various intermittent fasting methods and further studies have shown that people were able to keep the weight off. We're not making it up: read the science here!
Michelle Bridges' is known as Australia's top personal trainer. She was a trainer on The Biggest Loser Australia, has published multiple books on getting fit and eating well, and is dating Commando Steve (who is hot as f&ck!). Her online program is called '12WBT' which is a 12-week program that includes exercise, proper nutrition and mindset training to transform both your body and mind.
She has four different online programs depending on what you are trying to achieve. Weight Loss, Strength, Running and Post-Baby. The program gives you the best exercises fit for your level, you get meal plans and access to thousands of recipes. Best of all, they have 24-hour access to dieticians and trainers (so if you are tempted to have that chocolate biscuit at 2am – you have someone to hold your hand and get you through it!).
Here is a sample of some of the recipes offered by the 12WBT Program.
Voome is the experienced team of nutritionists, dietitians and fitness trainers behind Michelle Bridges 12WBT program.  They offer structured four-week plans that have you progressing towards your goal after each workout.  The meal plans are designed for optimal nutrition and matched to your workouts.  You don't need to think about what workout to do, or what to eat – they do all that for you.
They offer a variety of programs depending on what you are hoping to achieve.  They include:
Weight Loss
Strength
Flexibility
Nutrition
Fitness and Conditioning
Gold Coast fitness instructor Ashy Bines offers workout plans that helps inspire women to meet their body goals. She has a Squad project that lets you join five ladies on their journey to not just weight loss but a life-changing transformation as well.
She also offers products that will make your workout plan even better with tops and bottoms that will help make your weight loss journey more comfortable. She also has some supplements that will help boost and optimise your diet plan, and some treats and smoothies to satisfy your taste buds.
She also has a Food Club that delivers lunches and dinners freshly cooked for you. Yes, no cooking required here. Just choose from her collection of 40 high-protein, low-sugar meals, and offers free delivery Australia-wide.
Click here to check out the meals from Ashy Bines Food Club.
Renowned American personal trainer Jillian Michaels is bringing her expertise to all with her online training program dedicated to help people transform their lives.
Through her app, she offers personalised fitness programs, including interactive and complete workouts with more than 550 Unique Exercises that include an HD video and lets you sync your workouts with health. You can also track your progress with a personal dashboard to track your weight, workouts, calories burned, calories consumed and more.
She also offers healthy meal plans co-created with professional chefs and registered dieticians. Her meal plans also include guidelines, recipes, menus, shopping lists and even dining out tips.
You can choose from Omnivore, Pescatarian, Vegan, Vegetarian & Paleo/Gluten Free options, and a 5-Day Jumpstart Meal Plan.
Influential Australian personal trainer Kayla Itsines has come up with her Bikini Body Guides (BBG) workouts not only to help you get fit and strong, it helps you become more confident with your body.
She has 28-Minute workout plans that let you choose how you want to train either at home or in the gym. You can also workout with weights which is her new program designed for those who want to build their muscle.
Her ebooks also guide you to be in your best shape with her Bikini Body Workouts Guide and H.E.L.P Nutrition Guide.
She has a collection of delicious and healthy recipes that will optimise your weight loss journey.
Click here for Kayla Itsines' nutritious recipes.
Want to get your body looking like Australian TV host, model, and beauty queen Rachel Finch? Her fitness routines and workout plans are all you need to live life to the fullest.
Her Stretch and Tone program is about loving your body through yoga & Pilates inspired toning sessions to help with your flexibility, balance and total body strength, as well as calm the mind. Her Cardio workouts will get your body moving to improve your endurance and cardiovascular health. Her Strength program will power you up with their HIIT circuits, for a total body workout in under 30 minutes, with no equipment needed.
By being a member, you will also be helping raise funds for the Starlight Children's Foundation programs including Make A Wish.
Her meal plans include regular vegetarian/Paleo and low carb options designed and developed by the best nutritionists in the country. Your family will even love it!
Here is what Body By Finch offers in their meal plan (click here!).
Personal trainer and former Bachelor Sam Wood offers a 28-minute for 28 days complete, online training, nutrition and mind program, which is convenient for busy people and includes daily 28-minute workout videos for all fitness levels.
He also offers a new pregnancy/post natal option for new mums.
His mindfulness & motivation experts will ensure a stress-free life that will help you sleep better, focus and stay motivated.
He also offers a healthy eating plan every week created by 28 nutritionist Steph Wearne and 28 chef Emma Warren and a shopping list.
Here is sample recipe of 28 By Sam Wood's meal plan.
The Biggest Loser's Tiff Hall got some tips to burn fat, get strong, be motivated, and be satisfied with your healthy meals with her program that will boost your overall confidence.
She has 20-minute workouts that will help you burn fat and tone your arms, strengthen your core and butt, using a unique Tabata style to supercharge fitness. The workout is suitable for all levels and ages and guaranteed to make you strong and energetic in four weeks with daily workout.
She also has meditations for a stress-free living, weekly podcast with resident psychologist, do Poomsae which is like Tai-chi, but much better and access to their community 24/7.
Her meal plans are budget friendly, quick and easy to prepare and have gluten free and vegetarian plans available — all approved by her nutrition team — and taste amazing even kids and fussy eaters will love it. She also has a library of swaps and shopping list.
Former Australian Pole Vaulter Amanda Bisk is here to help you with your fitness goals. With her fitness and flexibility programs, you can never go wrong.
She has a 12-week 20-minute whole body workout program that needs no equipment and are based on the latest modern training science to tone muscle while burning fat during and after your workouts. It targets fats and burns it while toning your muscles.
She also has Stretch Guide & 5 Class Yoga Series to feel refreshed and be flexible and stress-free.
If you want convenient, complete and cheap access to exercise videos, Workouts on Demand has it for you.
You can find the perfect workout plan for you with its Exercise Video Calculator that will recommend the best workout routine based on your needs and fitness level, and it has over 210 videos to choose from.
You can plan your own workout schedule with workout routines ranging from 5 minutes to 45 minutes.
You can try these workouts at the comforts of your own home:
Fitness coach and former Team Commander with the Australian Special Forces Steve Willis will let you in on his world of training through Commando Steve. Steve has become popular with his signature dark sunglasses, black T-shirt and combat fatigues as he puts contestants through their paces as a trainer on Channel Ten's 'Australia's Biggest Loser'.
He has put together different programs that will take you to the overall fitness that you want. He offers training sessions (either one on one or in groups), mentoring and Commando Fit Training Camps.
He also has training products to keep you going with your workout plan.
He also has workout videos that you can do at home.
Have you tried any of these online fitness programs? How was it?
Share it with us!