Are you looking to spice up your love life by indulging in out-of-this-world kinky experiences? We've compiled a list of 20 monster sex toys that will take you and your partner's bedroom game to the next level.
Whether you're new to BDSM or fantasy lovemaking, these monster sex toys will surely provide out-of-this-world satisfaction.
From Lovecraftian bondage pieces and tentacle dildos through to Cthulhu masks and glow-in-the-dark body stickers, you'll find your innermost desires with these kinksters' best companions.
More reading:
Looking for intense anal pleasure or want to add some kinky spice to bedroom shenanigans, eh? Monster sex toys bring out the wild side in everyone. From the tantalizing tentacle vibrators to the electric nipple clamps, people are raving about these stimulating pleasure tools.
With various fantasy shapes, sizes, and textures to match different desires, these goodies allow you to explore your inner naughty, wild self!
Price: $47.57
Available in 4 colours: soft pink, medium pink, soft custom, and medium custom
This monster of a sex toy will bring you new levels of pleasure, unlike anything you have ever experienced! The Little Lickin' Silicone Tongue Sex Toy has a beautifully soft silicone tongue filled with strategically placed bumps to give your partner maximum pleasure. Great for clit stimulation, your partner can get lit up with every lick and be taken to new heights you never thought imaginable. Let go of your inhibitions!
Price: $159.79
Available in 5 styles
Who needs a boring old dildo when you can upgrade your self-pleasure sessions with these glowing monster dildos? They create a different, electrifying experience that'll take your orgasm to the next level. Plus, they come in varied sizes and shapes to suit your exact needs. Made from 100% skin-safe silicone, don't be afraid to spice things up in the bedroom and add a touch of kinkiness with these luminous toys – they'll surely put a naughty smile on your face.
Price: $145.50
Available in 3 colours
Choose firmness: Soft or Extra Soft
Embark on a journey of pleasure and discovery with the Insertable Fantasy Grinder. Perfect for those seeking a kinky experience, this unique grinder combines light penetration and grinding to drive you wild with pleasure. Stimulated internally and externally, it will take your breath away as you rock back and forth on the wooden mast of your ship. With added intensity or gentle waves, set sail and explore new heights of satisfaction with the Insertable Fantasy Grinder!
Price: $46.67
Available in 8 patterns
There's nothing like getting your hands on a blue freak alien monster dildo with a suction cup! This heavenly combination of smooth pliable materials and fine texturing will make any sexual fantasy come alive. Whether you need something to fulfill your naughty solo sessions or an unforgettable experience with a partner, this dildo was made with the ultimate satisfaction in mind. Through its robust suction cup base, it will stick to nearly any flat surface, allowing unparalleled flexibility that other toys can't beat.
Price: $77.78
Customize primary and secondary colors in 24 available hues
Unleash your wild and sultry side with the Fantasy Monster Demon Devil. This designer sex toy of high-quality body-safe silicone provides a unique and tantalizing experience. Its ribbed barrel will give you fantastic pleasure, while the curved head is perfectly shaped to heighten sensitivity and stimulate all the right places for maximum delight. With a length of 7 inches, a head diameter of 1.6 inches, a shaft of 2 inches, and a 2.1-inch circumference around its base, this kinky companion will surely deliver exciting adventures every time.
Price: $49.20
Available in blue and pink
Choose your size: S, M, L
DildoPhantasy BrightTentacles is the perfect accessory for those wanting to add naughty fun to their bedroom repertoire. With its bright tentacles adorned with tantalizing textures, it will heat up your next night in. Whether alone or with a partner, this dildo will take you from zero to fantasy in no time. Its soft and sensual feel adds an extra pleasure that few other toys deliver. Ready to explore the depths of ecstasy?
Get ready to explore galaxies unknown with this extra-long fantasy dildo! Wrap your hand around its divinely textured silicone body, which is just as flexible as the stars in the night sky and will sway and bend for your earthly pleasure. Heat it or cool it down for a truly out-of-this-world experience, and get creative during strap-on play by changing positions without difficulty. Enjoy sensational and kinky intergalactic sessions and reach those galactic climaxes you dream of.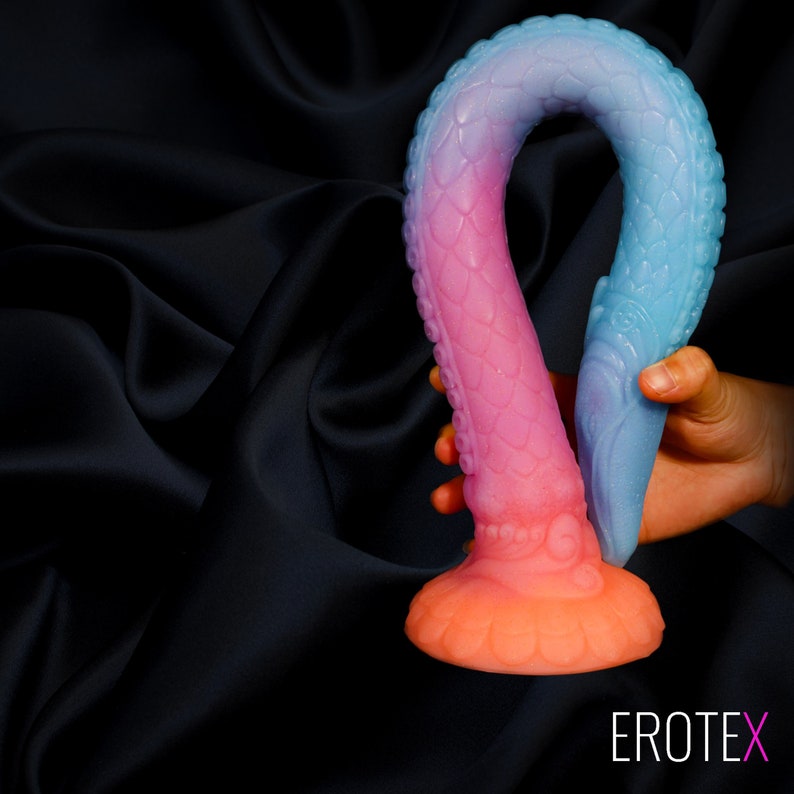 The Curvy Alien Dildo is the perfect companion for your cosmic pleasure journeys. Crafted with luxurious, high-quality, food-grade liquid silicone, this amazing dildo is soft and skin-friendly, so you never have to worry about it being too harsh on delicate skin. And measuring 22.2*6.5 cm with 19 cm of insertable length, you can boldly go where no man (or woman) has before!
Price: $98.86
Available in 6 styles and 2 colours
Perfect for all your naughty pleasures, the Fantasy Black Silicone Dildo and Butt Plug is shaped for wild delight! Indulge in the beautifully crafted head with its realistically detailed body. Explore a variety of different textures designed to heighten every sensation. Discover that every groove and bump has been carefully molded to keep things orgasmic. With a strong base suction, you can take the fun anywhere – stick it firmly on any smooth surface and get ready to explore new realms of sweet pleasure.
Price starts from $111.92
Available in 30 colours
When it comes to reaching that most ultimate of pleasure, the Scylla Fantasy Grinder Masturbator Adult Toy promises an experience like no other. Featuring two extended shapes that caress your body and expertly designed using 3D technology and hand-poured from premium platinum silicone, it's no surprise that Scylla is the envy of all other adult toys.
From the exquisite ridges and bumps to the protruding tongue that offers additional pleasure, there are literally hours of detail for you to tantalize and explore. Plus, with two adjustable straps included, you can fasten your grinder to a pillow, chair or even your partner's thigh for hotter-than-ever play sessions.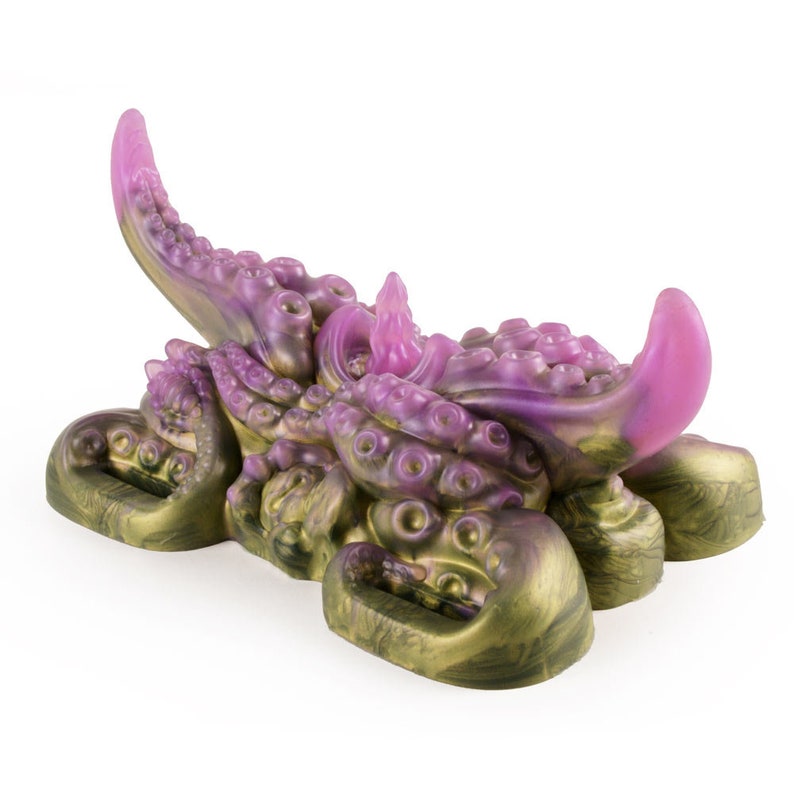 Price: $171.83
Choose primary and secondary colours in over 30 hues
The ovipositor sex toy is a unique addition to any bedroom. It's made with a layer of silicone and filled with your choice of eggs, whether it be vaginal dildo eggs or kegel eggs. These sex toys offer an incredible sensation that not many sex toys can produce. They provide an intense pleasure that makes even the most experienced sex toy user gasp in awe.
Price: $55.85
Available in 3 gum colours
Choose between soft squishy, medium soft, and medium firm
When it comes to sex toys, the Kraken Silicone Dildo is sure to be a favourite. Its silky feel and smooth curves make it perfect for taking sex play to the next level. Its firm body and textured surface provide incredible stimulation no matter what pace you choose. Whether you're playing with yourself or with a partner, this sex toy is sure to bring an extra spark of kinkiness!
Price: $121.34+
Choose between S and M
Available in 3 pour styles
Introducing Morg'ath, the Imprisoned Orc sex toy – your newest fantasy comes to life. Crafted from high-quality platinum silicone, Morg'ath is here to fulfill your naughty desires. With his large proportions and bold curls, this sex toy will make a statement and surely keep your partner wanting more. Slide him into the perfect position and bask in his warmth as he takes you on an unforgettable pleasure journey.
The Fantasy Monster Alien Silicone Dildo is perfect for sex toy enthusiasts looking to delve into the depths of their sex life. Its soft round ridges, curves, and bumps provide incredible stimulation no matter the position you find yourself in. The dildo is pliant and firm enough for anal sex, prostate play, g-spot grinding, and some smooth external sex toy massage. With a powerful suction cup feature, this will bring plenty of wet, wild pleasure!
Valued at AUD $163.20+
You'll either get a dildo, anal plug, or sex toy merch!
This sex toy box is full of mystery and fantasy, sending sex toys to your inbox that will blow your mind! Choose from options like bondage restraints, role-playing props, and ear-tingling ticklers. Explore a world of erotica and become enthralled in unexpected sex fantasies without leaving your house.
Price: $101.03+
Available in purple and pink colours
Choose size at S, M, or L
If you're looking for something a little different in the sex toy department, look no further than the big butt plug. Not only does this sex toy come in an array of sizes and colours, but it also glows in the dark too! To activate its "special powers", just put it out in the sun for 20-30 minutes during the day and let its mysterious light shine.
Price: $54.40
Available in 4 styles
Show off your wild side with the Dragon Beast Fantasy Monster Silicone Textured Dildo with Suction Cup. This sex toy is made of soft and pliable silicone, ensuring it stretches to fit your body while providing unparalleled sensations thanks to its girthy and uniquely textured shape.
Price: $31.08
Choose a combination of over 30 colours
Playing with your dong can be a fantasy, huh? Try teasing it with this stroker! Not only is it made of non-porous and hypo-allergenic material, but it's also extremely easy to clean and odourless. That means no weird scents or leftover bacteria lying around to cause irritation or other unwanted reactions.
Price: $86.90
Available colours: Pink, Blue, Red
This sex toy is sure to enhance your fantasy exploration! The Fantasy Egg Butt Plug, also known as the Dragon Egg Dildo, has a beautifully textured surface and soft curves for a pleasurable experience. Once inserted, the large body and neck will create quite a 'pop' sensation you won't soon forget – yet it's still comfortable enough to be worn all day long if desired.
Looking for a sex toy that will offer both penetration and stimulation? Look no further than the Dildo Duo Hand Monster! This unique sex toy features a monster penis on one end and a hand on the other so that you can enjoy all kinds of different sensations. The penis end has an insertable length of 17cm and is 6cm wide, while the hand end measures 22cm long and 5.7cm wide. Whether you're in the mood for deep penetration or prefer something a little more playful, this sex toy has you covered.
If you're into monster sex, you're in for a treat! There are all sorts of sex toys out there that cater to your every kinky desire. From dildos and vibrators to restraints and whips, there's something for everyone.
So whether you want to add excitement to your sex life or feed your fetish, check out these 20 out-of-this-world monster sex toys.